[Editor's note: This review may contain spoilers.]
Writer: Dan Abnett
Artists: Stjepan Sejic
Summary
Atlantis has a new king! Corum Rath, an Atlantean fundamentalist has taken the throne from Arthur and has set in motion changes in policy that shake up Atlantis. A small group sees this new leader as a danger to the progressive steps Arthur took for Atlantis while he was King and soon begin talking about a possible resistance.
Believing Arthur is dead, Mera is in a deep depression that her friends cannot break her out of. But at the bottom of the Ninth Tride of Atlantis, Arthur lives and after healing from his fight with Murk, he has now begun taking steps to fight back.
Positives
Dan Abnett has done some amazing work since he took over writing chores on Aquaman with Rebirth and everything he's done to this point has built up to this moment. This arc looks to have the potential to be one of Aquaman's most epic storylines to date. You have Aquaman at one of his lowest points in his life, a strong antagonist with Corum Rath, the possibility of a rebellion within Atlantis and one angry Mera.
Just a fun little touch to the story is Aquaman's approach to fighting back. He considers how his friend Batman has helped Gotham City and he decides that is how he must help Atlantis now.
The artwork by Stjepan Sejic just adds to the epic nature of the story. His beautiful illustrations feel like that of a big budget blockbuster film. Beautifully colored, each page takes the reader within the city of Atlantis as if really there.
Negatives
Not much negative to say about the actual writing or artwork, but I do feel compelled to mention something that is bugging me in comics as a whole right now that is prevalent in this issue. I understand that art can emulate life and it's good to be topical, but in a world where we are currently bombarded with politics everywhere we go, I liked the idea of finding solace in comic books. They were a place to get away from that constant bombardment. This book is obviously heavily influenced by today's events and while that is okay usually, I just feel burnt out on all the politics. Maybe they could try taking the path not taken in storytelling for a change or at least don't be so obvious about it.
Besides, comic books as a whole don't sell as well as they once did and to prevent them from declining even further, perhaps try not to alienate half the entire audience with political opinion regardless of what it is. But that is just my opinion.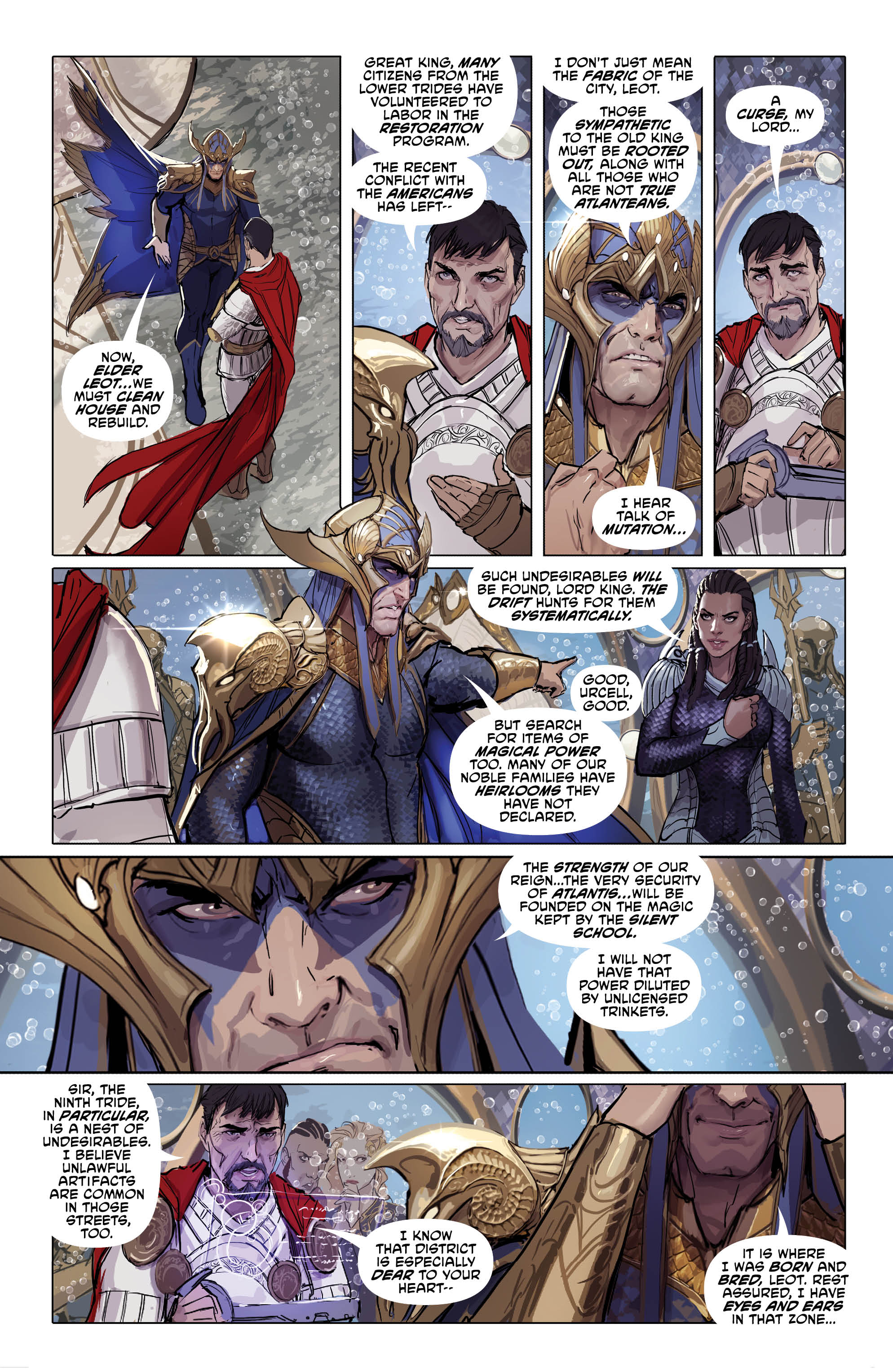 Verdict
Dan Abnett is a great writer who has definitely ensured that his name will become an important one in Aquaman's history. His writing combined with Stjepan Sejic make this an exceptional title.
Whether you know nothing about Aquaman or if you have been following him your whole life, this issue will have something for you to enjoy. This issue is a great hopping on point for new readers and is a great new direction for dedicated Aquaman fans. I for one can't wait to see where it goes.