[Warning: Spoilers ahead]
Director: Mairzee Almas
Writers:  Ray Utarnachitt  and Sarah Hernandez
 Starring: Victor Garber, Arthur Darvill, Brandon Routh, Caity Lotz, Franz Drameh, Maisie Richardson-Sellers, Nick Zano, Amy Pemberton, Matt Letscher and Dominic Purcell
Guest Starring: Wentworth Miller, Neal McDonough, John Barrowman and Emily Bret Richards
Summary
If you never read DC's Elseworlds comics, you missed out on a preview of the penultimate episode of season two. The Legion has rewritten reality. Of course, they remember the world as it was before and that means so does Mick. That will matter later in this episode. More on that in the review. Felicity Smoak is a hero. She doesn't survive the opening scene, but still, it is kind of amazing. The team, having had their memories wiped by the new reality, have each been stuck in their own personal hells. Jax and the Professor work for Thawne. Sara and Amaya work for Darhk. Nate lives in his parent's basement. Ray is a janitor.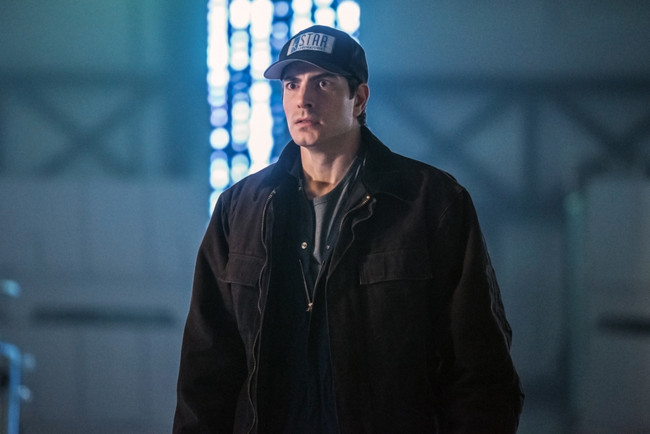 Positives
As stated in the previous review, when Mick is unleashed, (in this episode that term is used a lot so I thought I would join in) the show shines. Just as he was the lynchpin in the last episode, he is here too. Purcell is an excellent actor and in this episode his whole range comes through. You know how some people are not really good at being serious and then cracking a joke in the same scene? Well, that is not an issue here. I can not promise this is the last time I write this, but give the man an award (or twenty). Wentworth Miller eats up the screen every time he is on it. Love him or hate him, he is pretty amazing.
The whole story is really well done. Unlike some other episodes where the full cast is part of all the action, this feels well balanced. Each person has just enough screen time that we do not forget about them and we do not feel overwhelmed. I was always a fan of the Elseworlds books, so this was right up my alley. Having full knowledge of the Arrowverse is key to enjoy this show. Let's face it: if you are not watching the other shows, you are not watching this one.
Negatives
In the middle of the show, Thawne gives his "bad guy" speech. Snart makes fun of him. It is pretty great. So that makes you think there could not be another bad guy speech right?
WRONG!  Look, Thawne is a good villain, but he is not the mastermind. It does not work for me. If Snart were the guy doing all the tricks, I would be down. Merlyn; absolutely. This is just…meh.
Verdict
I am on record as loving this show. I really liked this episode. I want to see the Reverse Flash go away as the villain because speedster vs non-speedster isn't fun. If they enlist Jessie Quick for season 3, then, well, sign me up and they can keep him around all they want. I am all geeked up for the final show next Tuesday. You should be too.
 Easter Eggs
Over on Fox, Dominic Purcell and Wentworth Miller are bringing back Prison Break. There is pretty great joke about that here.
The Legion of Doom headquarters in this episode is lifted directly from Super Friends. Brilliant.