[Editor's note: This review may contain spoilers.]
Writers: James Tynion IV, Marguerite Bennett
Artists: Steve Epting, Jeromy Cox
Summary
This issue begins with Kate on the island, where she has just arrived. She went to the island in hopes of finding those affiliated with the "Monster Venom," but instead she runs into an old friend by the name of Rafael.
Rafael was severely injured by the time Kate arrived, he approached Kate with a knife in his back. This reminds us of a similar foe from in the first issue, who's weapon of choice was a knife.
Kane takes Rafael to an old bar named "The Desert Rose" in search for the owner, their old friend Safiyah. Upon arriving, the place is empty. It was pitch black, and every single table was covered with a tarp.
Before Kate can process what is before her, she sees a familiar face. It was the assassin from the Grand Bazaar. They got into a heated fight, and the assassin reveals herself as "The Knife," though her real name is Tahani.
The fight ends with a little help from Tuxedo One. Drones swoop in and light the Lantern of The Desert Rose. I was unsure of what was happening, but it was soon figured out that this lantern was a signal for Safiyah's allies. Luckily, they arrived just in time to save Kate.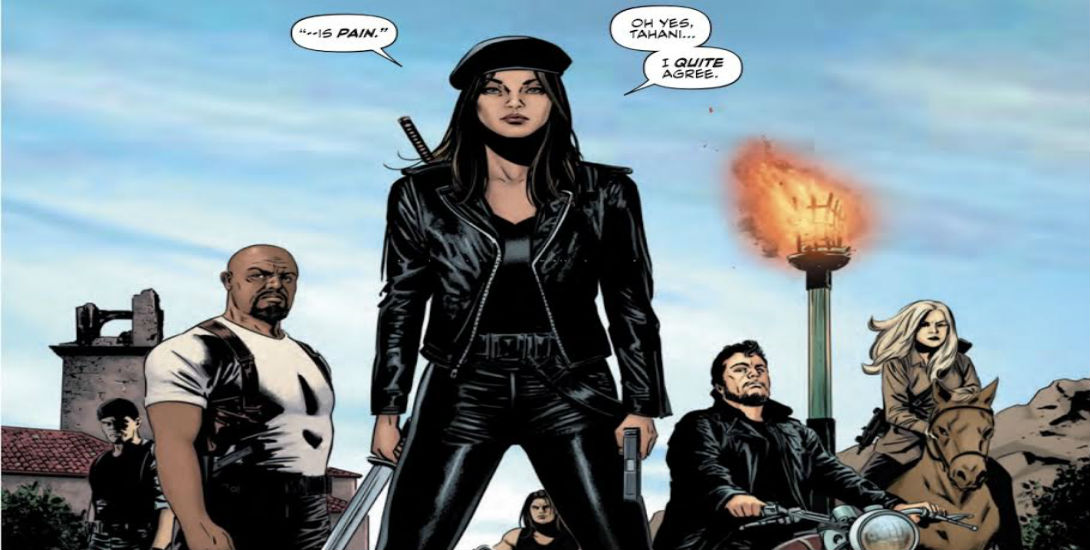 Positives
In this issue, we are able to see flashbacks into parts of Kate's past, where she is with Rafael and Safiyah. The flashbacks are helpful for those who haven't gotten into Detective Comics. It was just as informative as it was exciting. We also get a hint of humor from Kate's interactions with Tuxedo One. These moments always add just the right amount of humor during an intense moment.
Negatives
In my opinion, Tahani's escape could have been much more intense. No one lifted a finger in an attempt to stop her, especially being that she cut a man's hand off before escaping on his bike. She is currently the most prominent villain, so I imagined this team going the extra mile to stop her.
Verdict
Once again, Epting and Cox didn't miss a beat with the artistic layers in this issue. I am more impressed every time I see it. Tynion and Bennett were able to tie this issue in with the first very well, and they provided plenty of important information. The comic ends smoothly, while also making us wonder what the next move will be for the "Many Arms of Death."