DC Comics News has compiled a list of DC Comics titles and collectibles shipping to comic shops for July 5, 2017.
Check back every Friday with the DC Comics News Pull Box to see all the cool new DC Comics titles and collectibles that will be available at your favorite local comic shop! So, what titles or collectibles will you be picking up this Wednesday? You can sound off in the comments section below! Click on Comic shop Locator to find the comic shop nearest to you!
COMICS
BANE CONQUEST #3 (OF 12) $3.99
BATMAN #24 3RD PTG $2.99
BATMAN #26 $2.99
CYBORG #14 $3.99
DC COMICS BOMBSHELLS #30 $3.99
DEATHSTROKE #21 $3.99
EVERAFTER FROM THE PAGES OF FABLES #11 (MR) $3.99
GREEN ARROW #26 $2.99
GREEN LANTERNS #26 $2.99
HARLEY QUINN #23 $2.99
INJUSTICE 2 #5 $2.99
JUSTICE LEAGUE #24 $2.99
NIGHTWING #24 $2.99
SAVAGE THINGS #5 (OF 8) $3.99
SHADE THE CHANGING GIRL #10 $3.99
SUPERMAN #26 $2.99
DCN Pull Box Triple Spotlight
DEATHSTROKE #21 $3.99
(W) Christopher Priest (A) Diogenes Neves (CA) Ryan Sook
"DEFIANCE" part one! A new day has dawned for Deathstroke. Having emerged from the Speed Force a changed man, Slade Wilson takes aim at living a better life – a life in service of justice. But when the world refuses to accept the new Deathstroke, Slade recruits a group of young heroes to join him including including former Teen Titans, Kid Flash and Power Girl, his children, Rose and Jericho, and the bombastic Terra! But has Slade truly shed his villainous past? And what other shadowy forces are working against him? Find out as Deathstroke's bold new direction begins here!
---
INJUSTICE 2 #5 $2.99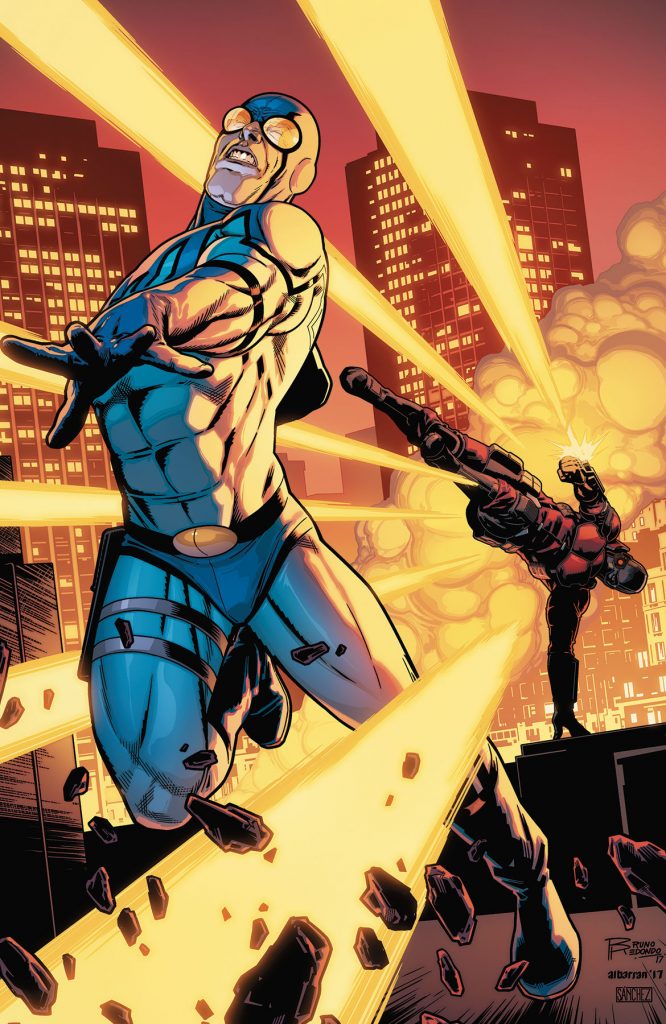 (W) Tom Taylor (A) Juan Albarran (A/CA) Bruno Redondo
Batman pays a visit to Ted Kord, beseeching him to become part of the team that rebuilds the world – not as Blue Beetle, but as Ted Kord, inventor and industrialist. But Batman's not the only one who has designs on Ted. A trusted old friend pops in, as does someone else – someone with less noble intentions.
---
GREEN LANTERNS #26 $2.99
(W) Sam Humphries (A) Ronan Cliquet (CA) Mike McKone
"OUT OF TIME" part one! Ten billion years ago, Volthoom nearly wiped out the Guardians of the Universe. What power was able to stop him, and where did it go? Learn more about the history of the First Lantern as "Out of Time" begins!
---
Variant Covers
Note: Variant Prices To Be Determined By Retailer
BATMAN #26 VAR ED $2.99
CYBORG #14 VAR ED $3.99
DEATHSTROKE #21 VAR ED $3.99
GREEN ARROW #26 VAR ED $2.99
GREEN LANTERNS #26 VAR ED $2.99
HARLEY QUINN #23 VAR ED $2.99
JUSTICE LEAGUE #24 VAR ED $2.99
NIGHTWING #24 VAR ED $2.99
SHADE THE CHANGING GIRL #10 VAR ED $3.99
SUPERMAN #26 VAR ED $2.99
GRAPHIC NOVEL
DC SUPER HERO GIRLS A KIDS COLORING BOOK TP $7.99
DEATHSTROKE TP VOL 02 THE GOSPEL OF SLADE (REBIRTH) $16.99
HE MAN THUNDERCATS TP $16.99
INJUSTICE GROUND ZERO HC VOL 01 $24.99
ITS A BIRD TP NEW EDITION (MR) $17.99
WONDER WOMAN BY GREG RUCKA TP VOL 02 $29.99
WONDER WOMAN THE GOLDEN AGE OMNIBUS HC VOL 02 $75.00
BOOKS
BE A STAR WONDER WOMAN YR PICTURE BOOK $15.95
MERCHAND
ISE/COLLECTIBLES
DC WONDER WOMAN MOVIE SHIELD PEWTER KEYRING 6PC BAG $6.00
PERFECT-SHAKER DC SUPERGIRL 28OZ BOTTLE $16.99
ACTION FIGURES/STATUES
HARLEY QUINN RED WHITE & BLACK STATUE BY TERRY DODSON $80.00
CLOTHING
BATMAN CUTIE T/S XL $19.95
DC COMICS WONDER WOMAN COSTUME CAPE $26.50
DC HEROES BATGIRL COSTUME LONG CAPE $34.99
DC HEROES SUPERGIRL COSTUME LONG CAPE $34.99
Please comment below and don't forget to like, share and follow us on:
Facebook: https://www.facebook.com/dccomicsnews
Twitter: @DCComicsNews
Pinterest: http://www.pinterest.com/dccomicsnews/
Tumblr: http://dccomicsnews.tumblr.com
Instagram: @dccomicsnews