[Editor's note: This review may contain spoilers!]
Writer: Tom King
Pencils: Joelle Jones
Summary
Taking the place of an eternal warrior known as The Gentle Man, Wonder Woman and Batman are trapped in a realm battling an eternal horde of monsters. With only one way out, the two have to last through the endless horde until The Gentle Man returns from Earth–but has he betrayed Batman and Wonder Woman and trapped them instead?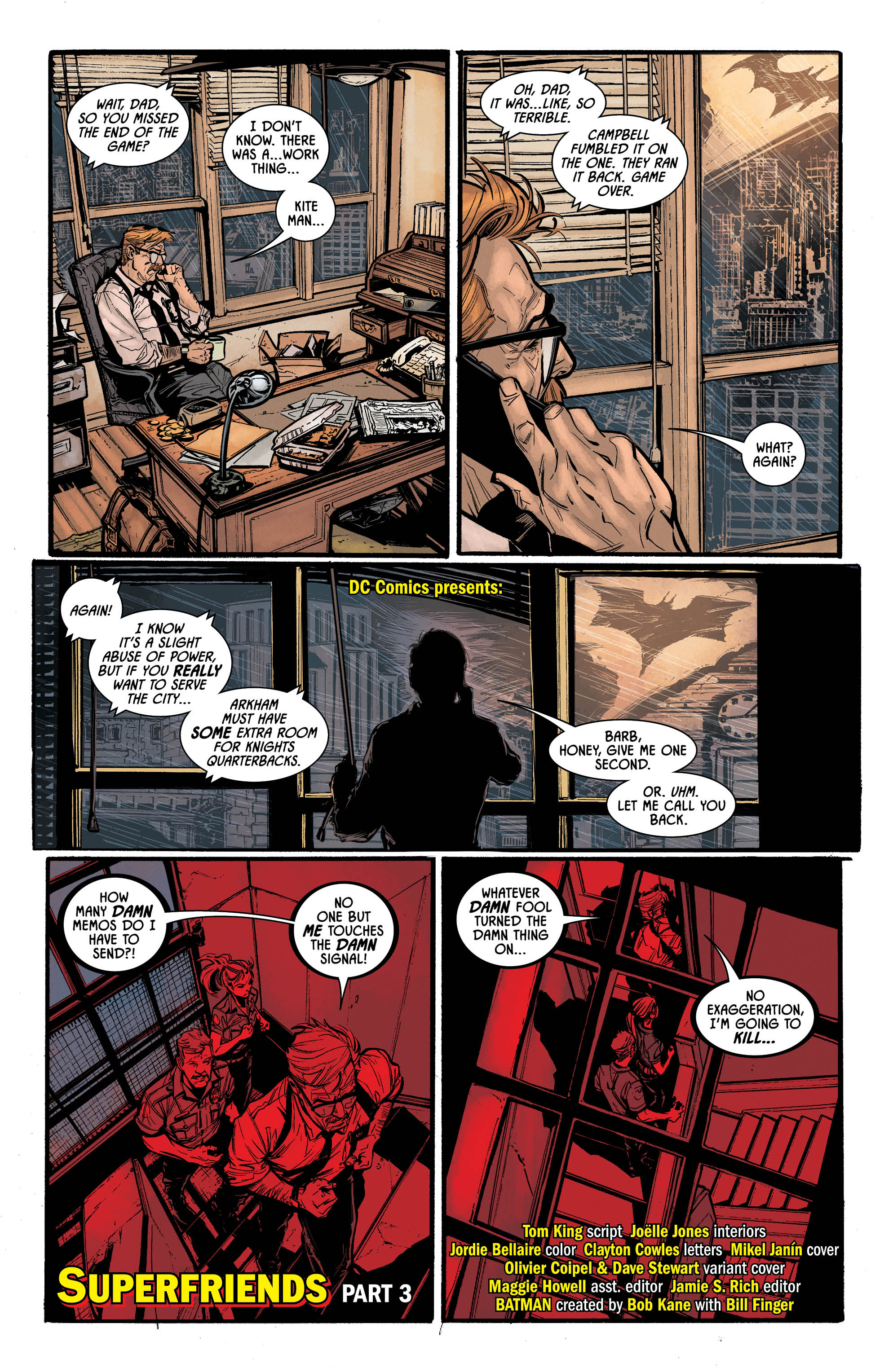 Positives
Tom King gave us a snack mix in this issue here. We had some comedy in the form of Wonder Woman, who uses the batsignal to call Batman instead of the Justice League communicator. Gordon rushes to the roof only to see Wonder Woman waiting, and Batman not too far behind. We later learn that awhile back the two agreed to temporarily take the place of the Gentle Man, a warrior who is in an eternal fight against a horde of monsters in a realm that wants to invade Earth. It seems that Diana and Bruce have been betrayed however as the Gentle Man reveals to Selina that he's actually from Earth and has only been fighting the horde for an Earth year, instead of untold millennia like Bruce and Diana believed.
Negatives
King gave me no negatives in this issue. We have some comedic moments from Wonder Woman and Catwoman who torture Bruce about his new suit to face the horde. Batman is dressed as a true "dark knight" in this issue with badass black armor equipped with a sword and more. Jones even gives us an easter egg by showcasing the batmobile from the Arkham games in this issue and I enjoyed that as well.
Verdict
Batman #39 is definitely a good read. Anytime we can see Diana and Bruce fight together is a real treat, however the ending that King gives us really throws Selina and Bruce's engagement in doubt. There's always been some attraction between Batman and Wonder Woman and King does a great job of teasing it here in this book, especially at it's end. I can't wait to see what the Gentle Man's real intentions are–I don't think he plans on keeping his promise to Batman and Wonder Woman at all.