[Editor's Note: This review may contain spoilers]
Writers: Jackson Lanzing & Collin Kelly
Artists: Jorge Corona & Mat Lopes
Summary
"LET ME TELL YOU A STORY." Damian Wayne – Robin – has been kidnapped. Out on a mission of discovery the new Boy Wonder is captured by the Dragon Brotherhood known as The Crimson Kabuki. This ruthless gang of ninjas is world renowned for their deadly martial arts prowess, but they didn't count on one thing… Damian's big brother; Dick Grayson.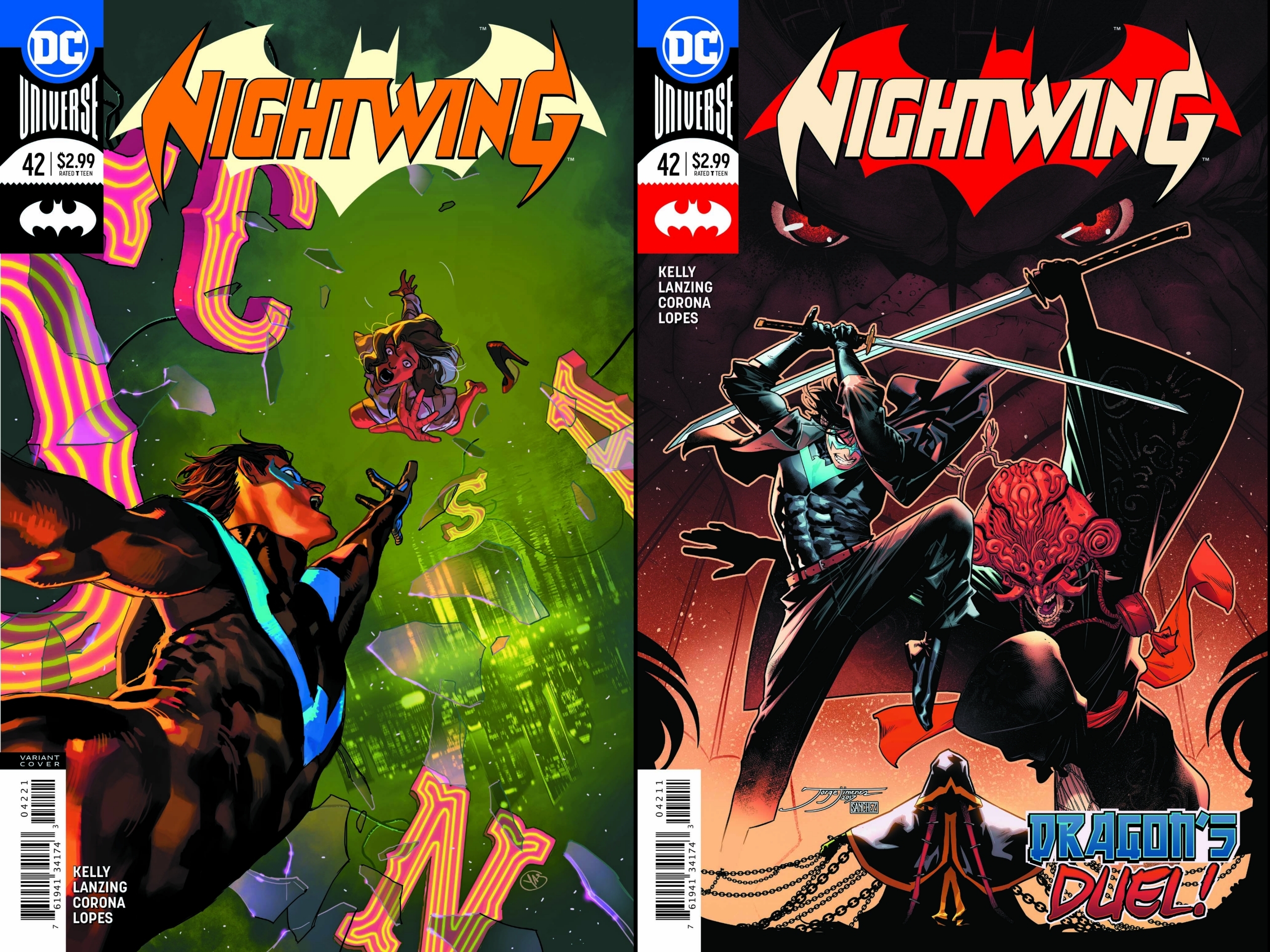 Positives
Honestly, with this issue I don't even know where to start. With the brilliant creative team of Sam Humphries and Bernard Chang ending their excellent run on Nightwing with issue #41, and the new team of Benjamin Percy and Christopher Mooneyham not taking over full-time 'til issue #44, readers could be forgiven for feeling a little anxious. I will admit to having my concerns about having two "Fill-in" issues in a row, especially when I heard that they would be two standalone stories.
Sometimes I really worry for no reason, and should just shut up and get on with it.
This issue was absolutely GREAT… bordering on faultless.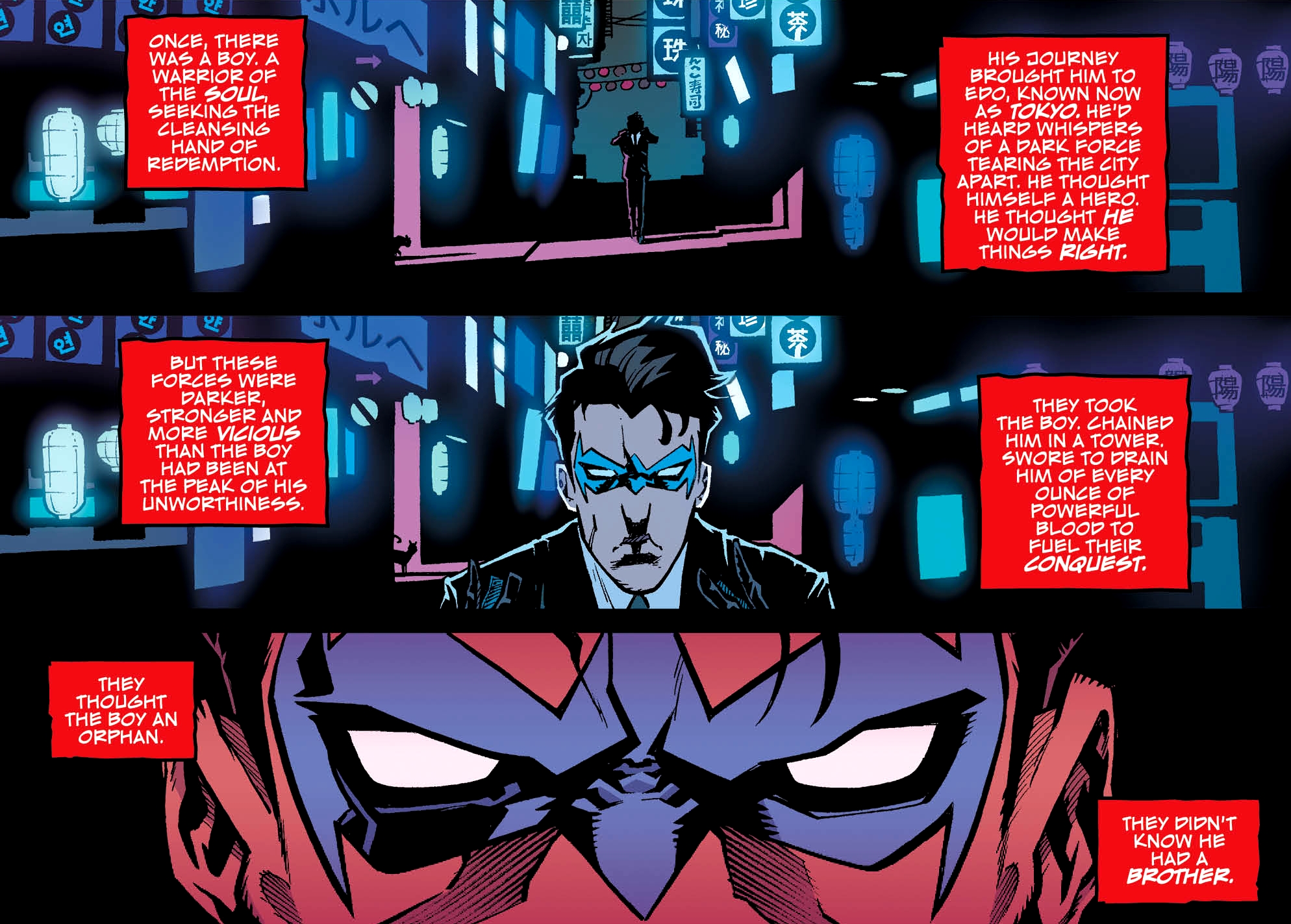 The book reads like a cross between a 70s kung-fu flick, the 90s Streets Of Rage video-game, and a Tarantino movie. The opening page, with a suit and tie wearing Nightwing approaching the villain's lair, sets the tone for an action-packed martial arts fight-fest of Bat-Tastic proportions. The writing team of Jackson Lanzing and Collin Kelly are clearly loving every minute, as they take the whole ball of movie and comic-book kung-fu cliches and run with it, scoring a twenty page touchdown in the process. The crowd goes wild.
It's an issue with pugilistic percussion, bullets bouncing, kick-ass action, laughs and thrills a-plenty. This issue may well be a fill-in, but it's all killer and no filler. Not only is the script tight and great fun, but the team of artist Jorge Corona, and colorist Mat Lopes deliver a cartoony, atmospheric, treasure of a comic. Their style is different, fresh and left me wanting more. I mean, just look at these images and imagine a whole book full of 'em!
NICE.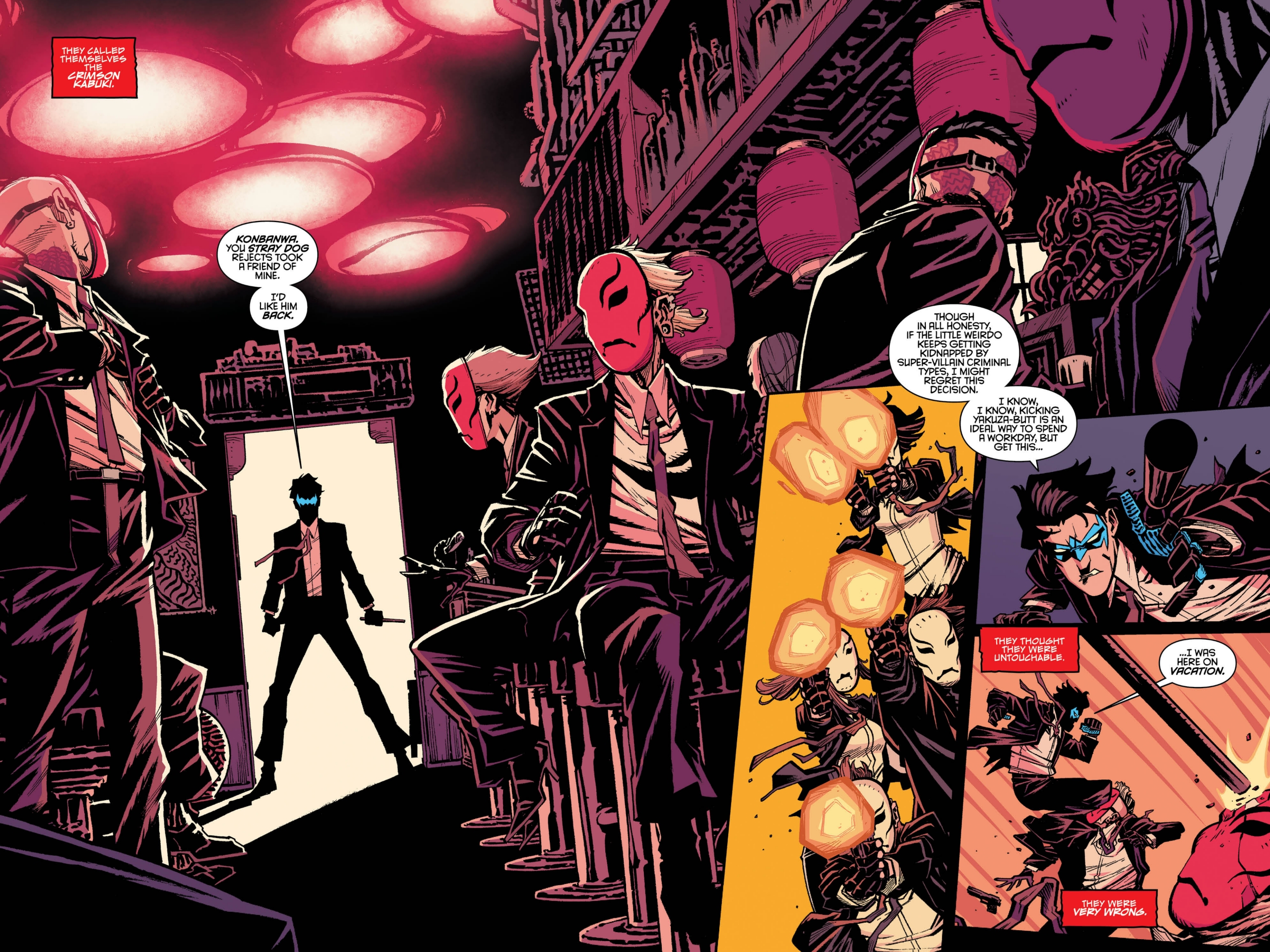 Negatives
The only fault I could find in this issue was that I didn't want it to end. I would LOVE for this team to give us two or three issue with Damian on his mission, his capture, the struggles, Batman and Nightwing's discovery of Robin's abduction and a whole mini-series leading to this epic conclusion.
If you want to give someone with a good imagination one comic to read that's just plain fun, with no threads, ties or truckloads of continuity baggage, then give them a copy of Nightwing #42.
Verdict
Fill-in issues can sometimes be a gamble… but this was one that really paid off. Not only does next issue's creative team of Writer Michael Moreci and artist Jorge Jiminez have a tough act to follow, so does the new home team!
This issue was GREAT.
Images Courtesy Of DC Entertainment