[Editor's Note: This review may contain spoilers]
Writer: Tim Seeley
Pencils: Brad Walker (Main story) Otto Schmidt (Epilogue)
Inks: Andrew Hennessy & Mick Gray
Colors: Jordie Bellaire
Summary
As the big day approaches, Damian Wayne and Selina Kyle go wedding shopping for the Boy Wonder's wedding outfit. As one would expect with any comic that has Ra's Al Ghul on the cover, events do not run smoothly. Before you can say "Cheese Viking" Damian is neck deep in trouble… Grandpa has not given these nuptials his blessing.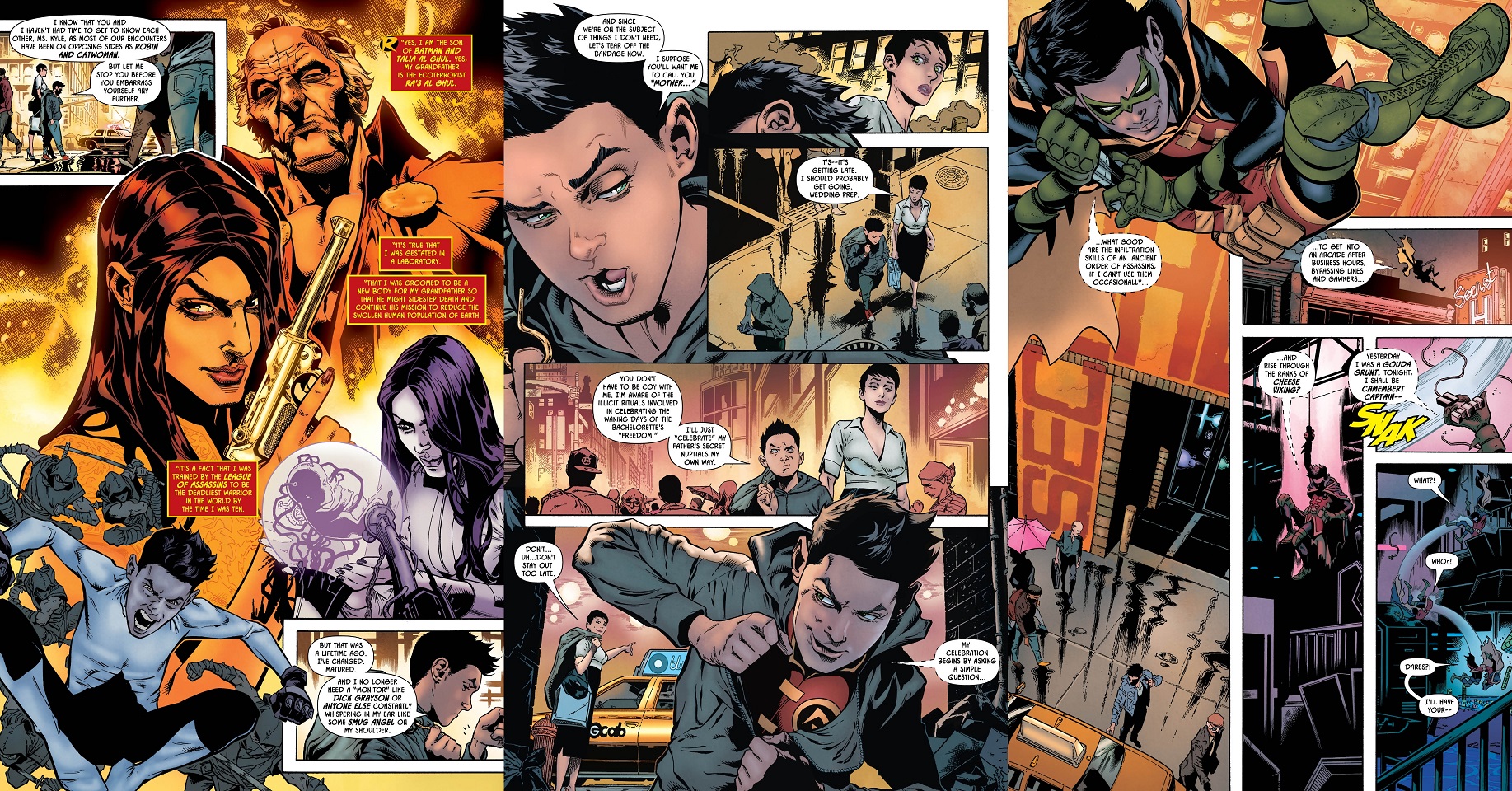 Positives
This comic contains many positives. It's full of really great action, interspersed with some brilliant, but natural, character moments. The epilogue both builds on the Batman story from DC Nation #0, and leaves us anxious for the next installment. Tim Seeley has written a tale that's really tightly paced, and leaves readers with food for thought. A lot is crammed into these pages, but the story flows and all the tender character moments feel real, and organic.
Jordie Bellaire's colors are superb, and Otto Schmidt's art on the epilogue is haunting. It's both a nice contrast to the visuals on the main story, yet isn't so different that one feels like they've tripped into a completely different comic-book.
Negatives
Brad Walker draws terrific action scenes, and is ably abetted by two fine inkers in Andrew Hennessy and Mick Gray. This issue's only flaw is in the quieter moments between Selina, and Damian. It' sad because these scenes are so brilliantly written. While Mr. Walker delivers great fights and fisticuffs, I found his character expressions in closeups and the character's non-action postures cartoony, stiff, and unnatural.
The art isn't bad at all, but for me it doesn't match up to the excellent script.
Verdict
Any comic that can deliver this much adventure and intrigue, shows a terrific growing relationship between Robin and his future step-mother, and leaves the reader wanting more at the end has to be considered a success. The art may not have been perfect, but it's pretty darned good.
I'm anxiously awaiting next week's installment, pitting Nightwing against Hush.
Images Courtesy Of DC Entertainment