[Editor's Note: This review may contain spoilers]
Writer: Christopher Sebela
Artists: Mirka Andolfo & Max Raynor
Summary
"One Of My Turns" part two. Harley and Frank have dropped in on a cult gathering deep within the New York sewers. Finding themselves overwhelmed, it takes some quick thinking from Harley to save the day yet again.
Positives
This issue is full of Harleyness. Sebela has done yet another fantastic job of writing the incredible Harley Quinn. Channeling the craziness and strangeness of the character perfectly onto the page. The story really suits Harley's style. It showcases Harley's unique style at heroism and problem-solving.

I feel that the issue was great for those being bullied or having to deal with some form of peer pressure. Now, I'm not saying to do what Harley put in play. But it shows that there is a way out. Which is a fantastic message to send to those going through something similar. Harley's just a great wholesome character that many readers can relate to. That translates brilliantly in this story, Sebela has written an incredible story. I cannot say enough good things about this story run so far.
Negatives
The only niggle I can have, is that I feel Harley does a lot better in an ensemble. I feel like she's much better as a team player, adding that spark of crazy to a situation. As great as last issue was, I feel this week's issue was better due to the fact Harley had more supporting characters. It was still missing that, something though. That stand out supporting character that I feel she needs. Something akin to how she was with Joker. A protegee, or sidekick that she can teach and have witty banter with. That's all I feel is missing.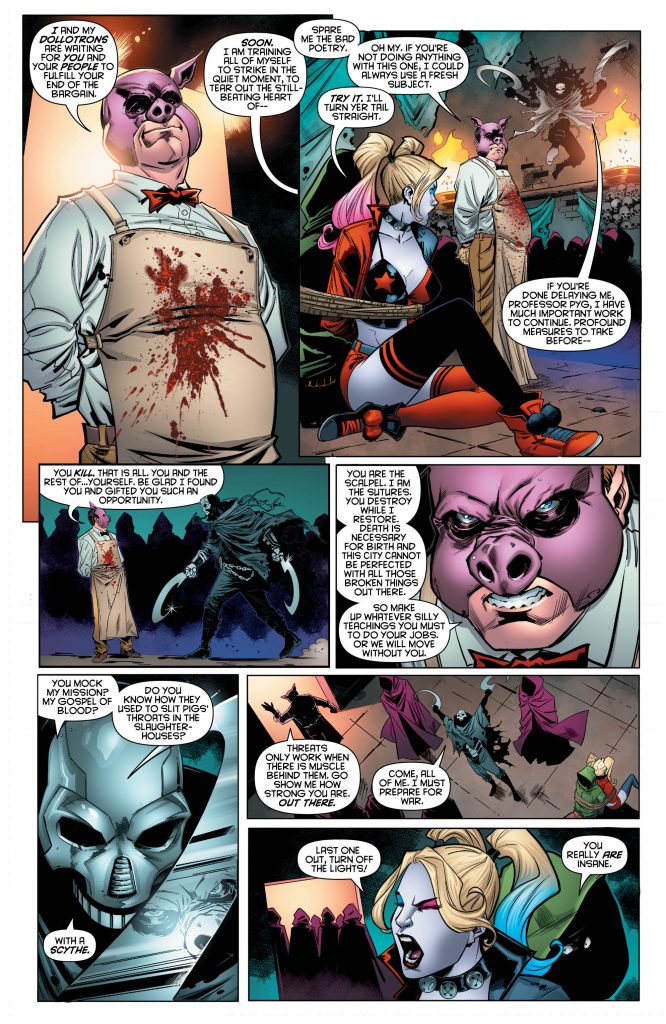 Verdict
Yet another strong issue from the creative team. Sebela writes an interesting story, with characters that are easy to relate to. The artwork is great in this issue as well. I thoroughly enjoyed the comic and look forward to where the story goes next.
Images Courtesy of DC Entertainment