Many marriages have come and gone inside the DC Universe. Superman and Lois Lane, Green Arrow and Black Canary, Batman and Catwoman (almost), Poison Ivy and Harley Quinn.  Wait, Poison Ivy and Harley Quinn?
That's right, in the latest digital chapter of Injustice 2, it was revealed that Ivy and Harley were married at one point.  Chapter #70 of Injustice 2, during the wedding of Killer Croc and Orca, Ivy recounts a time in Las Vegas with Harley and an Elvis impersonator.  For years, a romantic relationship between Poison Ivy and Harley Quinn has been hinted at but nothing more, until now.  Injustice writers Tom Taylor and Bruno Redondo basically confirm the wedded union between Ivy and Harley, at least on the Injustice version of Earth within the DC Multiverse.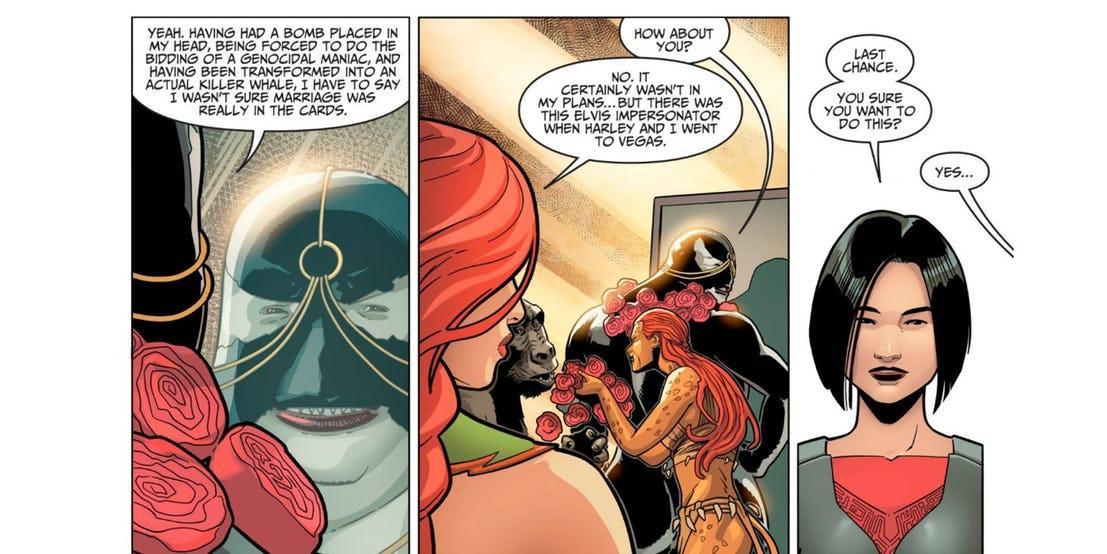 This marriage might not spill over into other areas of the multiverse, but fans will get to see the two partners in crime and romance unite again when Harley Quinn debuts on the DC Universe streaming service where Ivy will play a prominent role in the Harley Quinn animated series.
"Harley Quinn follows Harley's adventures after she breaks up with the Joker and strikes out on her own in this new adult animated comedy.  With the help of Poison Ivy and a ragtag crew of DC castoffs, Harley tries to earn a seat at the biggest table in villainy: The Legion of Doom"
Harley Quinn is set to debut on the DC Universe sometime in 2019 and Injustice 2 chapter #70 is now available.