[Editor's Note: This review may contain spoilers]
Writer: Brian Michael Bendis
Artist: Michael Avon Oeming

Colors: Taki Soma
Letters: Carlos M. Mangual
Design: Curtis King Jr.
Summary
In an alternative history set in a world where the five families of Murder, Inc. never gave up power, this sexy crime thriller takes you somewhere you've never seen in comics. From writer Brian Michael Bendis and artist Michael Avon Oeming, the Eisner Award-winning creators of POWERS, comes another brand-new chapter of THE UNITED STATES VS. MURDER, INC.
Positives
Bendis expands the universe a bit by showing us the United States players who are adversaries of the Bonavese Family.  Madame President has the eyepatch reminiscent of the Governor from The Walking Dead.  As a reviewer, I am anticipating that she survives this attempt on her life in coming issues as I think she is a character worth exploring.  The preceding issues set up how we know Rose within this dynamic, so this is a Valentine driven issue.
Soma colors this issue with a noir look, but I find that I am craving a bit more in the art work of these characters.  The art work in this one is reminiscent of a Disney Channel character.  Rose deserves a Todd McFarlane-type of treatment when he was penciling Batman.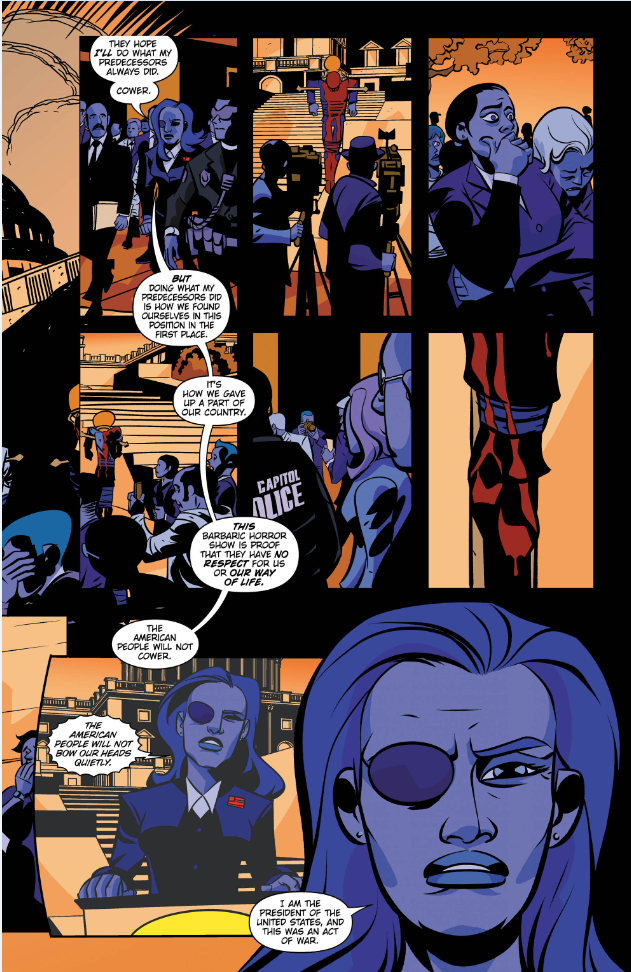 Negatives
Simply put, not enough Rose in this issue.  Other characters need development and Bendis provides that, however, we started with her and it feels empty to not have her make more of an appearance.  By the cliff hanger, I am anticipating seeing her at her best, and hopefully, fail at killing Madame President as I think this is going to become a great story line.
Verdict
Too much "family" and not enough Rose.  However, to really develop a character and the background, one needs issues like these to fill in the blanks!  A reader still has time to pick up the early issues.  This is a great ride that Bendis is taking us on!