[Editor's Note: This review may contain spoilers]
Creators: Brian Michael Bendis and Michael Gaydos
Letters: Joshua Reed
Design: Curtis King Jr.
Summary
After starting a Yakuza conflict of epic proportions, Pearl is forced to hideout with Rick, her equivalent in another clan.  Can Pearl trust him?  What will they do about the Endo Twins that are after them?  What is Mr. Miike going to do?  Find out in Pearl #4!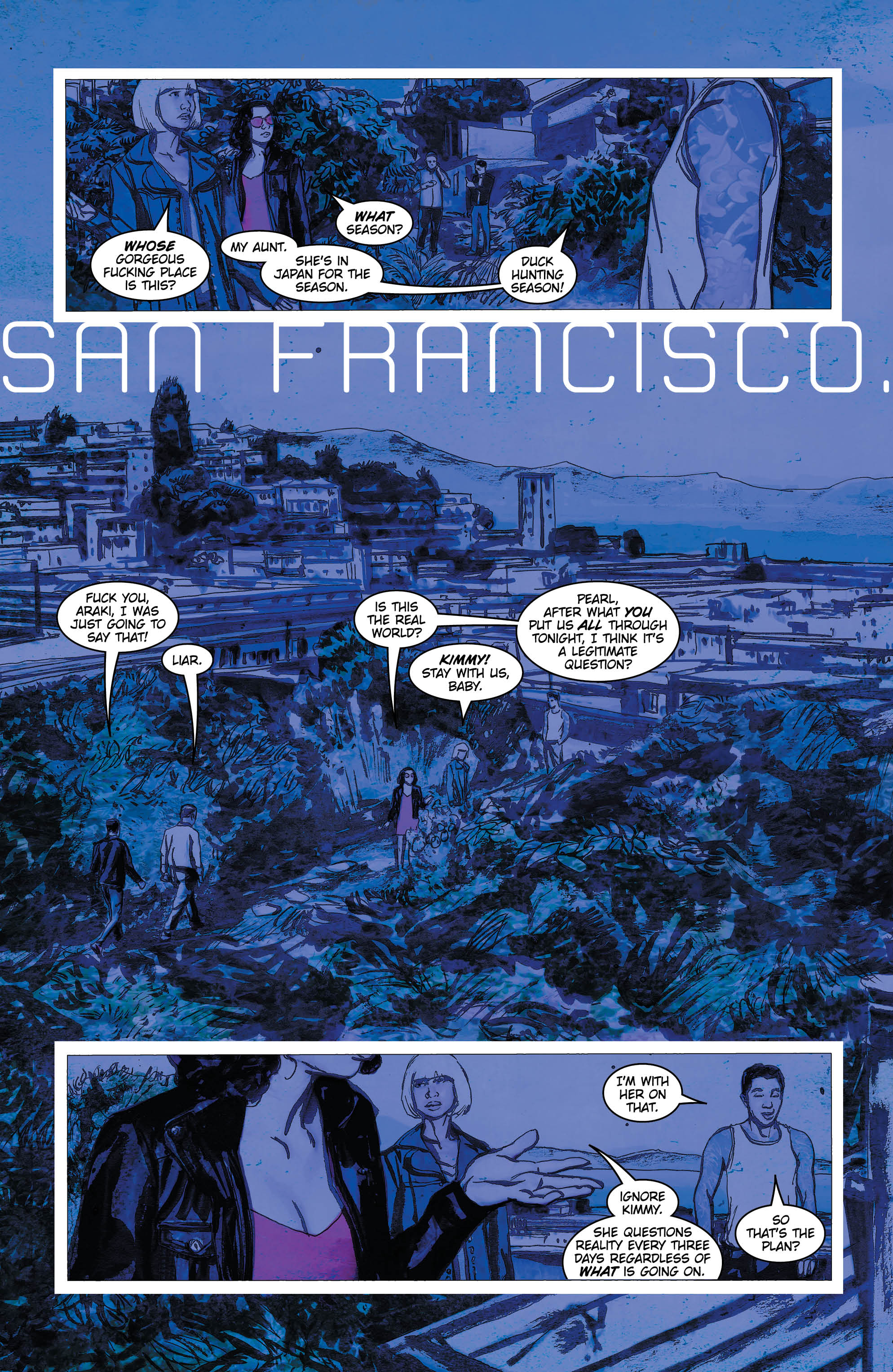 Positives
The amount of layers to this series continues to blow me away.  The art and the writing work together on each and every page to create something beautiful, and each page contains the suspense, intimacy, beauty that it seems Bendis and Gaydos are intending to capture.  Despite being in the middle of an extremely suspenseful and high stress situation on the run from multiple members of the Yakuza, the conversation between Rick and Pearl is extremely intimate.  Hidden in the beautiful depths of San Francisco, Rick and Pearl can take the time to reminisce about living a life they were not able to choose.  The calming, blue overtones of the situation really help the reader stop to appreciate that moment even though we are also aware of the stressful situation Pearl must be in.
The flashback scenes have these very pale colors to them, usually a pale green.  That pale, green overtone displays how these scenes are deeply relevant to Pearl's character and who she has become.  We see two in this issue.  The first is when Pearl is tattooing Rumor Endo, and the page says it was the worst night of Pearl's professional life prior to now.  That clearly means that giving Rumor Endo a tattoo caused Pearl to never want to interact with her again.  The second scene is with her father who made sure that Pearl can take care of herself and knows what is coming.  It appears as though Pearl's father has shaped her outlook in many ways.
The scene with the Endo twins is portrayed in both a loud red and a pale blue that seems to portray the personalities of the Endo twins themselves.  Rumor is always loud all the time.  She screamed and swore getting the tattoo, she can't stand when things don't go according to plan, and she is not afraid of excessive violence or other methods in order to reach a solution.  From the limited exposure we have to Ryu, it appears that he is the opposite.  The cool blue color represents a similar demeanor.  He has an aversion to messy situations, and is more relaxed until something calls his attention.
Finally we have the closing scene with Mr. Miike.  It is done in extremely photorealistic colors and seems to represent the character grounding the issue to reality.  For Mr. Miike is the person who has the most complete view of the situation.  He has deep respect for Pearl, her family, her skills, and her situation, and yet he is a high ranking Yakuza member who needs to make money and exert authority.  This internal conflict is why Mr. Miike is genuinely fearful about telling Pearl who her mother is.  On one hand, he respects Pearl's right to know and the work she has been doing.  On the other hand, he is so fearful of Pearl's possible reaction and respects her abilities as an assassin so much that he is genuinely fearful of the consequences.
Negatives
Sometimes, the book can appear to be a little too decompressed, causing more questions to form where answers are supposed to be.   In some ways, that is a very good trait to have, but sometimes the book can become frustratingly difficult to read.
Verdict
Beautiful written and visual storytelling that is being told at a pace that is slightly too slow.