[Editor's Note: This review may contain spoilers]
Storytellers: Ronan Cliquet and Steve Orlando
Colors: Jeromy Cox
Letters: Carlos M. Mangual with Travis Lanham
Summary
With Neon the Unknown and Aldon Quench dead, things look very bleak.  As Mandrakk himself looks to quench his thirst for blood with Hawkman and Firebrand, is there anything left to defeat the destroyer of universes?  Anything Unexpected?
Positives
When The Unexpected was first announced in the winter of 2017-2018, it was described as "The Dark Tower meets Seven Samurai", a book that would "live in the heartbeat of the DC Universe," and a comic, "for people who want excitement, for people who want scale, for people who want strange."  What we got was something truly unexpected and so much more.  Little did we know that two of the primary characters advertised before the book's launch would die in the first issue, or that this series would serve as a bridge between Final Crisis, Thanagar, Dark Nights: Metal, and the current DC Universe while simultaneously telling a timeless allegory of creation and destruction that transcends the DCU.
In only 8 issues, we were taken from the streets of Brooklyn to Slaughter Swamp, Monster Valley, Gotham City, Castle Frankenstein, and Nil in a conflict with three major villains that never felt overcrowded and instead revealed more about space, time, matter, energy, creation, and destruction in the DC Universe.  Steve Orlando created a brilliant concept for this series that Ryan Sook laid out on the page, but it was really Ronan Cliquet that brought these characters and locations to life in a way that transcended the narrative.  By the last few issues, the books art had become fiery, bold, loud, and unique thanks not only to the texture from Cliquet but also the eye-popping colors from Jeromy Cox.
When we reach the final issue all truly does seem lost. Many times with large-scale books featuring everyone's favorite characters, we all know who is going to win in the end, even if heroes are in a difficult situation at the present moment.  For a a bold new series with as many surprises as The Unexpected however, you never know what is going to happen.  I have rarely felt the sense of dread that I did when beginning The Unexpected #8.  Not fear out of uncertainty, but a dread because I truly believed that it was over, and nothing contributed more to that sense of dread than letterers Carlos M. Mangual and Travis Lanham.  The lettering has been fabulous this entire series, however, the lettering for Mandrakk in this issue was phenomenal.  I cannot describe the style or font used except something that innately invokes a sense of dread, and that's the way Mandrakk should be.
What follows the opening of the final issue is a magical moment between two characters on opposite sides who overcome their differences by recognizing a purpose greater than both of them.  It touches on loss, forgiveness, creation and destruction, recognizing that something new will always be created from what is destroyed and what is created will always be destroyed.  The best part, however, is that the narrative is woven over the fiery imagery of the word forge, which is extremely poetic.  In a forge, material is melted down, burned, and destroyed in order to be reshaped into something new, something more beautiful, and Orlando makes it clear that this purpose applies to the World Forge as well.  As worlds attempt to rise into existence, those that fail fall back down only too be reshaped into a world that can rise anew, and it is only the perfect diamonds that achieve existence.  I never expected a moment that beautiful from Neon the Unknown, but with a team led by Orlando and Cliquet, I should have known.
They say the pen is mightier than the sword to express how words can start, end, win and lose wars or battles, but in the finale of The Unexpected, it is the symbolic paintbrush that wins the day as both Cliquet and Neon the Unknown show the power of what true artist can do.  We see that size, brute force, and raw power can only get one so far, but that creativity and ingenuity can be the most powerful traits of all.  The loud, fiery panels of destruction are consumed by the beautiful, cool-colored energies of transformation that create something new out of what was once used to destroy.  All of the characters are wrapped up nicely in the end, and like creation and destruction, every end brings a new beginning, so I hope to see these characters again somewhere down the line.  There was something special created here, and even if it didn't last long, I know I'll remember it.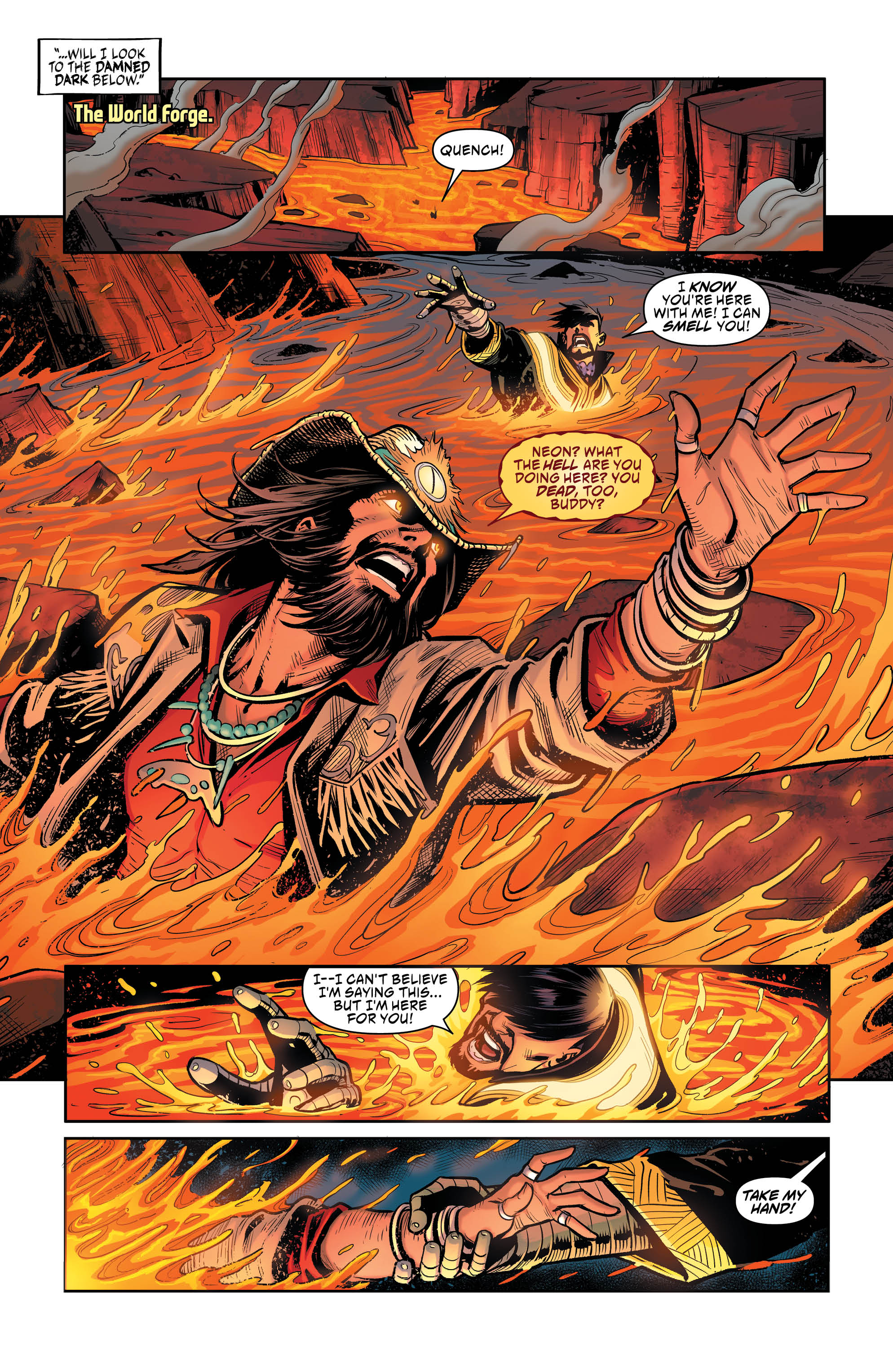 Negatives
Unfortunately, parts of this issue do seem a tad rushed.  It is still a great issue and a great finale to the series, but I am left wondering what could have happened if they were given enough time or room to allow the ending of this arc to fully blossom.  I can only imagine the beautiful and completed metaphor that would have resulted.  I think even 10 issues would have been enough.
I also think Firebrand's resolution fell a little flat.  Ultimately it was Neon and Quench who really shined in The Unexpected finale, while Firebrand was sort of thrown to the wayside for the story at large.  If it weren't for the fact that she was often highlighted as the primary focus for the series, I don't think it would have bothered me as much, but ultimately, she was a soldier for a cause she couldn't possibly have fully believed in.  Now she has her own, unselfish reasons to fight, and that's important, but it's unclear the role that this journey played in helping her get there.
Verdict
Albeit a little rushed, The Unexpected finale bridges together numerous important events across the multiverse through a beautiful allegory of creation and destruction that highlights the importance of the artists in this world.