[Editor's Note: This review may contain spoilers]
Script: Brian Michael Bendis
Art: Patrick Gleason
Colors: Alejandro Sanchez
Letters: DC Lettering
Summary
Jinny Hex is having a weird first day in Metropolis.  Getting pulled over for a busted taillight, defending the city from an alien attack, its all just a lot on someone's first day you know?  Luckily a few friends who are also new to the big city have arrived to lend a hand.  Meanwhile, what is the link between the fate of Gemworld and the Crises that occur on Earth?  Only the pages of Young Justice have the answers!
Positives
Kinetic.  If I need to describe this issue in one word, it would be kinetic in all the best ways.  Every page and panel moves with so much energy that you just have to keep moving with it, you want to keep moving with it.  The very beginning is an excellent tease to the oncoming threat.  It builds intrigue and draws the reader in right away, setting up dark forces plotting from the shadows. There is nothing more captivating than an ominous, dark face staring back at you.  From page one I had a feeling that this would be Patrick Gleason's best work.  I am glad to say that I was right.
The issue opens with Jinny Hex, who may be the least familiar character in the ensemble.  Having only debuted in Bendis's Walmart exclusive Batman Giant comic, Jinny has a lot to prove, but her exuberance and attitude are just what the beginning of this issue needs to hit the ground running. We are excited with her as we continue to turn the pages of this issue, and the fact that each character is introduced with signature lettering only adds to the feel.
It is when the action starts where electricity truly begins to leap from the pages.  As the portal opens, Gleason expertly distorts the panels to show reality bending around all of us.  Then, with one KRAKOOM, the chaos and adventure is underway.  The splash page that follows is one of the best I've seen in recent memory and features members all twelve kingdoms of Gemworld attacking at once.  Gleason lays out a beautiful image brought to life by Sanchez's amazing colors.  One could spend forever looking at the page were it not for the energy of the book that compels the reader to keep going.
And so the chaos begins with Jinny having to dodge energy blasts left and right and only armed with a shotgun to help her save the day.  Before long, Robin makes a stellar entrance that once again features phenomenal art from Gleason and Sanchez, but the energy that courses around Robin and Jinny urges the reader to keep going.  We then rewind four minutes to a chance meeting between Cassie and Robin.  The organized chaos of distorted panels twisting, bending, and climbing over each other returns to a neat grid as a quaint, reserved conversation takes place between friends.  A common theme that should stand out so far is that Brian Michael Bendis understands the mind of a teenager very well, and I suppose that may come with having four children of his own. Cassie's eagerness, slight secrecy, and excitement all stand out to me even though they are portrayed very subtly. Its rare to have a comic that makes me feel so alive.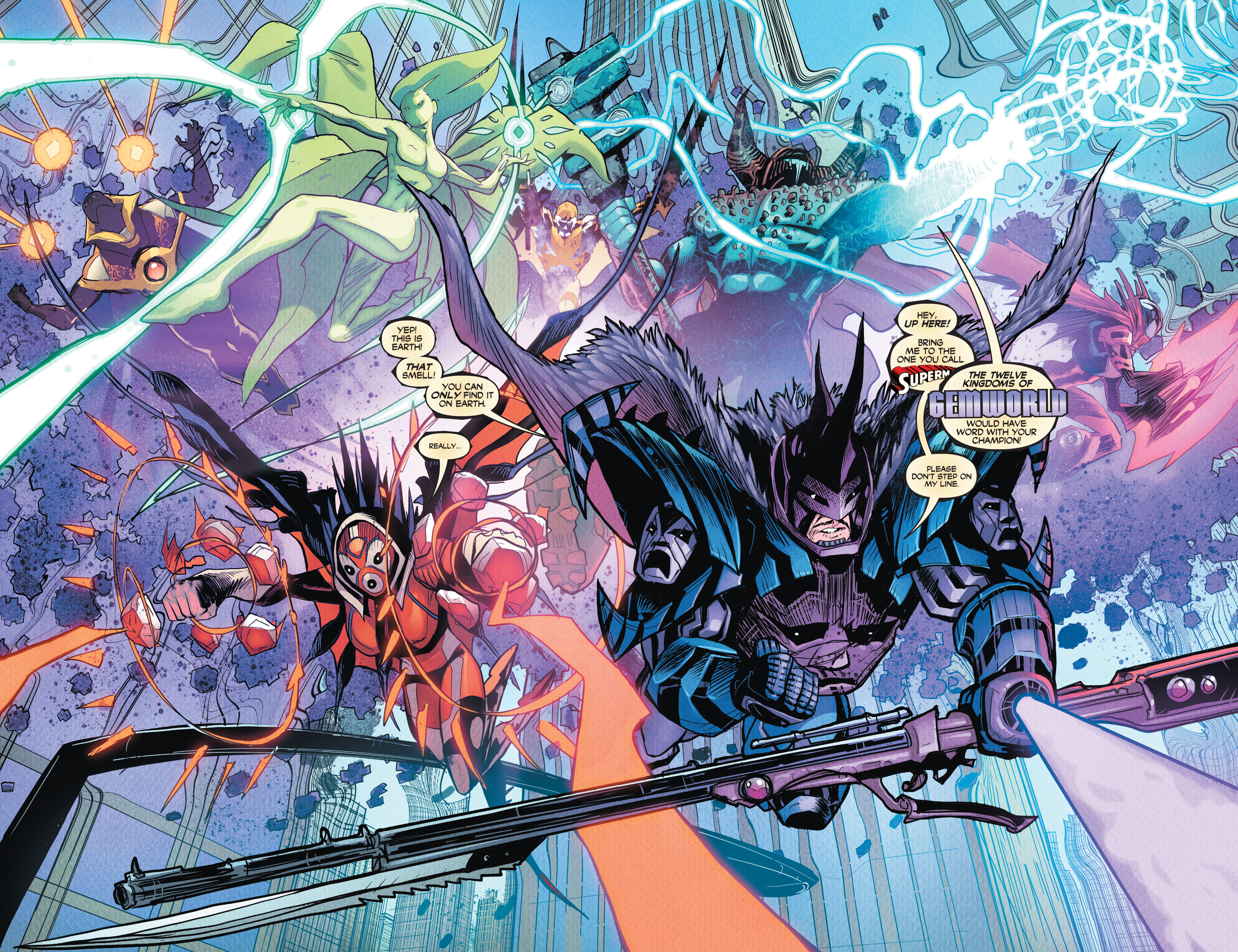 What follows begins the climax of the issue.  The 12-panel grid that follows is pure energy and movement and a thing of beauty.  It isn't just punching and kicking because there are hundreds of ways to draw that.  This grid wants you to see every movement, every hit, and it zooms in on actions that are happening so quickly to tell you that a fight like this comes down to minutes and seconds.  Its only when Impulse appears that you may realize you are not reading this comic at a breakneck pace.  Panels distort again more dramatically than before, as Bart and his energy leap from the page.  Bart is literally moving so fast that the panels can't keep up with him, and your heart continues to race as Bart races around the central panel bringing you to a magnificent splash page with panels in every direction.  The angles feel so purposeful, the colors so beautiful, and each shot so dramatic.
There are moments where time stands still.  If you are like me when reading Young Justice #1 you were reading at a million miles a minute, anxious to get the the next panel, page, angle, moment, but then, as Wonder Girl makes her true entrance in midair, everything stopped as you basked in the beauty of the image for a few extra seconds as everything was seemingly put on pause for this moment.  Then the action resumes until moments later when Cassie falls and is caught, invoking a sigh of relief, by Teen Lantern, another new character.  The reader gets a chance to break before its off to the races once again as Bart screams "It's happening!" to no end.  The build-up balances each character very nicely, and the six-panel page that focuses on each character is one of the best team-formation moments in any medium.  It is done perfectly, and the narrow, vertical panels naturally lead the reader down to a splash panel that will be remembered for ages.  Screaming "Young Justice is back!!!," the panel lets you know that your excitement was for good reason, and this is the moment you've been waiting for.
But the battle isn't over, and the team still has work to do.  These Gemworld individuals prove to be a serious threat, and with a "CRASACAA BOOM," they are gone as quickly as they appeared taking our new team of heroes with them.  The pace is slowed down quite a bit as we are introduced to a world much darker, a character with as many questions as her presence invokes, and a character that has returned at long last.  Young Justice #1 is an issue that accomplishes exactly what it set out to do with the highest degree of quality imaginable.  Fun, energetic, bold, new, fresh, exciting, grand, and adventurous are only some of the words that would be accurate and incomplete when describing the introduction to one of my favorite new ongoing series in a long time.
Negatives
As I said, this issue achieves exactly what it is meant to with the highest degree of quality.  I have no issues with this book.
Verdict
There are numerous adjectives once could use to describe the magic and wonder in Young Justice #1. I'd like to focus on the masterful use of energy, panel to panel, page to page, and issue to reader, that Bendis, Gleason, and Sanchez create from start to finish, only making you want to start again.