[Editor's Note: This review may contain spoilers]
Writer: James Tynion IV
Penciller: Alvaro Martínez Bueno
Inker: Raul Fernandez
Colors: Brad Anderson
Letters: Rob Leigh  
Summary
They're here, they're coming, and nothing is going to stop them.  The Otherkind have invaded and Kirk Langstrom A.K.A Man-Bat has four stories to show you the havoc they can cause and the threat they pose.  Read with caution as beings from across the magical DC Universe go toe-to-toe with The Soup, The Conjoined, The Offspring, and The Rip!  
Positives
James Tynion IV is crafting a magnificent and unique horror/urban fantasy comic that continues to exceed expectations week after week.  Man-Bat is the perfect narrator to frame these four small tales because his lack of sleep coupled with his somewhat unstable condition means he could be having a mental breakdown.  His paranoia and fear are almost tangible as you read through the issue.  The first few pages are extremely reminiscent of a classic horror comic as its sets the scene.  This comic draws on plenty of others, but all in the best ways.  It brings in characters from all over the magical DCU to show just how terrifying these Otherkind creatures are.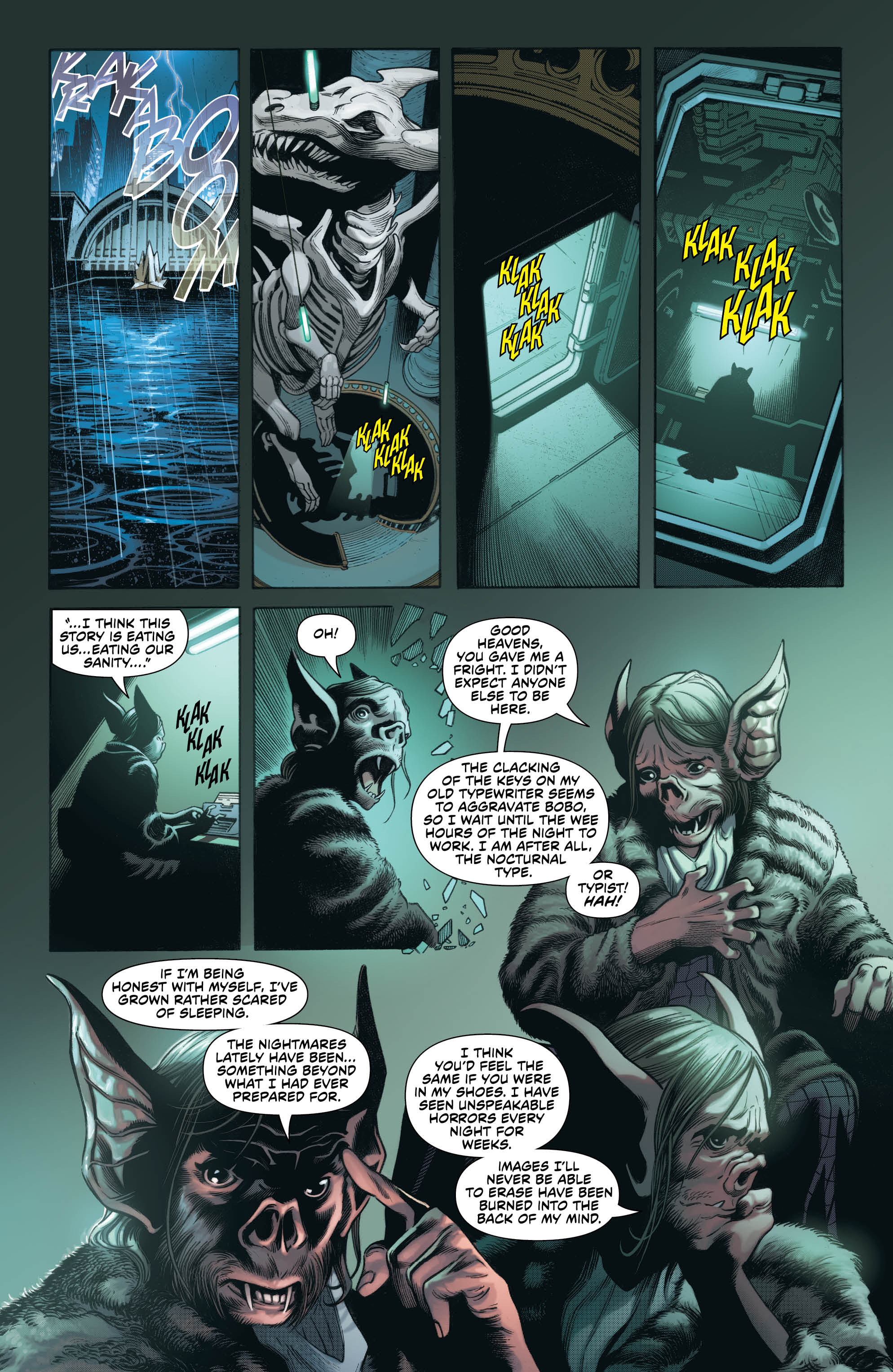 The star of the show is the art.  All of the designs for the Otherkind are phenomenal and terrifying with a lot of apparent homages to anime and manga artists like Junji Ito or Yoshihiro Togashi.  The inks and colors are both excellent, and they make each tale feel unique.  This is also some of Rob Leigh's best work.  Between the onomatopoeia, the unique voices, and the Otherkind titles, it shows a lot of range and talent.  Overall the issue does everything it is designed to, which is to establish a unique sense of horror and suspense.  
Negatives
A lot of James Tynion IV's work is usually fairly wordy, and normally I do not have a problem with it.  This issue, however, I think would have benefited from the art having more room to breathe.  It was excessively wordy to begin many of the tales, and I understand it wanted to have that scary story feel, but felt that the visuals were more important.
Verdict
One of the scariest and most entertaining issues yet, Justice League Dark #7 is a great take on the classic horror comic that could serve to be a little less wordy.