[Editor's Note: This review may contain spoilers]
Writer: Marv Wolfman, Jerry Ordway, Louise Simonson
Artist: Scott Koblish, Jerry Ordway, Phil Winslade, Brent Anderson, Chuck Patton, Keith Pollard
Colors: Tony Avina, Wendy Broome, Carrie Strachan, Kelly Fitzpatrick
Letters: Wes Abbott, Saida Temofonte, Carlos Mangual, Sal Cipriano
Summary
DC Super Heroes in a barbarian world team up for a battle against evil, with the fate of Paradise Island in the balance! As Wonder Woman, Aquaman and Superman work together to stop The Joker and King Shark from sinking Themyscira into the sea, Batman must decide whether he can trust the alien Superman long enough to join forces. He's ready to help, but at what cost?
Then, learn more about these primitive heroes and villains in five thrilling short stories. Wonder Woman rescues a young boy in the forest and takes an interest in his fate. Mr. Freeze faces a fire-breathing dragon in a fight to save his frozen wife! Batman saves a sorcerer who offers to join his battle against evil. The Joker visits a small village, to devastating effect. And Superman goes rogue…or is there another explanation for his bizarre antics?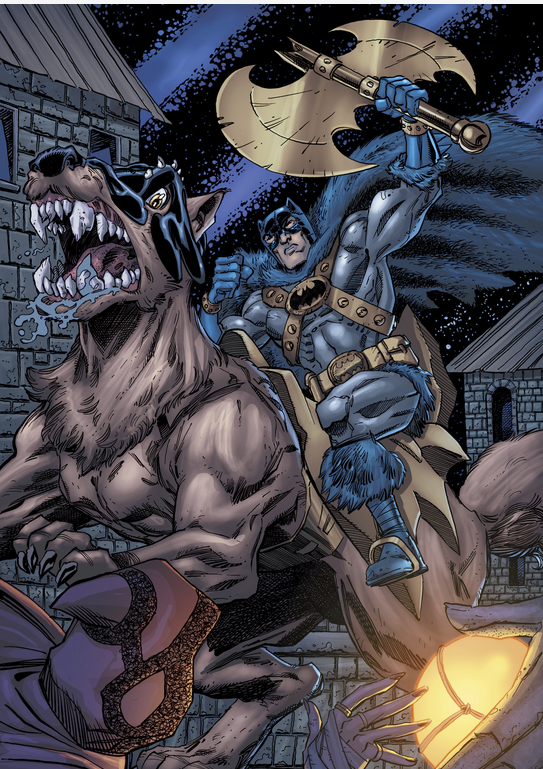 Positives
Wolfman uses some interesting leeway in allowing Batman to be an equal in power to some of his more super powered peers in this Primal Age.  How can a mortal Batman use Wonder Woman's Lasso?  And Poseidon's Modified Puffer Fish which allows both Batman and Wonder Woman to breathe underwater…. that's pretty cool!  There are a few reinventions of relationships such as Batman and Lucius so the formula is broken a bit for those readers anticipating the older Alfred/Batman relationship.  You have these nuggets peppered throughout the stories in the book, so it is a fairly cool "reimagination" of the Justice League core members with the heart of it being Batman, Superman, and Wonder Woman.  The artwork had a "He-Man and the Masters of the Universe" feel to it therefore the Primal Age.  And if you buy into that environment, you can easily see a mirrored Robin Hood aspect going on!  And anytime you give me the various forms of Kryptonite, I am excited!  It was great seeing a throwback to Blue K being used!
Negatives
This book took me two reads to really get it!  The first time through, I didn't like it as it as I was all geared up for an older read, so I really had to put on my ten year old persona to appreciate the book.  The dialogue seemed a bit overstated like the comics of the 1970's.  But I get it….the authors may be going for a younger audience and it is a great reimagination along the lines of "What if…."  However, the older reader may not be nostalgic for this and it may be a turn off!
Verdict
If you are a younger reader or a parent buying for your child, it is a great read!  If you are an older reader wanting more meat on the bones, then you may want to hold off!  However, as a comic fan, all the elements of each character are here and if you are looking for some old Easter eggs in the script, you'll find those too!  And the new Lucius Fox is a pretty cool thing.  Here's hoping that will bleed over into some other Batman titles!