Director: Glen Winter
Writers: Marc Guggenheim and Emilio Ortega Aldrich
Starring: Stephen Amell, David Ramsey, Emily Bett Rickards, Echo Kellum, Rick Gonzalez, Juliana Harkavy, Colton Haynes, Kirk Acevedo, Sea Shimooka, Eliza Faria, Bex Taylor-Klaus Kate Cassidy Rodgers, Grant Gustin, Paul Blackthorne, Willa Holland, Katherine McNamara, Joseph David-Jones, Jessica Heafey, Jack Moore, Kelsey Grammer, Venus Turzo, Laara Sadiq
Synopsis: Amidst the filming of a documentary on the rise of vigilantism in Star City, Team Arrow must deal with a criminal hellbent on targeting known heroes and Felicity discovers problems with the newly returned William.
Positives: 
As a fan of the series that has followed the show religiously since the pilot, the writers hit every mark for its 150th episode. Having Guggenheim as co-writer – the man who helped develop the show with Andrew Kriesberg and Greg Berlanti seven years ago – made you have the good sense that the episode was in the best of hands, and it was.
The "Play within a play" approach via framing the events around the production of a documentary was very creative, as was bringing in known Arrowverse alums like Grant, Caity, Willa, and especially Paul. This made it feel less like a reunion episode and more like a step forward in these characters' developments surrounding the Anti-Vigilante Act. The notion that the documentarian has been filming this for years with footage date stamped in year one and year three was both clever and hilarious at times. It also gave Stephen, as Oliver, a soap box to reflect on how what was once a solo crusade evolved into a team effort. This sunnier point of view is challenged by both antagonist Chimera hunting vigilantes, and his team immediately arrested after saving the day. It's another opportunity for Oliver to not repeat his mistakes and practice his new transparent approach, such as confiding in both Diggle and Dinah about Emiko's existence and her being the new Green Arrow. Having Willa back as Thea after a long absence, albeit brief, gave fans the chance to catch up and see how she views the state of affairs. By cutting sequences in the episode from standard filming to first-person footage filmed by camera gave the fight sequences that raw feel and put the onus on the choreography without dynamic camera angles. What was fun about that method was that it made it feel more interactive for the audience. Ultimately, the format works in that in the future this documentary is banned and Oliver and company's efforts to establish the importance of vigilantes falls on deaf ears.
The return of Jack Moore as William with an edge to him was the right approach given the abruptness of his exit after the season premiere. After seeing the flash-forward sequences to adult William and his character development, it's a good misdirection from the true secret that he is keeping from Felicity and Oliver. The establishment of his friendship with Zoe and a pointlessly jealous Rene was also a good nod to where these characters are heading. Beyond that, it's understandable why he's angry with his dad and stepmother, especially Felicity. After Diaz's attack, she sent him away without giving him a chance to process her reasons nor give him a chance to weigh in. Six months together, building a bond, and she sends him on the first flight out-of-town to protect him. It's a 180 to what was once a solid bond between two mutual tech-savvy people. And yet, he himself is revealed to have picked up a lot from Felicity in regards to forging documents, but not so much as to where the teacher is fooled by the student. It will be interesting to see the reasons for his dismissal from boarding school, and I will keep my suspicions to myself for now.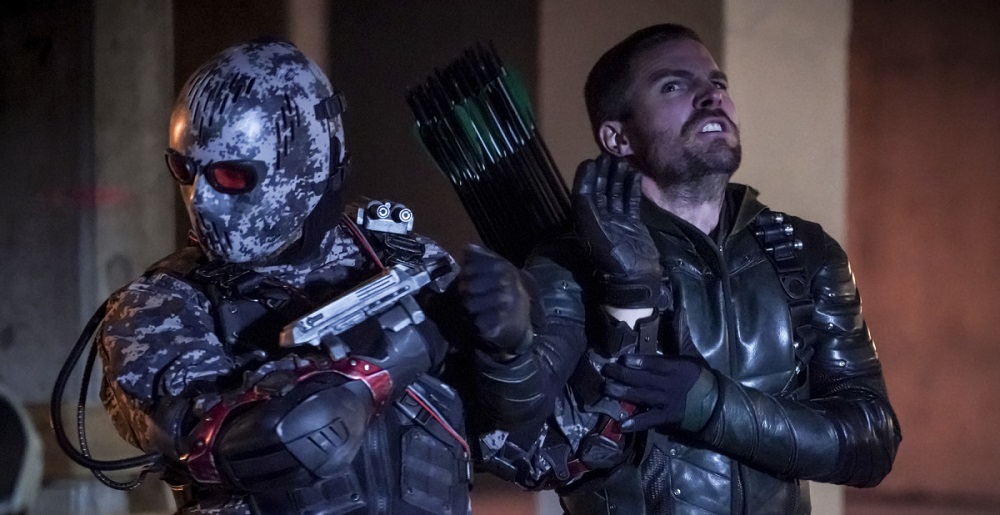 Getting back to moving things forward, the focus of the restrictions of the Anti-Vigilantism Act is dealt with at length thanks to its main driving force, Mayor Pollard. From the beginning of the season, she has made it her life's mission to assure Star City that masks were neither welcome nor needed. The idea to have Ollie suited up at this town rally was the best way for Oliver to both stand tall as a deputized officer and speak out against Pollard's myopic point of view. The rise of a self-styled assailant targeting vigilantes – nice decision to make him ironically someone who was saved by Oliver in his Hood persona, by the way –  did not get any sympathy in the least from her regarding his targets. Her prejudice setting the stage for the reformation of Team Arrow and her efforts to follow through with the law were very grounded and expected. You were not going to expect her to be saved by the very element she's striving to eliminate from the city and do a 180 on the bill that was passed. Nor was the revelation that the police captain she hired to enforce this law was the former Black Canary herself, who humbly offered her resignation. Still, it was a good plot device to convince her to bend and deputize the rest of Team Arrow. As for Oliver himself, with both the documentary project and behind closed doors conversations, Oliver reinforces his new transparent approach by confiding in Diggle and Dinah about Emiko Queen being both his half-sister and the new Green Arrow. It again shows his efforts to do things differently since Emiko's stubbornness to continue her crusade puts her in the crosshairs of Pollard and the AVA. He needs two people that he trusts with his life well-informed of this latest development in his personal life. This decision to confide in two people that he hurt the most last year shows closure and growth, especially when it's John, Oliver's ever-steady voice of reason, who convinces him to bring the gang back together. They started it all in season one before Felicity was thrown in, so now, seven years later, two brothers agree to give it another go in spite of the risk of prison.
Negatives:
Just a few complaints. Firstly, now that John is an agent of A.R.G.U.S., the fact he was apprehended in violation of a city-approved law should mean his immediate firing from the organization, deputized or not. Also, I would like to know how this documentarian managed to get access to Diaz in a Slabside prison cell when he's under lock and key at A.R.G.U.S.. Lastly, I fail to see the relevance of Curtis naming this new bad guy Chimera when nothing about his methods even relates to the mythological creature. Kelsey Grammar used only as a narrator was a waste of an amazing actor. He should have made an appearance at least.
Final Verdict:
In spite of this minor flaws, I give the 150th episode of Arrow a stellar 5 out of 5. The frame narrative again works in that it shows where the series and its characters have been and sets up where they are going. The official deputization of the rest of Ollie's group reestablishes the team dynamic that's been lacking this season. William's drama will test Oliver's parenting skills in a good way and address loose ends. This episode's list of cameos made this installment extra special, especially the at-length comedic comments from a certain Central City Forensics expert. Let's make it to episode 200 with the same level of quality and attention to story. Great work, everybody!
Rating