Writers: Jai Nitz, Mike Barr
Artists: Philippe Briones, Wayne Faucher, Scot Eaton
Summary
Also in this issue, the heist on Gemworld got the entire Suicide Squad Black team killed. With her new squad dead, Amanda Waller is out of magic bullets. Things go from bad to worse when Waller sends the regular Suicide Squad to catch Sebastian Faust. Can their technology possibly stand a chance against a foe whom magic couldn't defeat?
Positives
One kind of squad ends, and two survive.  Even though the main run of Suicide Squad has ended fans of the crew can still live get a dose of the team through the exploits of Katana and El Diablo's respective teams.
The latter half of the book deals with Wallers fallout from losing another Task Force X, this time, her magical division. With the news that El Diablo has survived, Waller pairs him with the main team and subsequently end sends them to a battle with faust in which El Diablo must stand and bring the team back from ruin for one final show down.
Negatives
No competition, no strive. One would think the only surviving Suicide run would pick up the ball and save the team in some form or aspect for the fans that want to continue reading the book but that's not the case. Katana's story was intriguing from the get go had major potential but has now fallen into a regular mundane body swap story we have seen a million times. The loss of the spirit world and Katana's husband to the story was huge but didn't feel that way, it just made it a glorified Freaky Friday without anymore excitement or expectations for the future.
El Diablo's mission to save the team was exciting but lacked anything in terms of story telling or surprise. The series itself has teased major characters and had potential but now seems to have joined the first half of the book as a predictable boring story.'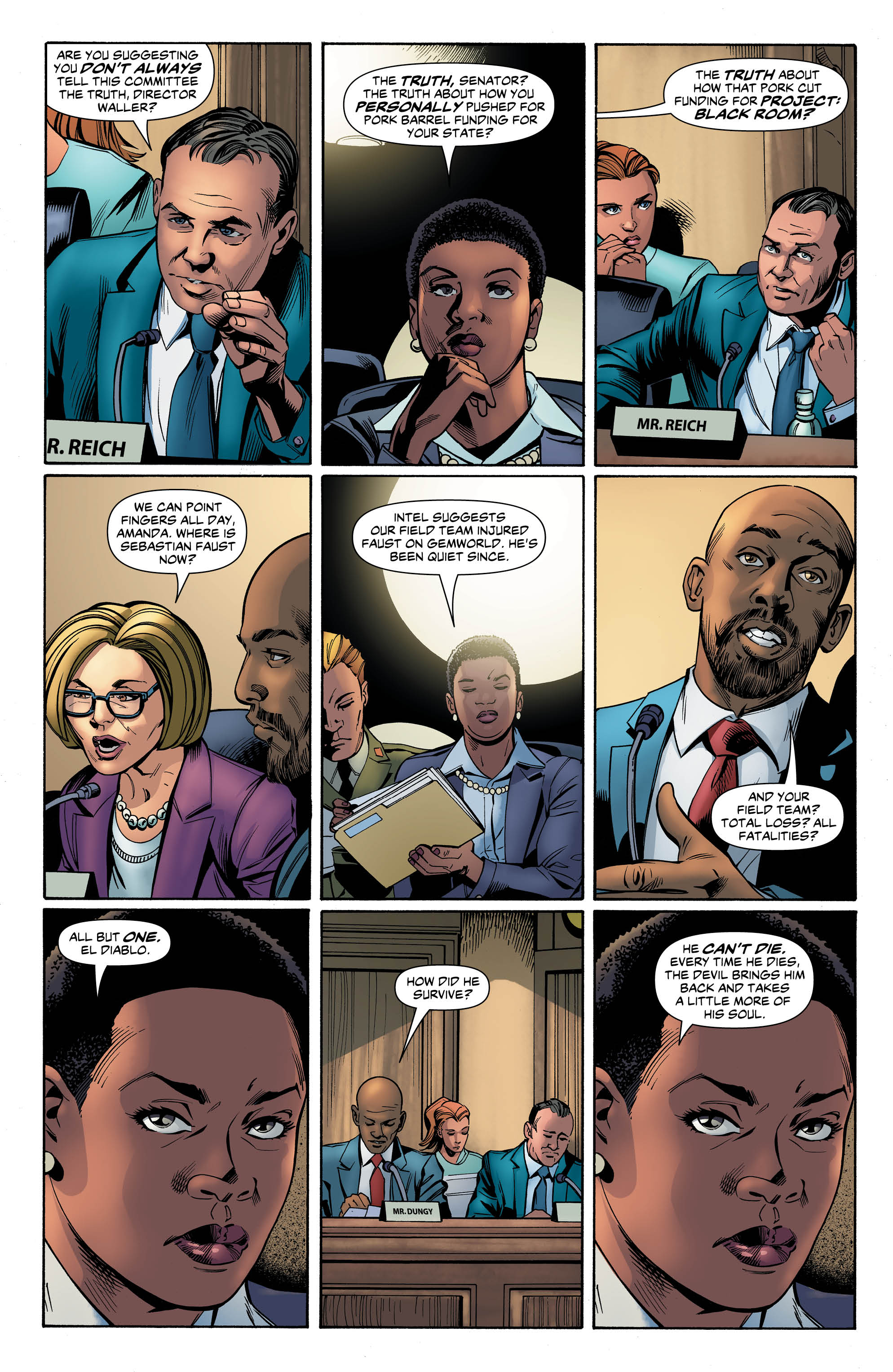 Verdict
Starting off strong, ending poor. It's sad to see a good book go, that's exactly what Suicide Squad was, a good book, sadly its cousin has not picked up the work the original book left behind. Boring and bland the book leaves little to expect and even less to look forward to, its sad to say, the wrong series was ended prematurely.