[Editor's Note: This review may contain spoilers]
Director: Larry Teng
Writer: Shoshana Sachi
Starring: Brendan Fraser, Matt Bomer, April Bowlby, Diane Guerrero, Joivan Wade, Mark Sheppard, Timothy Dalton, Lilli Birdsell, Ted Sutherland, Alan Tudyk, Riley Shanahan, Matthew Zuk, Julie McNiven, Jeanette O'Connor, Ezra Buzzington
Summary
The lovable band of misfits you've grown attached to for the last 4 episodes are too damaged to save the world, so it looks like Mr. Nobody is going to have to intervene.  Bow how could the Decreator possibly be defeated?  Why by forming a counter cult and creating the Recreator of course!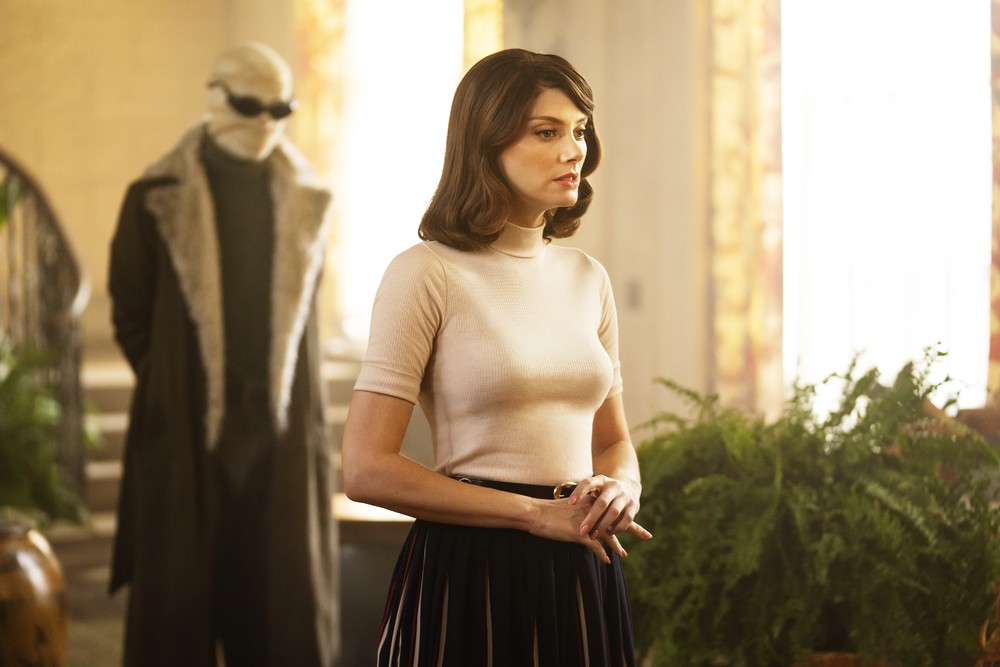 Positives
This series continues to be unconventional and creative in ways that make it one of the best comic book shows out there.  Its not afraid to take risks regarding every aspect of making a TV show.  The lack of reliance on over-saturation alone makes the show far above many of its peers.  The visuals aren't afraid to get loud, bold, hyperviolent, or ludicrous and they still balance nicely with grounded moments of conversation and introspection.  The show truly has an unprecedented sense of balance, and that's what drives it forward.
This balance is largely achieved through the excellent character design.  Each character has a trait and moment in each episode that makes us laugh and cry.  For Jane this is an incredibly dark episode filled with physical, mental, and emotional abuse, yet one cannot help but chuckle at Dr. Harrison's biting dialogue and snarky retorts.  Diane Guerrero is giving a groundbreaking performance that makes each personality feel extremely unique.  I've never witnessed such highs and lows from one character or one actress episode after episode.
The show definitely has its dark sense of humor, but it also raises an interesting question, is it okay to laugh at something like this?  In today's world, we're often scared to even talk about some of the dark and intense mental health issues at the core of this show, but they're often surrounded by humor. Whether its used as a coping tool or its just part of dissecting the trauma behind these characters, Doom Patrol's over-the-top surrealism may finally get people to start talking about these very real issues, and that's a great thing in my book.
It's been so easy to grow attached to each character after only five episodes.  A great Jane moment comes along and we say, "She's my favorite character," but then Robotman gets real for a second and now "He's my favorite character." Then Larry breaks your heart and, well, you get the idea.  All of the characters, despite their eccentricities, are defined and grounded enough to be someone's favorite character.
Particular highlights from this episode include Jane's incredibly well-portrayed, dark past, Rita's character growth as a result of her attachment to Elliot, and Mr. Nobody's cynical return.  Doom Patrol is well on its way to becoming a mainstream superhero team thanks to this excellent show, and I'm all for it.
Negatives
No negatives this time!   This episode accomplishes everything it sets out to do and as always, I'm excited for more!
Verdict
Doom Patrol continues to elevate the level of comic book media and prove why capes and cowls don't always come at the cost of character.