[Editor's Note: This review may contain spoilers]
Writer: J.M. DeMatteis
Artists: Pat Olliffe & Tom Palmer
Colors: HI-FI
Letters: Travis
Reviewed by: Carl Bryan
Summary
"A better world.  That was, after all, the goal of "Project Elysium" – Velma after the birth of her son.
Aptly entitled "The End is Here", this final installment of Scooby and the Gang's fight against the Nanite King is sewing up all loose ends.  The Nanite King confronts Velma and provides an ultimatum to join the Nanites or be destroyed along with all the other humans.  The Nanite King explains that Velma, in her efforts to save humanity, created the Nanites and therefore should be offered the chance to be spared and allowed to join them.  He leaves after a confrontation with the Gang as they come swarming in, but he indicates Velma has three days to make a decision.  Rufus' condition continues to plummet him towards a certain death.  Scooby, Scrappy and Shaggy have a last supper of sorts.  And Fred makes the ultimate sacrifice on behalf of his one true love, Daphne, in order to eradicate the Nanite King.  It's the last issue, so we have to wrap up Atom Ant's tryout with the Justice League with the League providing him the final verdict on membership.
Positives
This incarnation of Scooby and the Gang came at the right time and it leaves with a satisfying taste in one's mouth.  J.M. DeMatteis has taken us on a break from the Saturday mornings of old and introduced us to a beefed up Apocalyptic environment where we have seen each character take on attributes we expected, and sometimes didn't expect.  A grown up Shaggy who is always devoted to his companion Scooby, and a sacrificial Fred whose love for Daphne is that of a Romeo and Juliet tragedy.  And Velma, the super intellectual, who never made a mistake on Saturday mornings, but who in this tale made the ultimate mistake in creating the Nanites.  DeMatteis shows us all the aspects of story telling and character flaws.  And we kept coming back.  Here's hoping he has a hand in reinventing some other Saturday morning characters, or better yet, reincarnates the entire Gang for an adventure in another time and space.  These "adult" versions of Scooby and the Gang are too good to be left alone in just this 36 issue span.
Negatives
It's the end of this tale and we don't know the plans for any future Scooby endeavors, but as stated above, it would be great to see Fred reincarnated along with all the rest of the gang and be in some alternate adventure.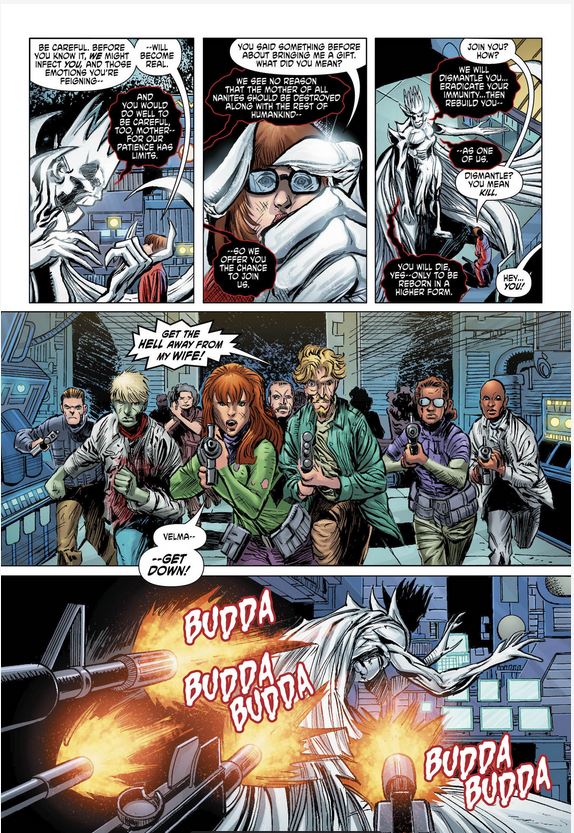 Verdict
Well done!  Really well done!  The crew that provided us a 36 issue joy ride should be commended as this took us where Scooby and the Gang had not before.  The art work, the reimagination of characters, and a story that is timely in the era of pop culture made for a great run!  Here's hoping you buy the last issue, but more importantly, here's hoping there is a trade paperback to amalgamate all issues together for a Saturday afternoon reading!