DC Comics News has compiled a list of DC Comics titles and collectibles shipping to comic shops for April 24, 2019.
Check back every Friday with the DC Comics News Pull Box to see all the cool new DC Comics titles and collectibles that will be available at your favorite local comic shop! So, what titles or collectibles will you be picking up this Wednesday? You can sound off in the comments section below! Click on Comic shop Locator to find the comic shop nearest to you!
COMICS
ACTION COMICS #1010 $3.99
BATGIRL #34 $3.99
BATMAN BEYOND #31 $3.99
BOOKS OF MAGIC #7 $3.99
DC PREVIEWS #13 MAY 2019 EXTRAS $PI
DETECTIVE COMICS #1002 $3.99
DIAL H FOR HERO #2 (OF 6) $3.99
DOOMSDAY CLOCK #5 (OF 12) FINAL PTG $4.99
DOOMSDAY CLOCK #6 (OF 12) FINAL PTG $4.99
FLASH #69 $3.99
FREEDOM FIGHTERS #5 (OF 12) $3.99
GODDESS MODE #5 $3.99
HEROES IN CRISIS #8 (OF 9) $3.99
JUSTICE LEAGUE DARK #10 $3.99
NAOMI #1 FINAL PTG $3.99
NAOMI #2 FINAL PTG $3.99
NAOMI #3 FINAL PTG $3.99
SILENCER #16 $3.99
TERRIFICS #15 $3.99
WILD STORM #22 $3.99
WONDER WOMAN #69 $3.99
DCN Pull Box Triple Spotlight
FLASH #69 $3.99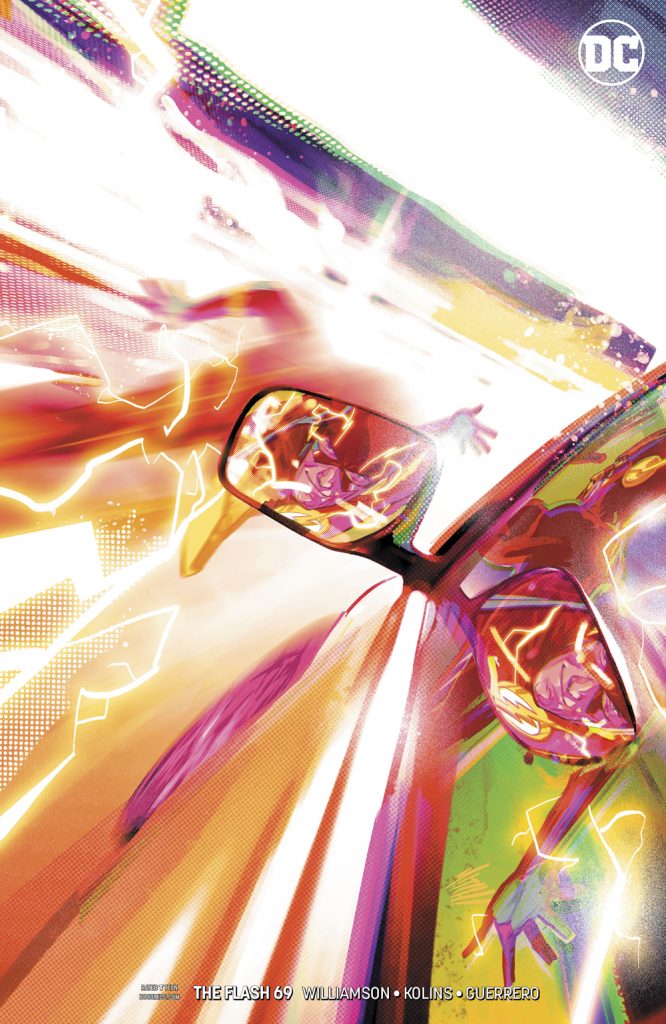 (W) Joshua Williamson (A) Scott Kolins (CA) Mitch Gerads
Riot in Central City! Trickster has pulled out all the stops in his assault on Flash's hometown, and the Scarlet Speedster is powerless to crack Trickster's code! Our hero is faced with an impossible choice: save the people of Central City-or let the villain who caused it all escape to wreak havoc another day!
---
TERRIFICS #15 $3.99
(W) Gene Luen Yang (A) Stephen Segovia (CA) Evan Shaner
The next turning point for the Terrifics starts here! It's a new chapter in the lives of Mr. Terrific, Phantom Girl, Meta-morpho and Plastic Man as their renewed mission of exploring the Multiverse and protecting Earth's place amid the cosmic tapestry hits upon a terrifying message hidden within their own technology: something big is coming. When a distress call from Bgztl heralds Armageddon for planet Earth, the team must think bigger, trust no one and fight with everything they've got to save the planet from… the Megacosm!
---
WILD STORM #22 $3.99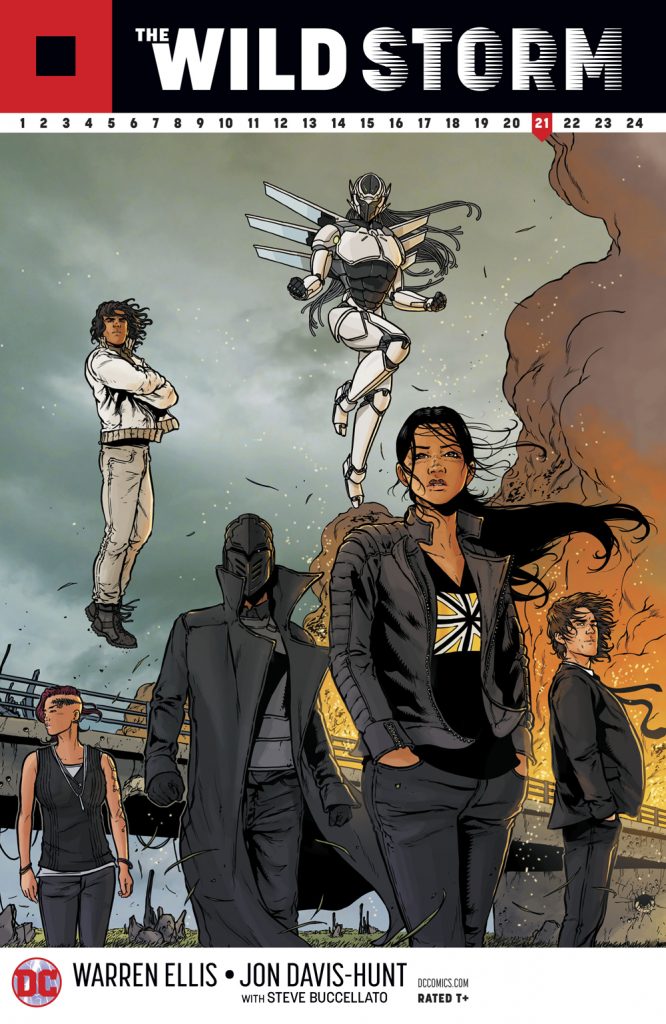 (W) Warren Ellis (A/CA) Jon Davis-Hunt
"The Sparks has the authority." Jenny Mei Sparks has assembled a group of misfits and exiles, to stand against a corruption that covers the world and orbits above it. The problem? She's probably too late. The endgame for a free Earth is in motion.
---
Variant Covers
Note: Variant Prices To Be Determined By Retailer
ACTION COMICS #1010 VAR ED $3.99
BATGIRL #34 VAR ED $3.99
BATMAN BEYOND #31 VAR ED $3.99
DETECTIVE COMICS #1002 VAR ED $3.99
FLASH #69 VAR ED $3.99
HEROES IN CRISIS #8 (OF 9) VAR ED $3.99
JUSTICE LEAGUE DARK #10 VAR ED $3.99
WONDER WOMAN #69 VAR ED $3.99
GRAPHIC NOVELS
BATMAN & THE JUSTICE LEAGUE MANGA TP VOL 02 $12.99
BATMAN NOIR GOTHAM BY GASLIGHT HC $29.99
INJUSTICE 2 HC VOL 05 $24.99
INJUSTICE 2 TP VOL 04 $16.99
SCARLET TP VOL 01 $16.99
SUPERGIRL TP VOL 01 THE KILLERS OF KRYPTON $16.99
SUPERMAN WORLD AGAINST SUPERMAN TP $24.99
BOOKS
BATMOBILE CUTAWAYS MOVIE VEHICLES 1989-2012 W COLLECTIBLE $39.95
JOKER TALKING BUST & ILLUS BOOK KIT $12.95
WONDER WOMAN YOURE AMAZING FILL IN BOK HC $12.00
ACTION FIGURE/STATUES
AQUAMAN MOVIE 6IN AF & WARRIOR SHARK CS $34.99
AQUAMAN MOVIE MULTIVERSE 6IN AF ASST $19.99
BATMAN 1966 1/6 SCALE PENGUIN MAQUETTE $249.99
DC ARTISTS ALLEY BATMAN BY LEDBETTER PVC FIGURE $60.00
DC ARTISTS ALLEY CATWOMAN BY LEDBETTER PVC FIGURE $60.00
DC ARTISTS ALLEY PENGUIN BY LEDBETTER PVC FIGURE $60.00
DC ARTISTS ALLEY ROBIN BY LEDBETTER PVC FIGURE $60.00
DC BATMAN UNIVERSE BUST COLL #26 1966 ROBIN $24.95
FCBD 2019 POP DC HEROES JOHN CONSTANTINE PX VINYL FIG $11.99
FCBD 2019 TEEKEEZ RED SON SUPERMAN WONDER WOMAN VIN FIG 2PK $19.99
HARRY POTTER COS 7IN SCALE DUMBLEDORE DOLL $23.99
HARRY POTTER COS 7IN SCALE GINNY WEASLEY DOLL $23.99
HARRY POTTER COS 7IN SCALE HARRY POTTER DOLL $23.99
HARRY POTTER COS 7IN SCALE HERMIONE DOLL $23.99
HARRY POTTER COS 7IN SCALE MCGONAGALL DOLL $23.99
HARRY POTTER COS 7IN SCALE RON WEASLEY DOLL $23.99
MERCHANDISE
CLUE SCOOBY DOO BOARD GAME $PI
DC BATMAN POCKET MULTI-TOOL W/CASE $22.00
HARRY POTTER ALWAYS GREY & GOLD 2PC CERAMIC LATTE MUG SET $23.99
CLOTHING
BATMAN 80TH LOGO II T/S LG $19.95
BATMAN 80TH LOGO II T/S SM $19.95
BATMAN 80TH LOGO II T/S XL $19.95
BATMAN 80TH LOGO II T/S XXL $22.95
BATMAN 80TH T/S LG $19.95
BATMAN 80TH T/S MED $19.95
BATMAN 80TH T/S SM $19.95
BATMAN 80TH T/S XL $19.95
BATMAN 80TH T/S XXL $22.95
BATMAN 8OTH LOGO II T/S MED $19.95
BATMAN ARKHAM GATES T/S LG $19.95
BATMAN ARKHAM GATES T/S MED $19.95
BATMAN ARKHAM GATES T/S SM $19.95
BATMAN ARKHAM GATES T/S XL $19.95
BATMAN ARKHAM GATES T/S XXL $22.95
MAD SVS BOOM T/S LG $19.95
MAD SVS BOOM T/S MED $19.95
MAD SVS BOOM T/S SM $19.95
MAD SVS BOOM T/S XL $19.95
MAD SVS BOOM T/S XXL $22.95
SUICIDE SQUAD JOKER T/S LG $19.95
SUICIDE SQUAD JOKER T/S MED $19.95
SUICIDE SQUAD JOKER T/S SM $19.95
SUICIDE SQUAD JOKER T/S XL $19.95
SUICIDE SQUAD JOKER T/S XXL $22.95
WONDER WOMAN VINTAGE T/S LG $19.95
WONDER WOMAN VINTAGE T/S MED $19.95
WONDER WOMAN VINTAGE T/S SM $19.95
WONDER WOMAN VINTAGE T/S XL $19.95
WONDER WOMAN VINTAGE T/S XXL $22.95
Please comment below and don't forget to like, share and follow us on:
Facebook: https://www.facebook.com/dccomicsnews
Twitter: @DCComicsNews
Pinterest: http://www.pinterest.com/dccomicsnews/
Tumblr: http://dccomicsnews.tumblr.com
Instagram: @dccomicsnews