DC Comics News has compiled a list of DC Comics titles and collectibles shipping to comic shops for May 22, 2019.
Check back every Friday with the DC Comics News Pull Box to see all the cool new DC Comics titles and collectibles that will be available at your favorite local comic shop! So, what titles or collectibles will you be picking up this Wednesday? You can sound off in the comments section below! Click on Comic shop Locator to find the comic shop nearest to you!
COMICS
ACTION COMICS #1011 $3.99
BATGIRL #35 $3.99
BATMAN BEYOND #32 $3.99
BOOKS OF MAGIC #8 $3.99
DETECTIVE COMICS #1004 $3.99
DIAL H FOR HERO #3 (OF 6) $3.99
FLASH #71 $3.99
FREEDOM FIGHTERS #6 (OF 12) $3.99
JUSTICE LEAGUE DARK #11 $3.99
LOONEY TUNES #249 $2.99
MARTIAN MANHUNTER #5 (OF 12) $3.99
SCOOBY DOO TEAM UP #48 $2.99
SILENCER #17 $3.99
TERRIFICS #16 $3.99
WONDER WOMAN #71 $3.99
DCN Pull Box Triple Spotlight
FLASH #71 $3.99
(W) Joshua Williamson (A/CA) Howard Porter
"The Flash Year One" continues! Barry Allen struggles to control his powers as he experiments with his newfound abilities. When one of his tests lands him in a mess, he'll come face to face with his first villains!
---
SCOOBY DOO TEAM UP #48 $2.99
(W) Sholly Fisch (A/CA) Dario Brizuela
Over the years, Scooby and the gang have nabbed enough nefarious villains to fill a rogues gallery. But the tables are turned when they have to help a rogues gallery of the Flash's most nefarious super-villains! Can the gang rescue the Rogues from the ghost of a fellow Rogue-that sinister spinner, the Top? And if they do, can they also rescue themselves from the Rogues?
---
TERRIFICS #16 $3.99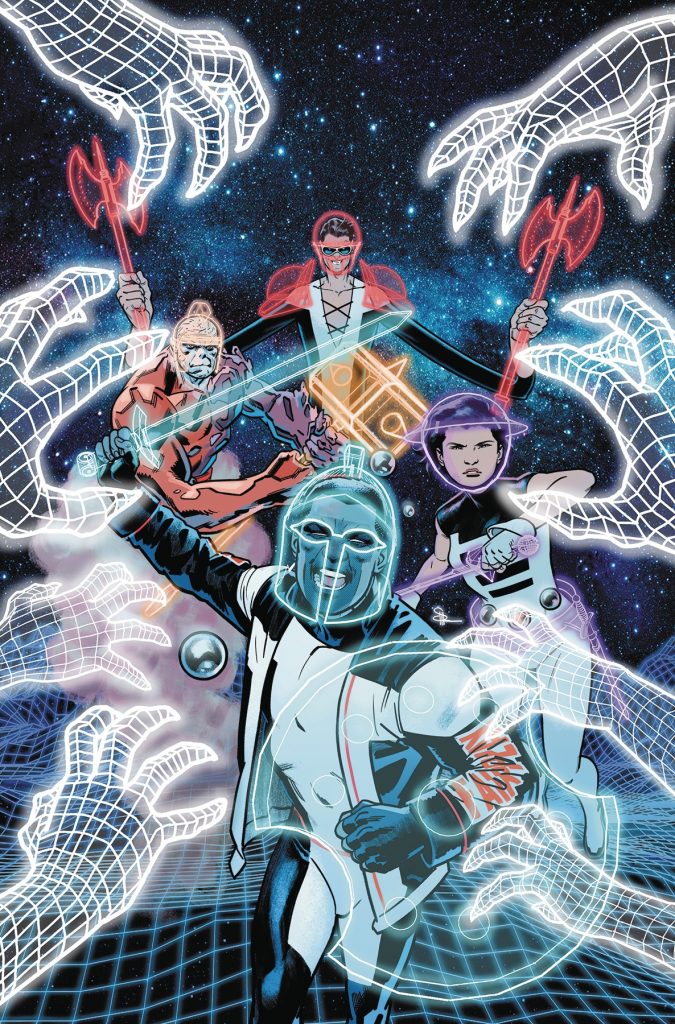 (W) Gene Luen Yang (A) Stephen Segovia (CA) Evan Shaner
The Terrifics have entered cyberspace for a battle unlike any they have faced before. It's a battle against…God? Well, the science is still out on that, but as our heroes face off against all manner of monstrous plagues, things do seem to be reaching biblical proportions. Could the key to all this be the mysterious Pixel?
---
Variant Covers
Note: Variant Prices To Be Determined By Retailer
ACTION COMICS #1011 VAR ED $3.99
BATGIRL #35 VAR ED $3.99
BATMAN BEYOND #32 VAR ED $3.99
DETECTIVE COMICS #1004 VAR ED $3.99
FLASH #71 VAR ED $3.99
JUSTICE LEAGUE DARK #11 VAR ED $3.99
MARTIAN MANHUNTER #5 (OF 12) VAR ED $3.99
WONDER WOMAN #71 VAR ED $3.99
GRAPHIC NOVELS
ABSOLUTE BATMAN THE BLACK MIRROR HC $99.99
COVER TP VOL 01 $16.99
OUTSIDERS BY JUDD WINICK TP BOOK 01 $24.99
SANDMAN TP VOL 08 WORLDS END 30TH ANNIV ED $19.99
SCOOBY APOCALYPSE TP VOL 05 $16.99
MAGAZINES
BACK ISSUE #113 $8.95
Back Issue celebrates Tim Burton's Batman's 30th Anniversary, featuring a guest column and interview with Batfilms producer Michael Uslan, an interview with screenwriter Sam Hamm, and a chat with the man who might have been Two-Face: Billy Dee Williams. Plus: 1989: DC Comics' Year of the Bat, Denny O'Neil and Jerry Ordway's Batman movie adaptation, Mindy Newell's Catwoman, Grant Morrison and Dave McKean's Arkham Asylum, Max Allan Collins' Batmannewspaper strip, and Joey Cavalieri and Joe Staton's Huntress. Featuring a classic Michael Keaton Batman cover by Jose Luis Garcia-Lopez, with cover design by Michael Kronenberg.
---
JACK KIRBY COLLECTOR #76 $10.95
Dysfunctional relationships abound in Jack Kirby Collector's "Fathers & Sons" issue! We'll explore the father/son dynamic, Kirby-style, between Odin/Thor, Zeus/Hercules, Darkseid/Orion, Captain America/Bucky, and others. Also: Conducted the week of Jack's 1994 passing, there's a touching unpublished interview with Gil Kane eulogizing his mentor, and heartfelt tributes from a host of Jack's creative offspring: Bill Mumy, Jimmy Palmiotti, Joe Quesada, Jim Valentino, Todd McFarlane, Peter David, Neil Gaiman, Frank Miller, and others. Plus: Mark Evanier and our other regular columnists, the 2018 Kirby Tribute Panel, a complete Golden Age Kirby story, a pencil art gallery featuring prodigal sons (and daughters) from Forever People, New Gods, Thor, Machine Man, and a cover inked by Al Milgrom!
---
ACTION FIGURE/STATUES
AQUAMAN MOVIE AQUAMAN 1/9 SCALE POLYSTONE STATUE $90.00
BATMAN FAMILY BATGIRL MULTI PART STATUE $80.00
DC BOMBSHELLS POISON IVY SEPIA TONE VARIANT STATUE $125.00
DC GALLERY BATWOMAN COMIC PVC FIGURE $45.00
DC JUSTICE LEAGUE 8IN 12PC BENDABLE FIGURE ASST $24.99
VYNL SUICIDE SQUAD THE JOKER & HARLEY QUINN VIN FIG 2PK $14.99
MERCHANDISE
HARRY POTTER DEATHLY HALLOWS PEWTER LAPEL PIN $4.99
HARRY POTTER GLASS JAR OFFICE ACCESSORY SET W/ BASE $21.99
HARRY POTTER GRINGOTTS VAULT BANK $30.00
HARRY POTTER HEAD CERAMIC MUG $12.99
HARRY POTTER HOGWARTS HOUSES OFFICE SUPPLY SET $27.99
HARRY POTTER PHOENIX CERAMIC MUG $12.99
CLOTHING
AQUAMAN MOVIE BLACK MANTA BLK/RED 9FIFTY SNAP BACK CAP $29.99
AQUAMAN MOVIE DARK GREEN 9FIFTY SNAP BACK CAP $29.99
BATMAN & JOKER T/S LG $19.95
BATMAN & JOKER T/S XL $19.95
BATMAN & JOKER T/S XXL $22.95
BATMAN 80TH CITY SYMBOL T/S LG $19.95
BATMAN 80TH CITY SYMBOL T/S MED $19.95
BATMAN 80TH CITY SYMBOL T/S SM $19.95
BATMAN THE JOKER EXPOSED T/S LG $19.95
BATMAN THE JOKER EXPOSED T/S MED $19.95
BATMAN THE JOKER EXPOSED T/S SM $19.95
BATMAN THE JOKER EXPOSED T/S XL $19.95
BATMAN THE JOKER EXPOSED T/S XXL $22.95
SHAZAM SILHOUETTE T/S LG $19.95
SHAZAM SILHOUETTE T/S MED $19.95
SHAZAM SILHOUETTE T/S SM $19.95
SHAZAM SILHOUETTE T/S XL $19.95
SHAZAM SILHOUETTE T/S XXL $22.95
WONDER WOMAN EMPOWERED T/S LG $19.95
WONDER WOMAN EMPOWERED T/S MED $19.95
WONDER WOMAN EMPOWERED T/S SM $19.95
WONDER WOMAN EMPOWERED T/S XL $19.95
WONDER WOMAN EMPOWERED T/S XXL $19.95
Please comment below and don't forget to like, share and follow us on:
Facebook: https://www.facebook.com/dccomicsnews
Twitter: @DCComicsNews
Pinterest: http://www.pinterest.com/dccomicsnews/
Tumblr: http://dccomicsnews.tumblr.com
Instagram: @dccomicsnews