Review: YOUNG JUSTICE: OUTSIDERS 3×16 – "ILLUSION OF CONTROL"
[Editor's Note: This review may contain spoilers]
Director: Christopher Berkeley
Writer: Greg Weisman
Starring: Troy Baker, Greg Cipes, Zehra Fazal, Grey Griffin, Stephanie Lemelin, Jesse McCartney, Nolan North
Reviewed by: Christian Ruiz
Summary
Young Justice: Outsiders 3×16 – "Illusion of Control": Across the nation, the team gives thanks for what they have… and for what they very well might lose.
Positives
Sub plots can always be a great fall back when the mains story just is not drawing in. In this case it was all the story. In the finale for the return week of Young Justice, Sub plots truly saved the story. Artemis came to grips with what maybe a harsh reality, learning to love again without Kid Flash. She was also contfronted by her mother and given the its time to grow up talk even forcing her to reference Barbra Gordon's paralysis. The talk forced Artemis to put things into perspective and truly examine, is she a hero? Or is she just playing dress up? Halo relived a painful memory that may lead to some larger focus in the future. This setup can be great we just have to wait and see.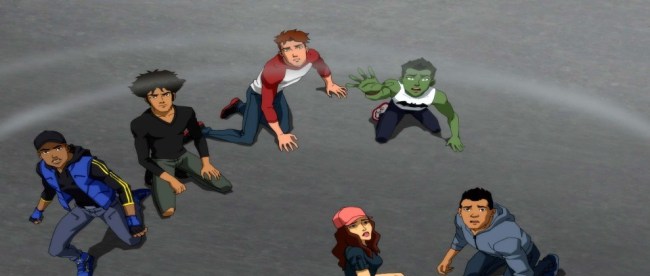 Negatives
I love Static Shock from 2000, I dont know Static Shock from Young Justice. The main plot focused on the orphan group trying to save a kidnapped princess. While this may have been great in theory I have no connection to this team. No setup that makes this a pay off. The impact-full moment it was meant to be was lost on me. Static Shock had a running joke about how he needed a girlfriend but I truly don't know him enough to sympathize. It came off as annoying if anything, a truly missed opportunity for another character.
Verdict
Even though this week has been awesome, it is a bit sour that the last episode was the weakest.