Review: YOUNG JUSTICE: OUTSIDERS 3×15 – "LEVERAGE"
[Editor's Note: This review may contain spoilers]
Director: Vinton Hueck
Writer: Tom Pugsley
Starring: Troy Baker, Greg Cipes, Zehra Fazal, Grey Griffin, Stephanie Lemelin, Jesse McCartney, Nolan North,
Reviewed by: Christian Ruiz
Summary
Young Justice: Outsiders 3×15 – "Leverage": A new Gamma Squad is sent out on its first mission to investigate rumors of meta-trafficking in Russia.
Positives
A fully stocked team and a new mission to tackle is a great way to keep the audience watching. one of the better parts of the episode came in the form of the Meta Human Center. Edaurdo now the defunct leader of the center must guide the new orphans to control themselves. We also got the reveal of Task Force-X from Waller. Her group is ready and willing to do what needs to be done. The team may face them in the future but for now we can only wait. The Russia action was great and faced paced making it clear the break has not hindered this shows action in anyway.
Negatives
The team has always been the focus of the show but now more than ever team is subjective. The introduction of Task Force-X is great but after such a long break I am only interested in the Outsiders. Last episode saw the team get less screen time than the guest Justice League. While having all these different factions running around can be great story wise for now I only want to focus of the titular characters. Having so many share the spotlight will begin to draw focus way from the main group and leave audiences wondering who truly Young Justice is about.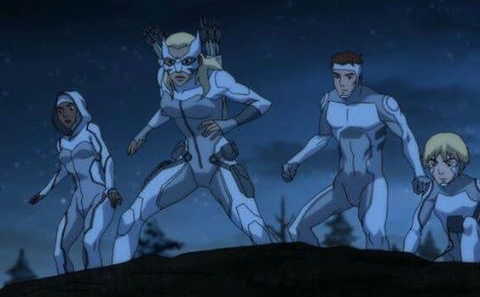 Verdict
The latter half continues to impress and draw in more and more. With political interests beginning to rise and captivating story, Young Justice is on a unprecedented course for a climatic end.