Review: The Green Lantern Annual #1
[Editor's Note: This review may contain spoilers]
Writer: Grant Morrison
Art: Giuseppe Camuncoli & Trevor Scott
Colors: Steve Oliff
Letters: Tom Orzechowski
Reviewed by: Matthew B. Lloyd
Summary
It's always a wild party with the Jordan family!  After waking up in an empty bathtub, Hal discovers his family has been taken captive by Zzyptzz, and only a nearly forgotten hero who also happens to be a Jordan can help.  Welcome back, Air-Wave!
Positives
All right friends, get your Jordan Family Tree out and follow along with me as best you can.  Besides being a fun read, we get to learn a bit more about Hal's family as Grant Morrison resurrects a minor Silver Age hero in The Green Lantern Annual #1.  This is definitely one of Morrison's more straightforward tales, everything you need to know is here, and no he didn't just invent Air Wave.  This direct approach makes the story not only fun, but it also allows for a little humor to shine through.  It's very Silver-Agey in concept as the radio wave creature Zzyptzz feels straight out of the early '60's.  (I Googled it, he's new.)
Morrison uses Zzyptzz's attack to showcase the dynamics in the Family Jordan.  Once he's figured out how Zzyptzz is controlling the Jordan's, Hal uses the family's own dysfunctional relationships to break his hold on them.  It's another Silver Age element that allows Morrison to demonstrate the ways in which an extended family can maintain a sense of unity even though they often bicker and argue amongst themselves.  In a brief exchange, it offers some insight into the complexity of families which readers are sure to recognize in their own lives.  Additionally, Hal seems to have a really positive relationship with the "kids" in the Jordan family.  It's very enjoyable to see this interaction, especially as it demonstrates that these kids all know Hal is a Green Lantern.
Positives (Cont.)
Throughout this run on The Green Lantern, Morrison has utilized long forgotten characters and concepts, finding a way to work them back into the larger tapestry that is the DC Universe.  Most notably, The Green Lantern #8 featured Xeen Arrow, a one-off character from the '50's that appeared in a Green Arrow two-parter by Jack Kirby.  Morrison does it again this issue as he brings Air Wave back into current continuity, complete with his membership in the Jordan family, Hal and Air Wave (also, Hal) are cousins.  Air Wave gets his moment as he uses his radio powers to put down Zzyptzz after Green Lantern has freed the family from his control.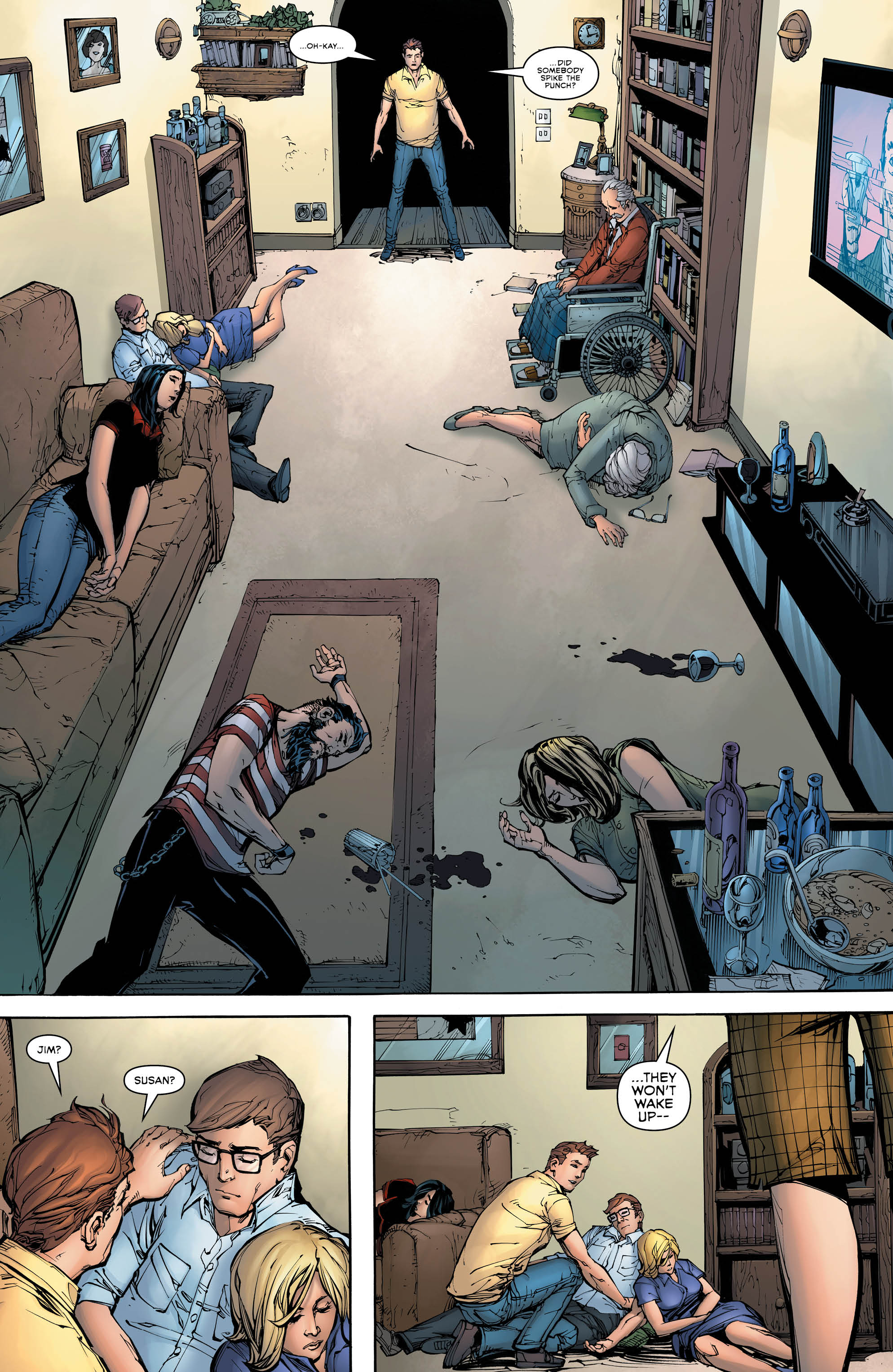 Air Wave seems primed for another appearance and the final page indicates that there may be more Zzyptzz's endeavor than Hal and Hal uncovered.  There's a final panel with a tease that could certainly be the start of something bigger for both Air Wave and the Jordan Family.
Negatives
There's nothing really negative about The Green Lantern Annual #1.  Camuncoli isn't quite the artist that Liam Sharp is on the regular issues, but Camuncoli get's it done.  The script doesn't really allow a lot of room for him to go for it as it takes place inside a house.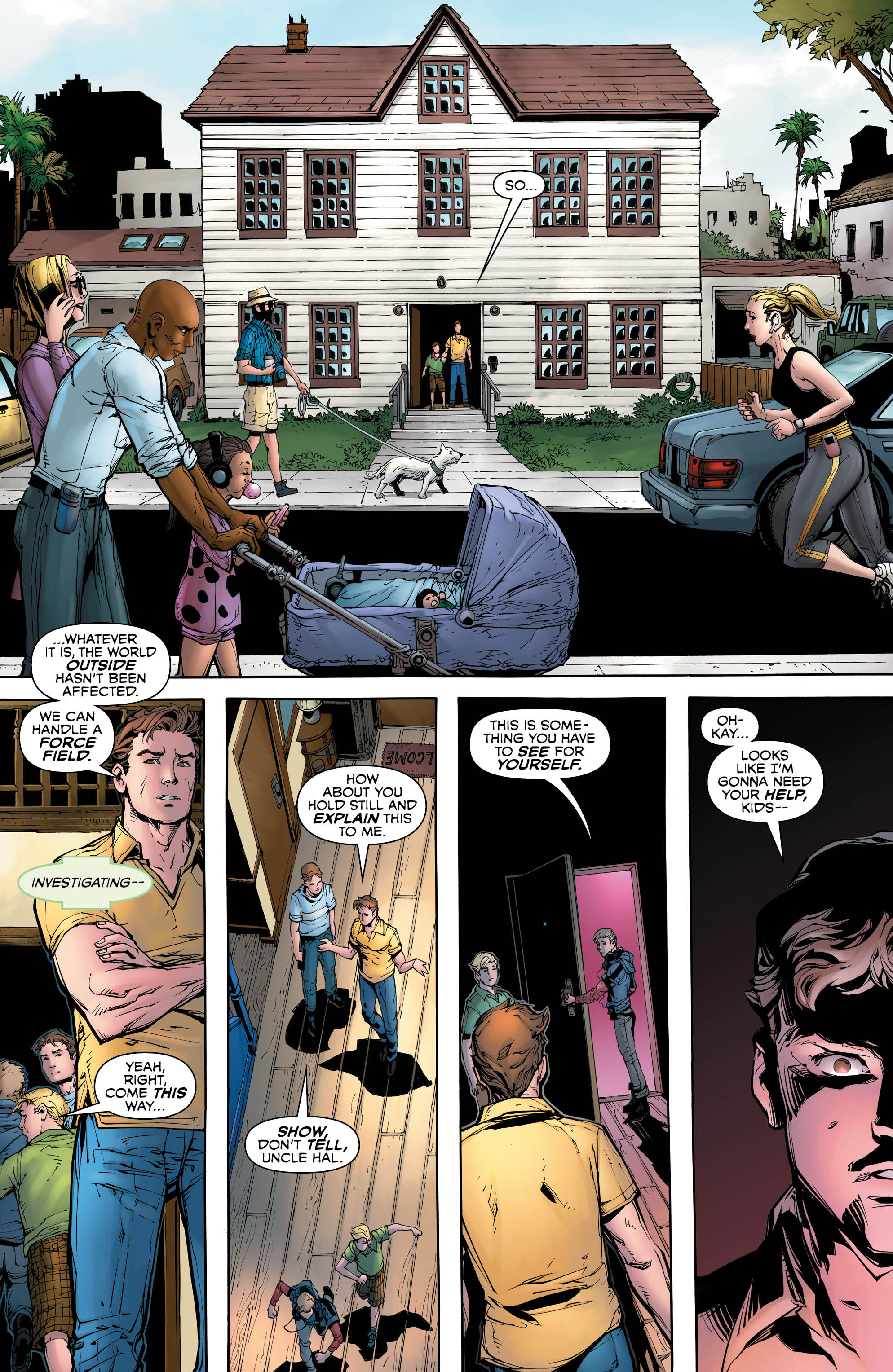 Verdict
The Green Lantern Annual #1 does what an annual should do these days: it tells a story outside the regular arc; reintroduce an old character; and provide some insight into the character as well as create a launching point for future stories.  While ticking off these boxes, the ideas mix together for an extremely fun single issue tale.