Review: Collapser #4
[Editor's Note: This review may contain spoilers]
Writers: Mikey Way & Shaun Simon
Art: Ilias Kyriazis
Colors: Cris Peter
Letters: Simon Bowland
Reviewed by: Matthew B. Lloyd
Summary
Liam's agent turns out to be a star, the hydrogen and helium variety, and directs Liam to use his black hole powers to recreate the city into what he wants it to be.  The other players in the scenario don't agree, but no one lifts a finger to stop Liam, and he is left to make his own choices…or is he?
Positives
Just when things seemed like they were going to go in a bit of a cliched direction last issue, the revelation about Liam's agent is a complete about face that keeps this series interesting.  If Liam can have a black hole for an abdomen, his agent can be a star!  Yes, that kind of star!  Keeping things off balance like this is a fundamental aspect of the Young Animal Comics line, and it usually pays off.  This sort of hyperbole tends to be metaphorical in nature, but in this case it seems to be a more literal use of the character as a star.  She's going to have some backstory presumably, but for now, it's enough to tip things on their side to keep it interesting.
As someone who's lactose intolerant, I find it quite humorous to see milk used as a weapon.  It works as an amusing twist on the traditional push of milk as something healthy.  In this case specifically, it reminds me of the Young Animal crossover from last year- "Milk Wars."  Gerard and Mikey way must both be lactose intolerant!
There's a trippy quality to this comic that gives it a unique feel.  It's part sci-fi, part super-hero, but all different.  It skirts the edges of the familiar while feeling very unique.  There are many characters that don't seem comfortable in possession of their powers, and Liam James, just might be the poster boy for that.  This might be the big picture metaphor that is being teased, accepting one's own unique gifts and abilities.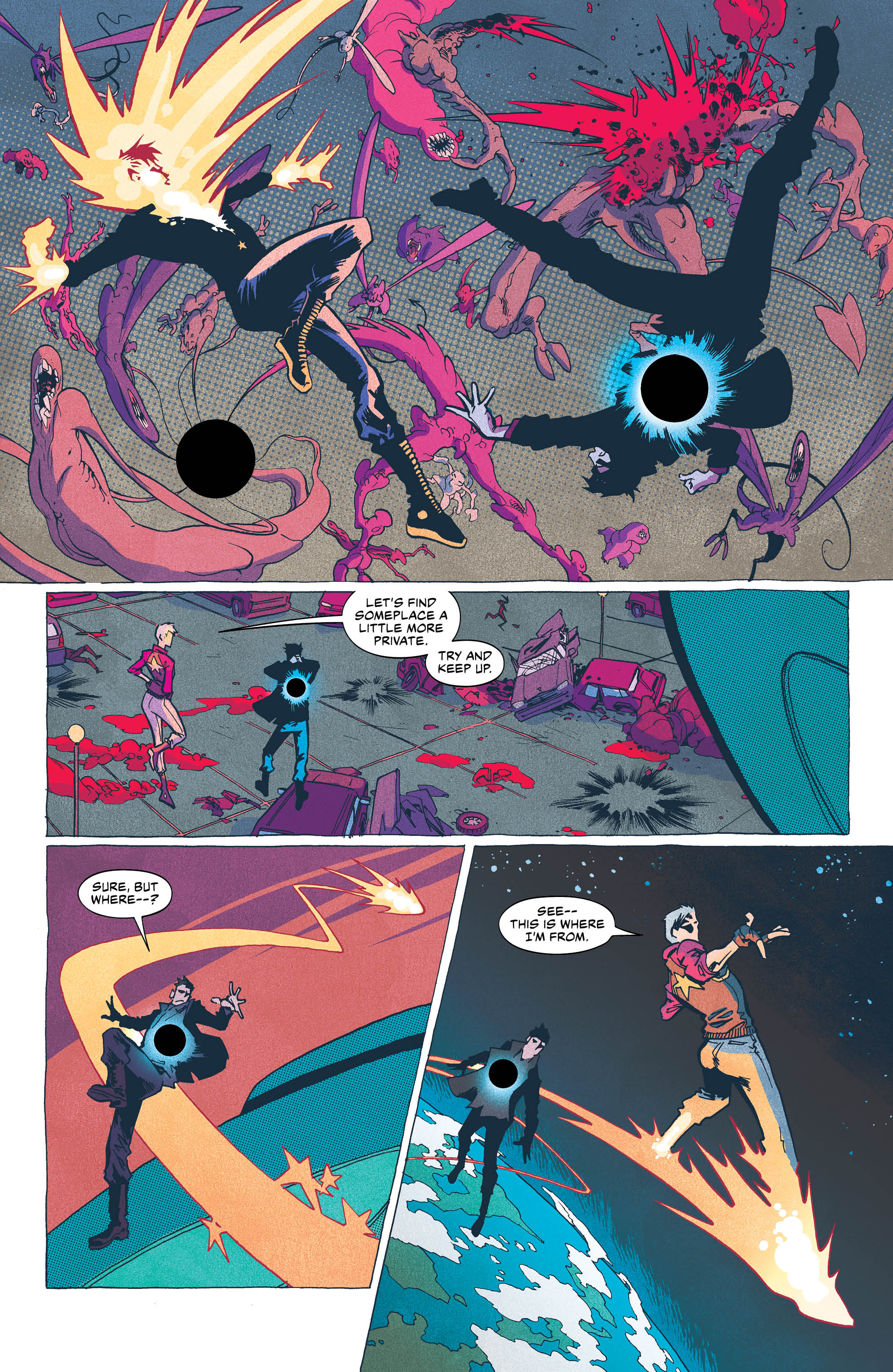 Negatives
The one cliched thing that probably does come is the heavy handed political reference.  The mayor, as he watches sees his city invaded by aliens, eating people and things, declares he will, "make this city great again."  It's obviously a riff on Donald Trump's campaign slogan, but in this case, these aliens really are destroying the city.  It doesn't quite work, even if it is instantly recognizable.
Verdict
Collapser #4 turns things back in the right direction as the possibilities open up for Liam James.  He is apparently in charge of his own destiny, or at least he's being led to believe so.  A star can't be bad though, can it?  There's enough here to make Collapser more than your average comic book.