Review: The Flash 6×02 – "A Flash of The Lightning"
[Editor's Note: This review may contain spoilers]
Director: Chris Peppe
Writers: Sam Chalsen and Jeff Hersh
Starring: Grant Gustin, Candice Patton, Carlos Valdes, Danielle Panabaker, Jesse L. Martin, Daniele Nicolet, Hartley Sawyer, Sendhil Ramamurthy, John Wesley Shipp
Reviewed by: Jason Larouche
Summary
With death looming on the horizon, Barry turns to old friends to find salvation from his ultimate fate. Cecile's career as D.A. conflicts with her identity as she crosses a metahuman criminal.
Positives
The writing this week focuses on themes of acceptance, mortality, expressionism, and resilience. And, like Camilla's art show, it covers a wide range of spectrums this week. And, again, nostalgia helps push the plot forward.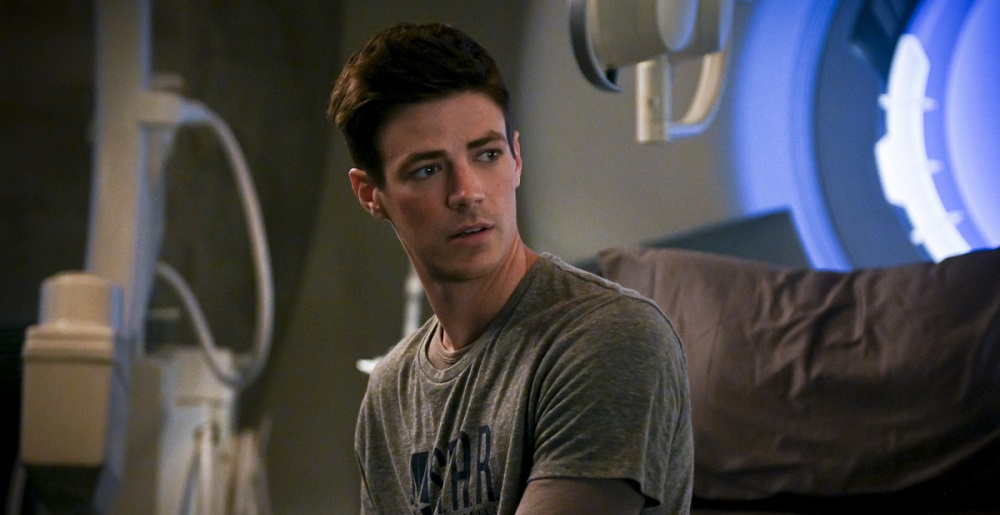 The episode appropriately picks up from the Monitor's visit and brings the audience up to speed with flashbacks of that article. The writing also works in redacting the original Reverse-Flash battle. And, in true Barry fashion, he is in denial alongside Iris. However, this time, it's not an easy fix, no matter what he tries. The creative decision to reinforce that fact via an Infinity War Doctor Strange mind trip was brilliant. Further, bringing the viewer into his mind to see the devastation if he doesn't die. Grant's performance this week was fantastic, both with Candice and with Jesse. The foundation of what makes Barry suit up and run have always been Iris and Joe, and this week delivered impactful moments. Joe approaches Barry cop to cop since that's what Barry is, not just as a CSI, but as The Flash. The final test of his will against Ultraviolet is very telling of his character. With the Crisis looming and Team Flash still in the dark, it remains to be see where the writers will take Barry and Iris.
The return of John Wesley Shipp's Jay Garrick is poignant and is in step with the comic storyline. Showing Jay in his element and his recent use of a cane perfectly conveys the humanity of the character. We also see how scientifically gifted he is via his Neural Hyper Collider. And lastly, it's fitting to cast Michelle Johnson as Dr. Joan Williams, Jay's wife. That decision creates that white elephant in the room that everyone's in on except Jay and Joan. Making it only a detail and not the focus is common sense since doppelgangers are established. Grant's emotional expression when he sees Joan is genuine and relatable as always.
The humanization of Killer Frost provides the subplot and humor this week. This will be new territory for Danielle if this is to be an extended storyline. Taking away the white eyes and special voice, therefore, will save on the VFX budget. Beyond that, the adjustments help the audience better connect with Frost. Her fish-out-of-water, snarky behavior at the art show contradicts Caitlin's sweet and approachable demeanor. The fact she takes Ralph's advice about art as expression shows character growth, however small. Transitioning from secret weapon to an individual will have some ALF-esque moments. With possible friction between she and Camilla, that will make for some big laughs when Cait gets involved.
The development of Dr. Ramsey Rosso into a villain continues this week as he accidentally kills his contraband source with this powers. Sendhil does a brilliant job (I know I overuse that word) in the duplicity of the character. Keeping the character in the background of the main plot worked given The Crisis is the greater danger. The fact that he chooses to biopsy the damage as opposed to calling 911 is telling of what direction he's leading. What's also telling is even though he's empowered, he's not going the way of other villains. He strongly believes in his cancer research to where he buys another dark matter weapon.
Negatives
The metahuman bad guy of the week felt like filler. I think because the writers are focused on setting the stage for the Crisis, they're juggling too many hats. Ultraviolet felt too one-dimensional and wooden. And this unknown organization weaponizing metas is too left field. While confronting Ultraviolet was a part of pulling Barry out of his funk, I feel that there should have been more covered on her backstory. Potential new allies are always good, but I feel that Allegra's story could have been carried over until that point. Everything involving her and Ultraviolet felt rushed.
Verdict
I give this a 4.5 out of 5. The episode scored high on the Crisis, Grant's scenes, and Frosty's development. But the subplot of a new throwaway villain was a loss in points. Again, great full circle feel established with Michelle as Joan. I am looking forward to next week's confrontation with this blood-zombie that Rosso's created.