Welcome to the official DC Comics News Holiday Gift Guide 2019! We have carefully curated a fantastic list of items from low-cost to wallet-busters and everything in between. There's something for everyone, from books and blu-rays, to card games and Funko POPs, and even a kitchen gadget!
DC has some of the most popular superheroes every created with Batman, Superman, and Wonder Woman among the top three. And that means there's no shortage of merchandise out there for the DC fan in your life.
So take a stroll through our list… I guarantee you'll find something worth picking up!
So, to start off the Holiday Gift Guide 2019, I wanted to kick things off with a bang… and that's why I chose the latest release from the fine people over at Insight Editions…
Batman: The Definitive History of the Dark Knight in Comics, Film, and Beyond
This is the most extensive, well-researched, thorough book on a superhero I have ever seen. It's incredible, and hefty to boot (weighing in at 8 pounds).
This book celebrates Batman's 80th Anniversary in 2019 and traces his history across eighty years of comics, cartoons, live-action TV shows, and major motion pictures exploring the history and legacy of the Caped Crusader through his many incarnations. Featuring exciting never-before-seen imagery and commentary from key writers, artists, filmmakers, and more, this book also includes a variety of removable insert items, providing a unique, immersive experience for fans. Comprehensive, compelling, and filled with previously unseen treasures, Batman: The Definitive History of the Dark Knight in Comics, Film, and Beyond is the ultimate guide to the legendary hero.
DC Universe 1-year Subscription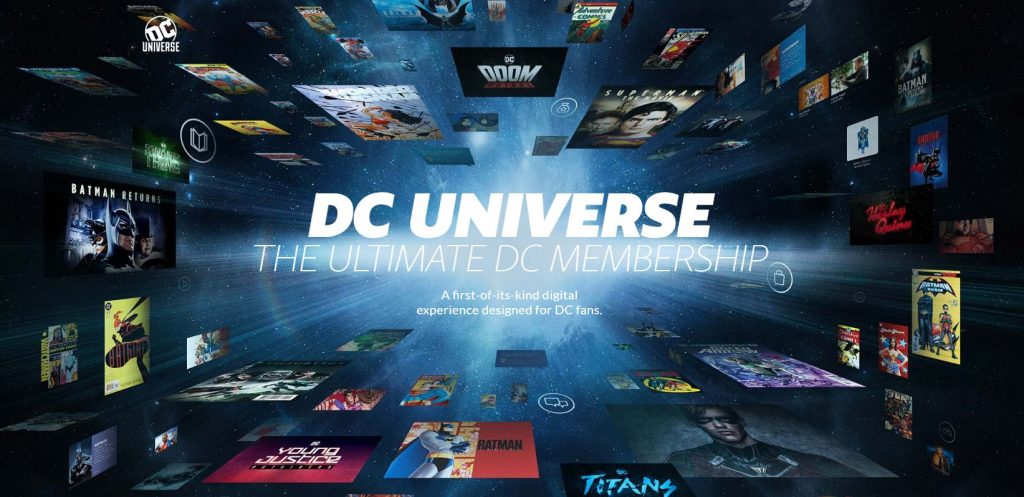 This is a great gift idea for any DC fan.  Chock full of great content, from movies (including films such as Superman: The Movie up to the latest animated films like Batman: Hush) and TV series (The Flash (1990), Batman: TAS, and a plethora of new, original shows like Titans and Doom Patrol) to a library of over 20,000 comics, this is a streaming service everyone should have.  Unfortunately, it is only available in the US currently, so please keep that in mind.
Death and Return of Superman Blu-ray

The Death of Superman (2018) and Reign of the Supermen (2019) now presented as an over two-hour unabridged and seamless animated feature. Witness the no-holds-barred battle between the Justice League and an unstoppable alien force known only as Doomsday, a battle that only Superman can finish and will forever change the face of Metropolis.
Batman Who Laughs Funko POP
Ripped from the pages of Dark Nights: Metal comes the Batman Who Laughs, a striking version of the Caped Crusader who makes nightmares shudder as a Funko Pop! Vinyl Figure!
The Dark Nights: Metal Batman Who Laughs Pop! Vinyl Figure – Previews Exclusive #256 features the Batman's look from the Dark Nights: Metal series.
Packaged in a window display box,
This Batman: Dark Nights Metal Batman Who Laughs Pop! Vinyl Figure #256 measures approximately 3 3/4-inches tall.
Batman Beyond: The Complete Animated Series Limited Edition Blu-ray Box Set 
Warner Bros. Home Entertainment has remastered the heralded series for its first-ever presentation on Blu-ray in this all-encompassing box set features approximately 1,500 minutes of entertainment spread over four Blu-ray™discs, plus the two bonus discs of enhanced content. In addition to a newly-remastered Blu-ray presentation of Batman Beyond: Return of the Joker, there are 15 featurettes on the bonus discs, highlighted by two new inside looks at the beloved television series, led by Nostalgic Tomorrow, a gathering of Batman Beyond production talent and cast led by executive producer Bruce Timm and actors Kevin Conroy and Will Friedle, the voices of Batman and Terry McGinnis, respectively. The bonus discs also spotlight four episodes with audio commentary from Timm and select members of the production team.
Collectibles within the stunning packaging include an exclusive chrome Batman Beyond Funko POP, and four beautifully-designed lenticular art cards produced especially for this set. This ultimate collectors Blu-ray box set will be individually numbered for a Limited Edition release of 50,000.
Batman Fluxx Card Game
It's game night in Gotham, and everyone's favorite Caped Crusader is on the job. Crime is running amok and no-one can win with Villains on the table — so put on your utility belts and leap into the fray to help Batman and his friends clean things up! Draw one and Play one is just the beginning… From camp to chaos, Batman™ Fluxx has something for every bat-fan!
It all begins with one basic rule: Draw one card, Play one card. You start with a hand of three cards… add the card you drew to your hand, and then choose one card to play, following the directions written on your chosen card. As cards are drawn and played from the deck, the rules of the game change from how many cards are drawn, played or even how many cards you can hold at the end of your turn.
DC Comics Ugly Christmas Sweaters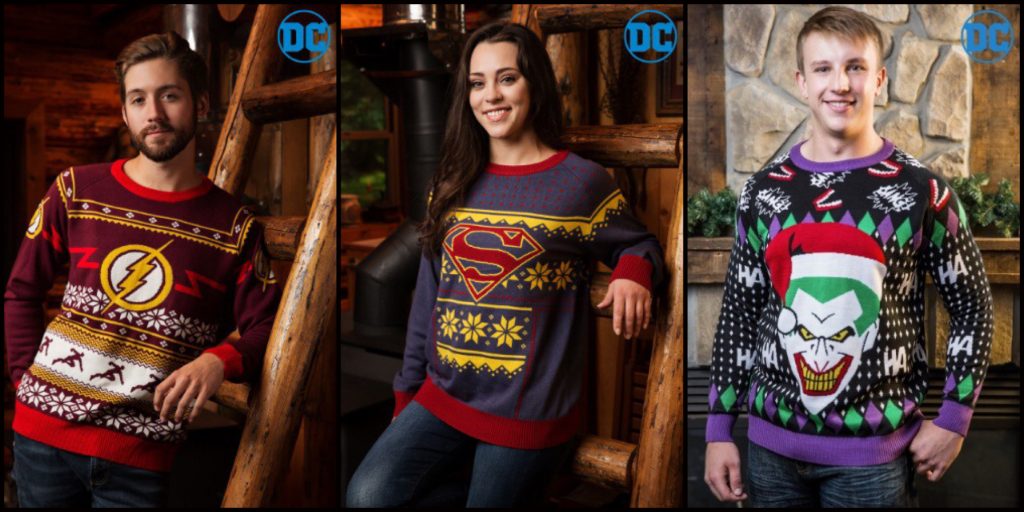 These DC Comics holiday sweaters infuse signature DC Super Heroes' styles into your winter wardrobe. Available for men, women, and child, these awesome sweaters let you show off your favorite hero while maintaining that festive spirit. Including designs for Superman, Batman, Wonder Woman, Flash, Harley Quinn, Joker, and more!
Gotham: The Complete Series Blu-ray
Witness the evolution of Bruce Wayne's epic transformation in Gotham, The Complete Series. GCPD Detective Jim Gordon struggles to keep the city he holds dear together while super villains such as Penguin and Poison Ivy vow to take charge. Who will reign over Gotham City? A champion will be named and a hero will emerge in this five season set of Gotham.
This set includes all five seasons of the hit Gotham series on 18 Blu-ray Discs. From character origins to the final episodes of the hit DC/WBTV series that lay the foundation for the city's iconic future, this is the perfect gift for veteran fans and newcomers alike. The series features an all-star cast lead by Ben McKenzie (The O.C., Southland), Donal Logue (Grounded for Life, Vikings), David Mazouz (Touch), Sean Pertwee (Elementary), Robin Lord Taylor (The Walking Dead), Erin Richards (The Quiet Ones), Camren Bicondova (Gotham Stories), Cory Michael Smith (Carol) and Chris Chalk (12 Years a Slave). Shane West (A Walk to Remember) is also introduced in the final season as the iconic DC Super-Villain, Bane.
DC Comics Single-Serve Coffee Makers
Start your morning the superhero way with a cup o' joe from one of these single serve coffee makers inspired by the DC Comics Trinity – Superman, Batman, and Wonderful Woman!  Each one is full of features, like an illuminated power switch, removable drop trap, and flip-top lid. 12 ounce matching ceramic mug and permanent filter included.
Superman – Purchase Here
Batman – Purchase Here
Wonder Woman – Purchase Here 
Joker (Original Motion Picture Soundtrack)
The beautifully haunting music from one of this year's best films is a definite must-have. Hildur Guðnadóttir gives us a powerful and memorable score that is somber and chilling, fitting the bleakness of Arthur's world, but which also ramps up during the film's bursts of action. Together, this music helps to emphasize Arthur's misery as well as his broken dreams – not to mention, provide a fascinating accompaniment to Phoenix's strange and almost balletic dancing.
DC Comics: Anatomy of a Metahuman
Explore the powers of DC Comics' greatest characters like never before through stunning anatomical cutaways and in-depth commentary from the Dark Knight.
Concerned about the threat that so-called "metahumans" may pose to the world, Batman has begun compiling a detailed dossier on their incredible physiology and abilities. From villains like Killer Croc, Bane, and Brainiac, to Batman's own comrades, including Superman and Cyborg, the file brings together the Dark Knight's fascinating personal theories on the unique anatomical composition of these formidable individuals.
This stunning and unique book delves into the incredible abilities of DC Comics characters like never before. Using beautifully illustrated anatomical cross sections depicting twelve different DC characters, the book, told from Batman's unique perspective, will explore how these "metahumans" physical makeup differs significantly from that of the average person. From detailed theories on how Superman's eyes shoot heat rays to an in-depth exploration of how Aquaman is able to breathe under water, the book delves into the deepest secrets of these classic characters. Also featuring chapters on the anatomy and abilities of Doomsday, Aquaman, Swamp Thing, Darkseid, Martian Manhunter, and more, this one-of-a-kind book will change the way you look at metahumans forever.
Justice League: Road Trip Board Game
The earths most loathsome villains are at it again. Causing destruction and widespread panic on a level never before seen. As you attempt to make contact with the rest of the team, the WATCHTOWER is attacked.
Seconds before communications went dark, a partial message was intercepted from the plant APOKALIPS. The sourct of the message can mean only one thing – DARKSEID.
The details are vague, but the message was clear; DARKSEID calls for the destruction of the JLA. Cut off from the rest of the team, you rush out in search of the JLA's most nefarious villains in order to stop DARKSEID's evil plot.
Travel through the game board collecting information on DARKSEID's master plan. Carry out board actions, collect HIT TOKENS, and acquire TOLL PASSES while you dish out hard justice in HENCHMEN BATTLES. Gain access to the criminal underworld that lead to ENEMY STRONGHOLDS in your search of Earth's most loathsome villains. Return the villains to your BASE CAMP for information to help you foil DARKSEID's sinister plot. The first person to complete their SCORE CARD by Acquiring 4 unique VILLAIN TOKENS and return them to their BASE CAMP is the winner.
Batman '66 Classic TV Series Batmobile

1:24 scale diecast model car of the 1966 Classic TV Series Batmobile with Diecast Batman and Plastic Robin sitting inside the car.
Rubber tires
Detailed interior & exterior
Has opening doors
Made of diecast with some plastic parts
Dimensions approximately L-8, W-3.75, H-3.55 inches
Batman: Red Rain Funko POP
Part of the Funko POP! Heroes: Batman 80th line, I present to you the Batman: Red Rain vinyl figure.  Inspired by the 1991 book, Batman & Dracula: Red Rain, this figure gives you a glimpse at what a vampiric Batman would look like… and it's terrifying!  A must-have for any Batman fan!
Crisis On Infinite Earths 14-Volume Box Set
Since the Justice League of America first met their Earth-2 counterparts, the Justice Society of America, the concept of a world-shaking "Crisis" has been a defining part of DC history. Now, for the first time, DC packs one incredible box set with every Crisis tale leading up to and including the industry defining CRISIS ON INFINITE EARTHS! This box set combines six previously existing CRISIS collected editions, printed for the first time in hardcover, with eight new CRISIS hardcover collections that spotlight the most important heroes of the 1980s CRISIS ON INFINITE EARTHS!
Join the Justice League, the Justice Society, the All-Star Squadron, Infinity Inc., Superman, Green Lantern and countless other heroes as they give their all to save the DC Universe!
Included in this incredible collection are: CRISIS ON MULTIPLE EARTHS VOL. 1 HC – Collects JUSTICE LEAGUE OF AMERICA #21-22, 29-30, 37-38 and 46-47; CRISIS ON MULTIPLE EARTHS VOL. 2 HC – Collects JUSTICE LEAGUE OF AMERICA #55-56, 64-65, 73-74 and 82-83; CRISIS ON MULTIPLE EARTHS VOL. 3 HC – Collects JUSTICE LEAGUE OF AMERICA #91-92, 100-102, 107-108 and 113; CRISIS ON MULTIPLE EARTHS VOL. 4 HC – Collects JUSTICE LEAGUE OF AMERICA #123-124, 135-137 and 147-148; CRISIS ON MULTIPLE EARTHS VOL. 5 HC – Collects JUSTICE LEAGUE OF AMERICA #159-160, 171-172 and 183-185; CRISIS ON MULTIPLE EARTHS VOL. 6 HC – Collects JUSTICE LEAGUE OF AMERICA #195-197, 207-209 and ALL-STAR SQUADRON #14-15; CRISIS ON INFINITE EARTHS HC – Collects CRISIS ON INFINITE EARTHS #1-12; CRISIS ON INFINITE EARTHS: ALL-STAR SQUADRON HC – This new title collects ALL-STAR SQUADRON #50-60; CRISIS ON INFINITE EARTHS: GREEN LANTERN HC – This new title collects GREEN LANTERN #194-198, THE LEGION OF SUPER-HEROES #16 and 18 and THE OMEGA MEN #31 and 33; CRISIS ON INFINITE EARTHS: JUSTICE LEAGUE HC – This new title collects THE FURY OF FIRESTORM #41-42, DETECTIVE COMICS #558, WONDER WOMAN #327-329 and THE NEW TEEN TITANS #13-14; CRISIS ON INFINITE EARTHS: LEGENDS HC – This new title collects THE LOSERS SPECIAL #1, SWAMP THING #44 and 46, LEGENDS OF THE DC UNIVERSE: CRISIS ON INFINITE EARTHS #1, BLUE DEVIL #17-18 and AMETHYST #13
And there you have it folks, the DC Comics New Holiday Gift Guide 2019!  I hope you found something awesome in this list for your loved ones, or maybe just for yourself!  Happy Holidays!!