[Editor's Note: This review may contain spoilers]
Writers: Nalo Hopkinson and Dan Watters
Artist: "Domo" Stanton
Colors: Zac Atkinson
Letters: AndWorld Design
Reviewer: Tony Farina
Summary
House of Whispers #15 finds readers in the dreaming where a history lesson unfolds. We learn about the various houses including Whispers, Secrets and the like. We see Dream, Desire and the Corinthian. He, and his creepy eyes, pays a visit to Aesop. Yep, that Aesop. That does not go quite as planned for him but still, there is danger brewing in the dreaming.
Meanwhile, Erzulie finds her way to Earth, again, and this time, she takes over the body of a house cat who shares a meal with John Constantine. Yep, that Constantine.
Positives
Domo Stanton is back and honestly he has been the shining star in the entire House of Whispers run, so having him back for issue 15 is good. He gets the chance to draw some old favorites and some new folks. I really do think his work is beautiful. Zac Atkinson is doing a solid job making the colors pop. The book seems to shine.
This is rare for me, but the letterer is actually bringing a lot of heat here Andworld Design does the lettering here and when we have spend some time with Aesop, and the lettering is unique and so clever. Well done.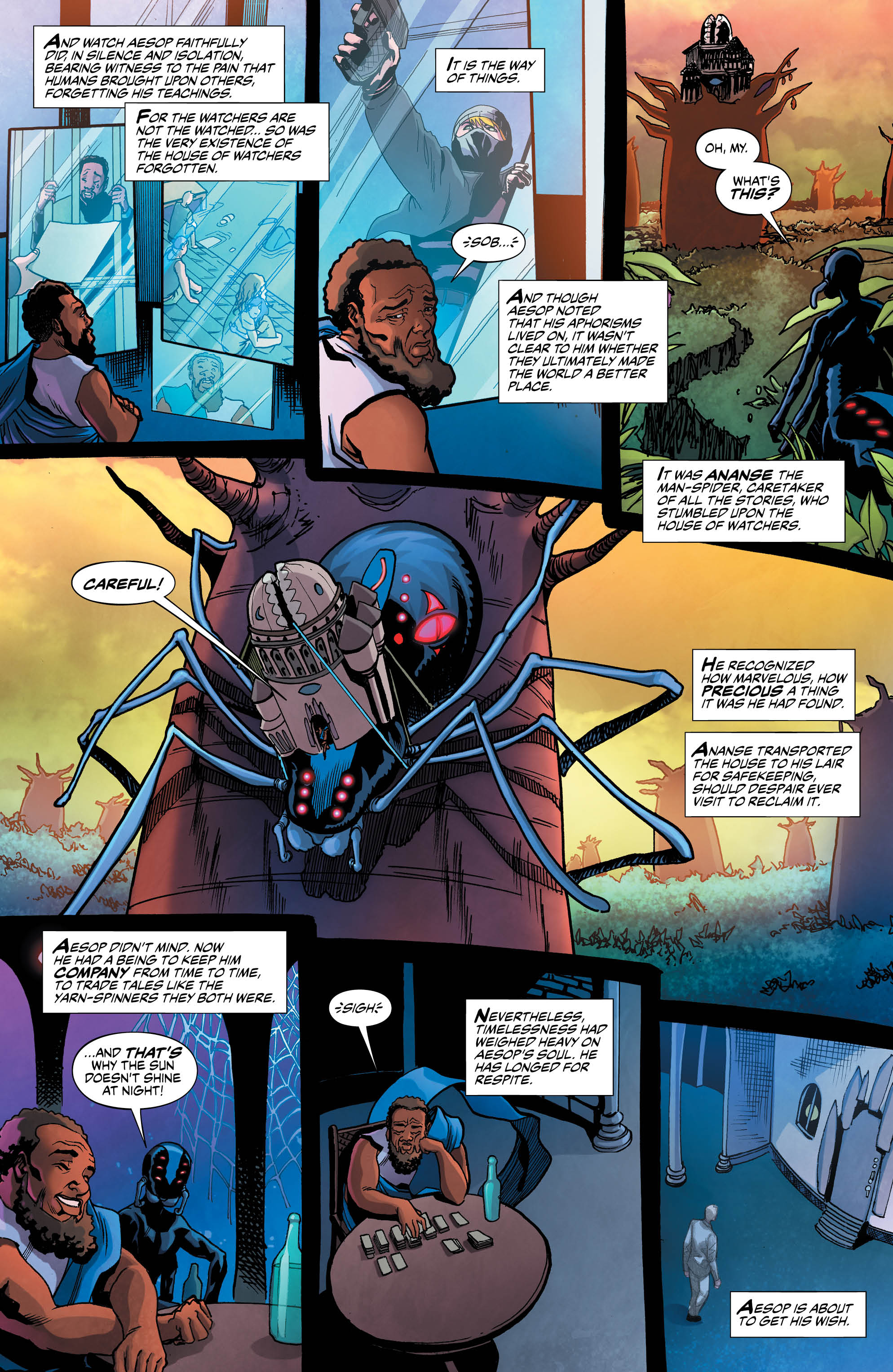 Also, the cover, is stunning. Just spend some time with it. Wow.
Negatives
House of Whispers #15 once again feels like a reboot of the series just like issue 13 did. I have no clue what is going on. While it is great to see Dream, Desire, the Corinthian and Constantine, they seem all out of place. Will they stick around? Will the story start to unfold in a way that is clear? Will we care? Is it too little too late? Ug.
Summary
This book really does not know what it wants to be. Each month, House of Whispers takes huge swings to try to figure it out. The strongest story, that of Maggie and LaToya from the first year, is totally gone now. Each new issues seems to bring more new people, or in this case some old people. I am just not sure that this book knows what it wants to be either.