Artist Profile: Stanley "Artgerm" Lau
Written by Peter Gaudioso.
Creature Feature
Reminiscent of classic movie monsters like Frankenstein and The Wolfman, this Stanley Lau Catwoman is richly colored and robust. Notice the crisp detail around her right hand. When Lau focuses his artistic lens Selina Kyle appears to scratch her way right off the canvas. Add a photo-realistic face mixed with a complex pattern of shadows and this becomes a truly hypnotic composition. First, descend past razor sharp claws to her brightly-lit hiss. Then, feel the pull continue down to muscular legs that vanish into darkness. You have just journeyed through a perfectly executed artistic perspective.
Hungry Like The Wolf – Oops – I mean Cheetah!
Be careful, the soft, "airbrushy" textures of this Cheetah are an invitation to danger. Our first glance is a pleasant daydream. But the feeling changes into a nightmare once we lock eyes with this deadly predator. Despite Lau's ability to create sunlight patches that actually feel warm and safe, it's too late. We are now her prey. Add an encyclopedic knowledge of anatomy and we shall soon be trapped within the clutches of those shoulder and forearm muscles.
Winter Is Coming
After basking under a tropical sun, Artgerm plunges us into an Arctic freeze. Even Wonder Woman is bracing against these gales of ice. Try to brave the storm and pinpoint all of the places where this piece shifts from focused to blurry. It's maddening! From the opaque snowflakes to the clearly defined edges of Diana's armament, Lau keeps our eyes guessing. This gorgeous variant cover for the princess of the Amazons belongs in a museum.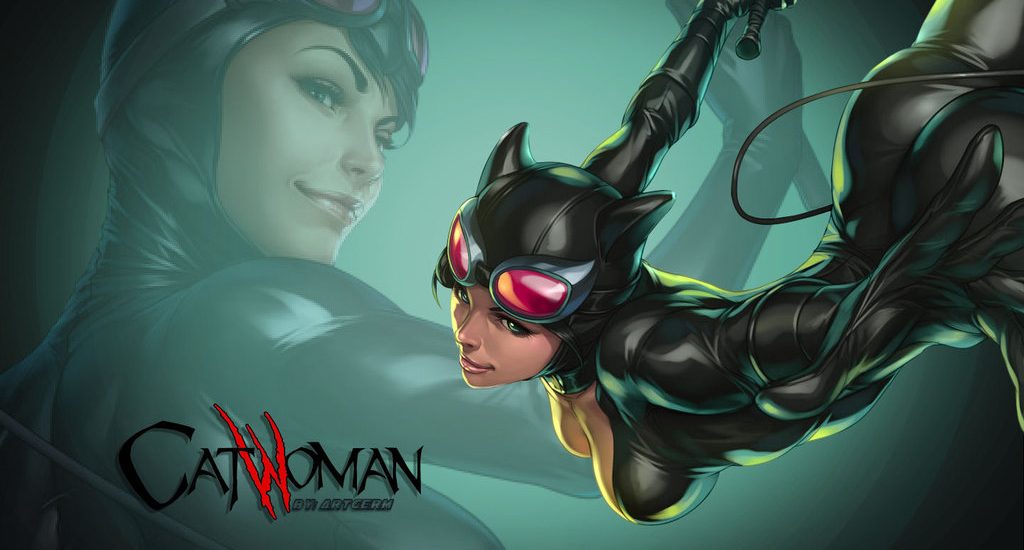 Storytelling Without Words
This two-in-one illustration grants us so much insight into Catwoman's ever-shifting motives. Both expressions carry subtle clues that I'm dying to uncover. In the foreground, our insatiable jewel thief closes in on her prize. Yet her face says something else is brewing. In the background, we are afforded a more gentle glimpse into the human beneath the mask. The delicate side of the woman Batman falls in love with.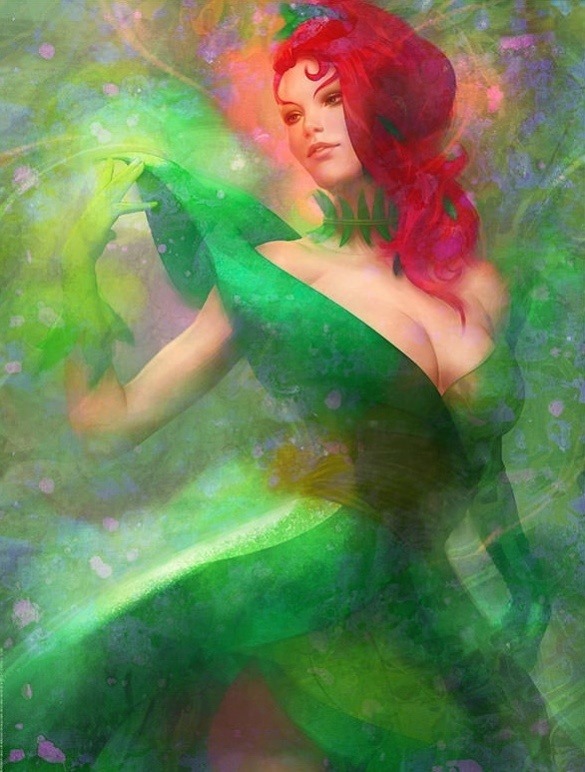 Red Carpet Fabulous-ness.
Let's go in a completely different direction with this Poison Ivy illustration. Lau has given us a fashion industry sketch thick with the attitude of glamorous royalty. The "flicks" of paint blotches and sponge washed texture are a departure from the artist's tendency towards realism. (But I don't hear anyone complaining.) This red carpet fanfare is just one of many landscapes in Lau's palette. I can't wait to see what else he can dish up.
Okay – I Can't Even.
Feast your eyes on this heartwarming variant cover for Supergirl #17. This stunning snapshot may be the crown jewel of Lau's fleet. Instantly, the miracle of superhuman goodness is completely self evident. Although, because of an army of bright colors competing for attention, our heroine is hardly illuminated! Normally this would make for a lopsided composition. But somehow, Supergirl's graceful flight remains the magnetic center of attention. Artgerm softens the harsh headlights and dizzying advertisements into a masterpiece that defies the conventional norms of composition.
Color-Blind Beauty
When analyzing an artist's portfolio I find it helpful to look at some bare bones examples. It's difficult to tell if this piece is solely ink, or if there is a pencil foundation beneath. (That was erased after the ink work was complete.) Either way, this portrait shows us Artgerm without the vivid flourishes of his signature digital coloration. As you can see, Lau's freehand is wonderfully fluid. Even colorless, Ivy's personality and captivating good looks are glowing. The playful creativity in each curly lock shows us an artist that truly loves his craft.
Volcanic Commitment
Wow! Stanley Lau just keeps churning out jaw dropping work. Evoking an aura of sublime power, the Wonder Woman above easily stands her ground against the champion heroes of Alex Ross and Frank Frazetta. Here, Lau's ability to communicate explosive body language truly does the goddess justice. Visuals like this can actually make us believe that comic book mythology is real, and that somewhere out there – beyond the limits of our mortal vision – the battle for humanity wages on. In these indescribable moments of beauty, Stanley Lau is just too profound for words.
I hope you enjoyed this Artist Profile: Stanley "Artgerm" Lau.  Less biographical, these reviews concentrate more on style, personality, and technique. If there is an artist you would like me to critique, please leave their name in the comment section below.