Review: Undiscovered Country #5

[Editor's Note: This review may contain spoilers]
Writers: Scott Snyder and Charles Soule
Artists: Giuseppe Camuncoli and Daniele Orlandini 
Letters: Crank!
Colors:  Matt Wilson
Reviewed by: Carl Bryan
Summary
"Live Free or Die!" – Destiny Man
New York Times bestselling writers SCOTT SNYDER (WYTCHES, A.D.: AFTER DEATH) and CHARLES SOULE (CURSE WORDS, the forthcoming novel Anyone) teams up with artists GIUSEPPE CAMUNCOLI (The Amazing Spider-Man, Darth Vader, Hellblazer) and DANIELE ORLANDINI (Darth Vader) and 2019 Eisner Award-winning colorist MATT WILSON (THE WICKED AND THE DIVINE, PAPER GIRLS) to embark on an epic adventure in the brand-new ongoing series, UNDISCOVERED COUNTRY!
"DESTINY," Part Five The key has been found, and now it's a race to find and unlock the gate leading deeper into the former United States before the Destiny Man catches up with our team, tears them apart and feeds every last chunk to his hungry beasts.

Positives
The story continues with an ominous POW scene involving team member Colonel Pavel Bukowski. Remember, our helicopter pilot that was shot down in Issue #1 .
Giuseppe Camuncoli and Daniele Orlandini) provide some telling scenes in watching Bukowski cling to life and subsequently his rescue…only to find out his troops perished.  
Another flashback provides his hero's welcome and the scars that come with being held captive.  I won't provide any spoilers as the scene with a thumbtack is a bit chilling.  We know our intrepid helicopter pilot was staying back with the wreckage to engage in repairs when the team set out on its mission.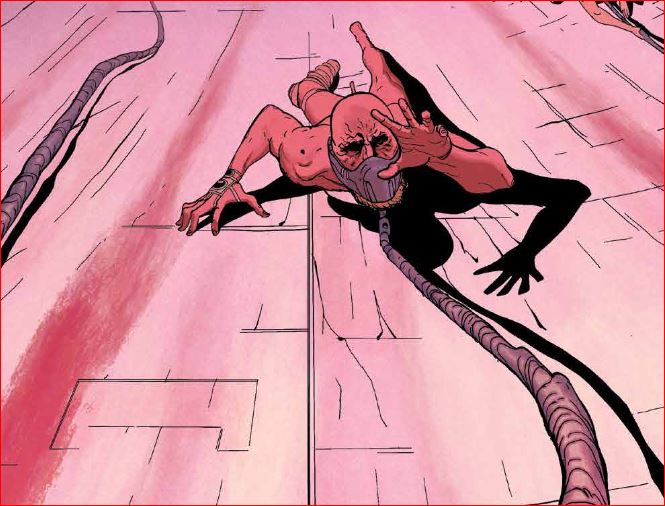 His capture has resulted in quite the tortuous ordeal.  In a few short comic frames we see his fate as he is engaged in an arduous sentence of climbing the wall of Destiny Man's compound.  
The flashback and flash forward of these pages scream for a movie!  Well done by the entire creative team!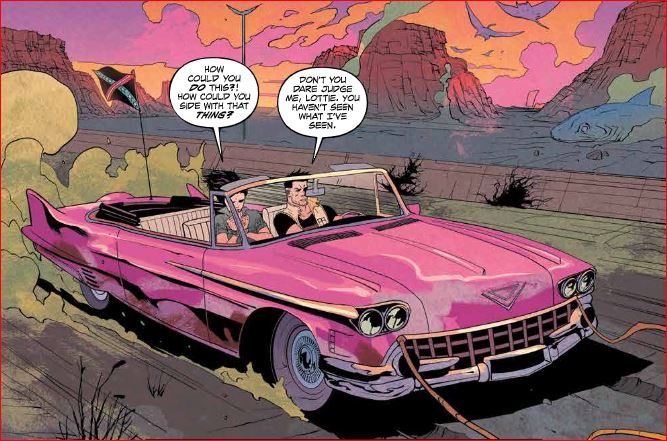 Positives (even more accolades)
The Graves in a Pink Cadillac with two floating motors in the front…. Not the name of an album but it is what you would expect to see in Star Wars Episode 1.  The chase scene is very cinematic and will transfer to the big screen perfectly!
However, Daniel is no Anakin, and his failure is a chance for his sister to take the key to Sam.  No spoilers here, but that's a pretty powerful railroad spike.
Negatives 
I simply am drinking in this series, and as it is pretty fresh in its entire imagining, I'm guilty of reading these issues over and over again.  
With five issues under our belt, the flashbacks are akin to episodes of ABC's Lost series by JJ Abrams.  This isn't a critique as much as an observation.
Verdict
What?  It's not already on your shelf?  Buy this book!  This is still in its infancy and every issue should be gobbled up! It's ground floor original stuff!  And it's starting to be somewhat of a "The Stand" aftermath.  It's really haunting and really well written and illustrated.