Review: LUCIFER #18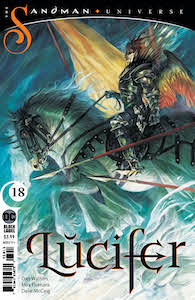 [Editor's Note: This review may contain spoilers]
Writer: Dan Watters
Artists: Max Fiumara
Colors: Dave McCaig
Letters: Steve Wands
Cover: Tiffany Turrill
Reviewed by: Seth Singleton
Summary
In my review of Lucifer #18 we travel back to the early days of Hell itself. Witness the first meeting of Odin and Lucifer. Discover a seismic encounter with consequences that will echo through the eons. Oh, and Odin explains why he is so disappointed in Beverly. Hint: It's Lucifer's fault (again).
Positives
The cover is gorgeous. I love the colors and the shimmering glow. It radiates with insight.
Barbara does not apologize for slapping rude people. Last issue she cracked the Morningstar with an open hand that looked practiced and potent. Likewise she does not mind suggesting that she'll likely do it again should the need arise. I like Barbara, even if she is the Hunted God. Such an ominous title for such a sweet person. She seems to have suffered enough under her mother. In this case, there might be a bit of history to that. More on that later.
Meanwhile, Lucifer's irritation at being slapped led to an outburst that revealed his scent to the hunters. You might remember them best as Fear, Thrill, Thirst, and Honor. Again, all in last issue. They are the Wild Hunt. Hunting season is open.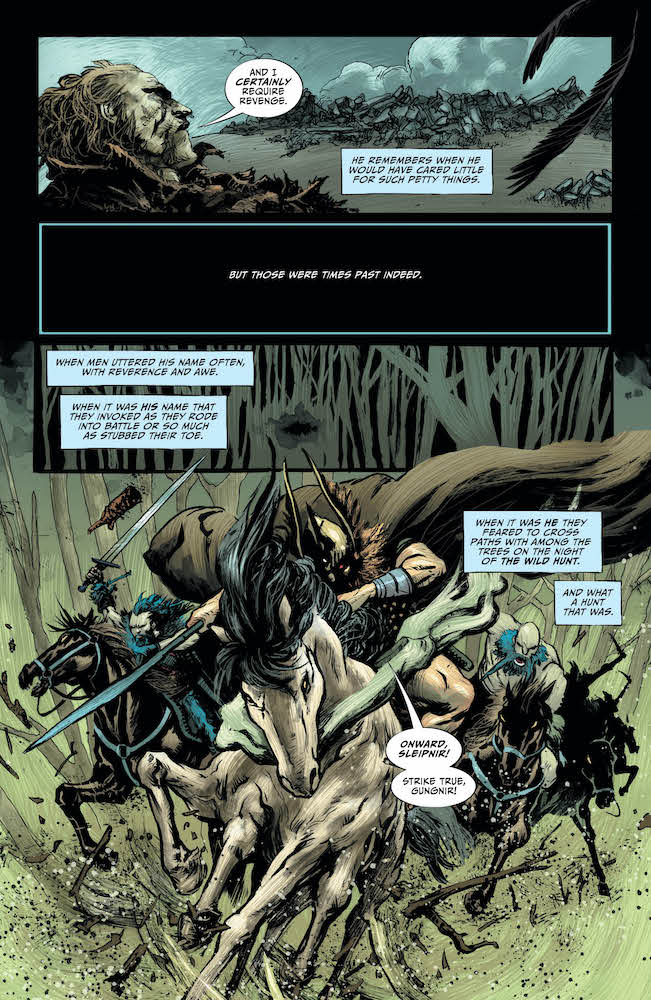 Great sense of tension stirs when the incomplete coven of witches at the Gately House is decimated. The residents slain. Lucifer arrives at the antique shop where Mazikeen and her assistant Rushkin were last seen. He finds only the burnt mask that once covered Mazikeen's smile.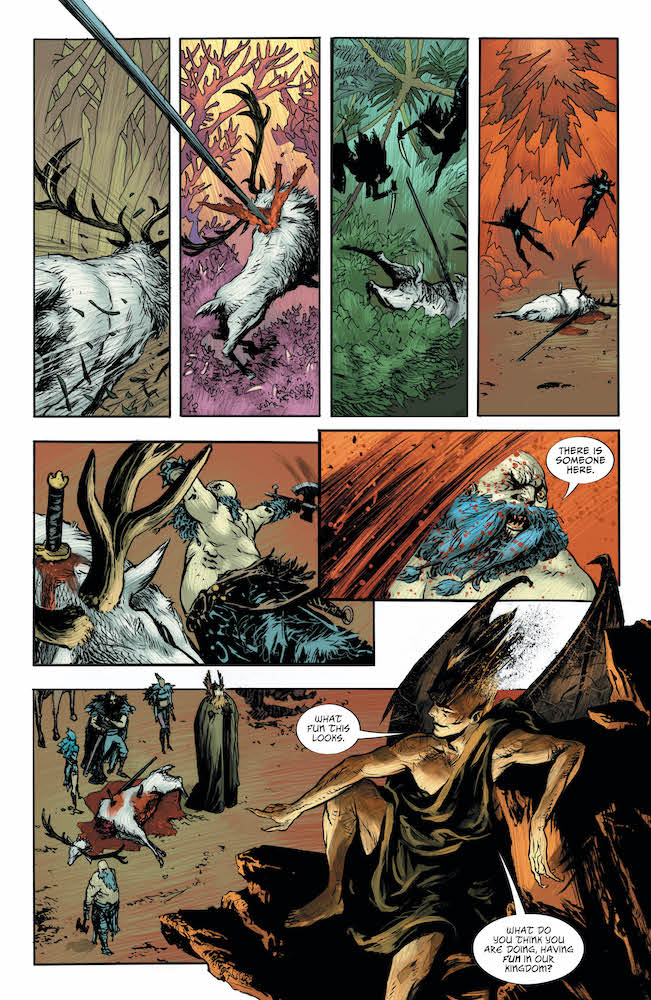 Odin finds where Beverly is residing. He stands at the doorway and tells her the story of Lucifer's desire to extend the hunt. It's a violent tale of infanticide. In the beginning the Hunted God is resplendent. I'm reminded of the White Stag that once taunted Arthurian knights and other figurers of myth and legend.
Beverly is the broken reminder of what was. She is the product of Lucifer's selfish desires. And that gives Odin leverage. Beverly is a mockery of the being Odin once revered. Odin mocks Lucifer's protection. Is that why Beverly agrees to let him in? I think she took down Achilles with aplomb. If Beverly's father taught her how to kill a Norse god I will be laughing my way through Lucifer #19.
Negatives
I need more pages. Seriously, I need like, five more an issue. Maybe.
Verdict
The book is Lucifer, but the story is all about Beverly. Dan Watters has introduced another character who puts the Devil into fits. That alone is a commendation of literary prestige. Placing Beverly between Odin and Lucifer guarantees that the tension will continue to rise. Just like my esteem for Watters and the amazing team of Max Fiumara, Steve Wands, Dave McCaig, and Tiffany Turrill.