Image Comics Review: SPAWN #306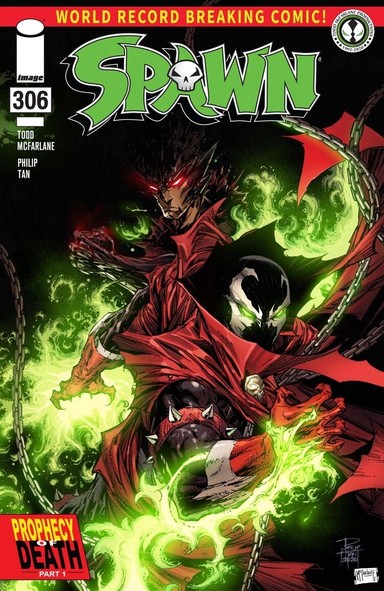 [Editor's Note: This review may contain spoilers]
Writers:  Todd McFarlane, and Philip Tan
Artists: Philip Tan
Letters: Tom Orzechowski
Colors:   Sunny Gho and Jay David Ramos 
Reviewed by: Carl Bryan
Summary
"Wanda?" –  Al Simmons aka Spawn
Fan-favorite artist PHILIP TAN returns to illustrate a dark vision of the future."PROPHECY OF DEATH," Part One The future is full of terrors, all unleashed by Al Simmons! A strange new threat unravels as the origin of the all-new Ninja Spawn begins.  This is Spawn!
Positives
Philip Tan….I could simply write that name and if you have been following Spawn, you know what an iconic artist he is as he has done some great things with Batman, Green Lantern, and had a several issue run in Spawn starting with issue #150.  
Now Tan provides a couple of new characters, Raptor and Claudiaz.  And from what we can determine, they are as intertwined in a Heaven/Hell conflict as Spawn is.
Readers are just peeling this onion skin apart, as Spawn is transmitted in a firestorm from his holding a severed Medieval Spawn's head.  Remember, "Spawns don't kill Spawns!"
In this nothingness is where Spawn's mind is intertwined with Raptor's and Claudiaz'.  
But they have their own battle going on with an Angel to perhaps end the Hell that has encompassed them.  I always vow not to give away spoilers, but this should set up Raptor to be its own Philip Tan comic.  And if not, the relationship between Spawn and Raptor….I've said enough.  Buy the book already!
Billy Kincaid
Billy Kincaid is forever etched into our minds from Spawn #5 as a mental institution parolee that goes on a killing spree of children using his ice cream truck as a lure.  Avid readers will recall that Kincaid is killed by Spawn by ice cream sticks…a fitting end and a really vivid piece of art work by Todd McFarlane.
He has reappeared in a "Venom" type way with an attached symbiote from Hell in prior issues, but seeing Tan place Kincaid back into the Spawn storyline is like having the Joker show up at your door with either a crowbar or a loaded pistol.  
Shame on you Todd… we did not see any of this coming!  Great seeds of a story to springboard into new characters!
Accolades for World Record Setting
Each issue of Spawn sets a new World Record for independent comics.  That's history every time you buy an issue!  


Negatives
Crickets are chirping…I mean…come on…Phillip Tan and Todd McFarlane… 
Verdict
Two new characters, and a haunting one word inquiry….Wanda?  What if?  If Wanda exists, we will have a more focused Spawn/Al Simmons than ever before.  But first, there are a lot more Spawns in the world.  And we were just getting used to She-Spawn!