Review: Basketful of Heads #6

[Editor's Note: This review may contain spoilers]
Writer: Joe Hill
Artist: Leomacs
Colors: Dave Stewart
Letters: Deron Bennett
Reviewer: Tony Farina
Summary
Basketful of Heads #6: In the darkest and most desperate hours of the night, June Branch will use her impossible occult hatchet to cut her way back to her boyfriend. But time is running out for Liam, and June's basket is getting heavier with every new swing of the axe! It's all going down in the penultimate chapter of the gonzo gorefest that launched Hill House Comics!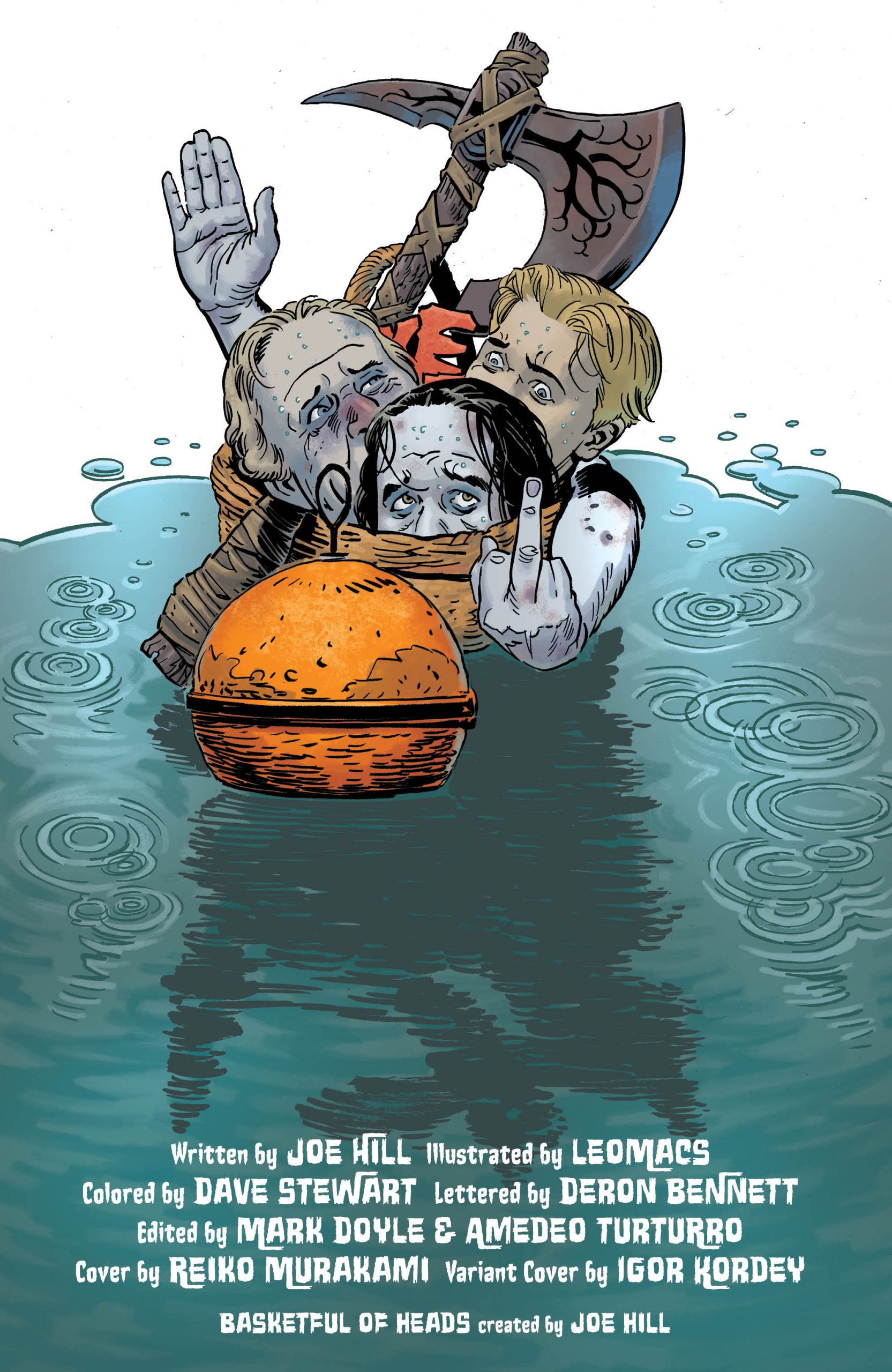 Positives
Leomacs, Leomacs, Leomacs and a bit of Dave Stewart sprinkled in for good luck. Seriously, this book is just so beautifully gory. The concept is so absurd, but the way that the creative team presents everything, it all seems totally reasonable. I can not sing their praises enough. Let's take a look at the panel below shall we? The facial expressions tell us everything we need to know. Every detail is so specific for us. Look at the way the water bounces off the truck bed and the open door. The look on Hank's face when he realizes what is about to happen is spectacular. The way the moon looks like it is spinning too as Hank's head goes by. It is simply perfect.
Of course, June outsmarts these dimwits yet again. I really like her. She is by far, the best "last girl" in the history of horror.
Negatives
This issue does feature a LOT of exposition from disembodied heads. I get it. We need know things. We've done it before in this series. There are only so many ways we can tell all these stories without the series being longer. Of course, I would LOVE for this series to be longer. In general, exposition is not my favorite thing. I like show more than tell, but sometimes, you just have to tell and sometimes, the telling comes from a disembodied head. If I had a nickle for every time I saw that, I would have a dime.
Verdict
I originally thought this was going to be the last issue, but it is not. Hooray! That means next month most likely will be. Boo! Still, this very good. This series has been just so much bloody fun. I have really grown to care about what happens to June. That last panel is a gut punch. Still, June is the "last girl" so, she is going to be fine…Right?