Review: Wonder Woman #755
[Editor's note: This review may contain spoilers]
Writer: Steve Orlando
Artists: Jesus Merino & Vicente Cifuentes
Colorist: Romulo Fajardo Jr.
Letterer: Pat Brosseau
Reviewed by: Sean Blumenshine
Summary
"The Four Horsewomen" part one! Paula Von Gunther, a.k.a. Warmaster, has assembled her four horsewomen…and now she's out for Wonder Woman's blood! Plus, Diana is put on trial for the sins of the Amazons! Is it all just lies, or is there really a horrible secret the Amazons have kept from their own champion?
Positives
I like the cover by Robson Rocha, Danny Miki and Brad Anderson. The depiction of Wonder Woman on trial is an effective way to establish was is thematically happening in the story without giving anything away about the story.
The interior art is solid as well. I love the panel layouts throughout the issue; there's a nice variety that gives the issue a good pace. The characters are expressive and the colors are nice.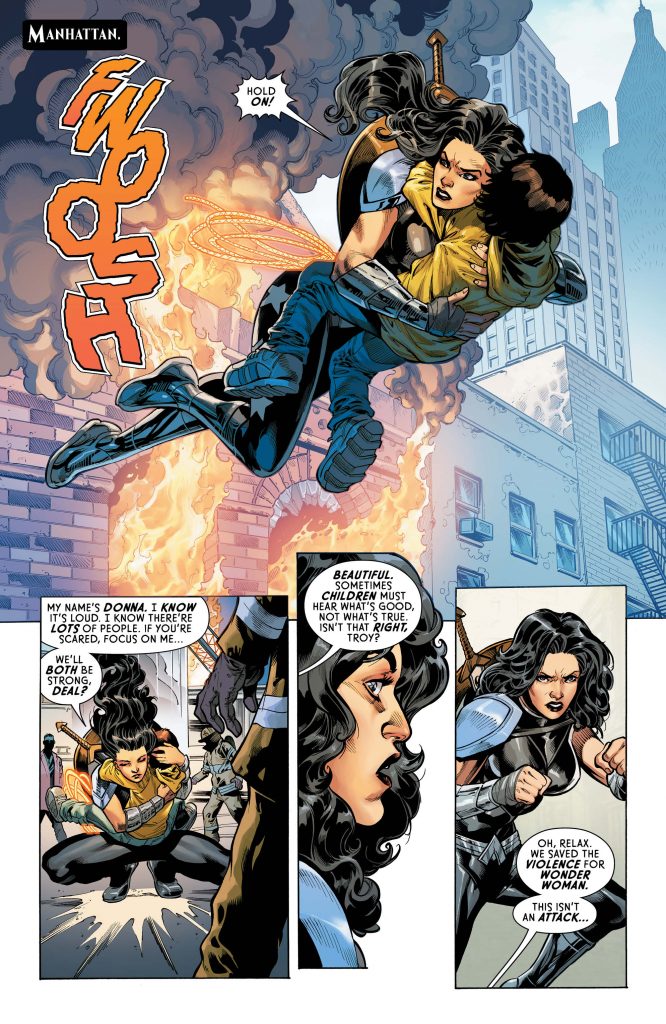 I love the idea of these two cultures at war. Diana and Paula's ancestors were at war with each other and Paula intends to continue to that war; there's something very mythic about that. This fight is the culmination of mistakes made centuries before.
I like that Diana is being forced to face that the Amazons may not have always made the best choices. Blood stains her history and heritage. As an American, that's an easy thing to understand and relate to. The more horrible elements of history are skimmed over or ignored in education and adults have to reconcile that. It's an interesting idea to put Diana in that situation.
Negatives
I don't think Paula is an interesting villain. I detest the villain motivation of, "someone lied to me." It's always an extreme overreaction and just comes across as petty. And maybe I'm more annoyed with this story because it was the major conflict for the entire last season of Supergirl. I get that the spear is doing something to her but that's not compelling either.
Verdict
I'm mostly happy that this story finally started; the build started to bore me a little. Thematically, I love what Steve Orlando is doing here. There's a real challenge for Diana's character that could be fascinating. The art looks good and the action is exciting. I enjoyed the issue.