Review: Batgirl #47
[Editor's note: This review may contain spoilers]
Writer: Cecil Castellucci
Artist: Robbi Rodriguez
Colorist: Jordie Bellaire
Letterer: Andworld Design
Reviewed by: Sean Blumenshine
Summary
The Joker's here to have a nice chat with Barbara Gordon! Don't miss this devastating tie-in to "Joker War"!
Positives
The cover by Giuseppe Camuncoli, Cam Smith and Jean-Francois Beaulieu is solid. It looks good and creates a sense of dread.
This issue is a response to what happened to Barbara in The Killing Joke. Cecil Castellucci wanted to make the story about Barbara and give agency in her relationship with Joker instead of inflicting pain upon her to further the stories about male characters. It's always cathartic to see Batgirl get the upper hand on Joker.
While the idea of a character laughing in Joker's face to piss him off has been used several times before, there is a different dynamic when it's Barbara and Joker. A lot of Barbara's comic history was, and to an extent, still is defined by Joker. The issue tries to change that power dynamic in favor of Barbara. Gender roles also add something to it as the issue itself points out.
Negatives
I don't love the interior art. Stylistically, it doesn't work for me at all. I think the characters look weird. The book evokes The Killing Joke's art in certain spots which is fine. Overall, I just found the art to be unappealing.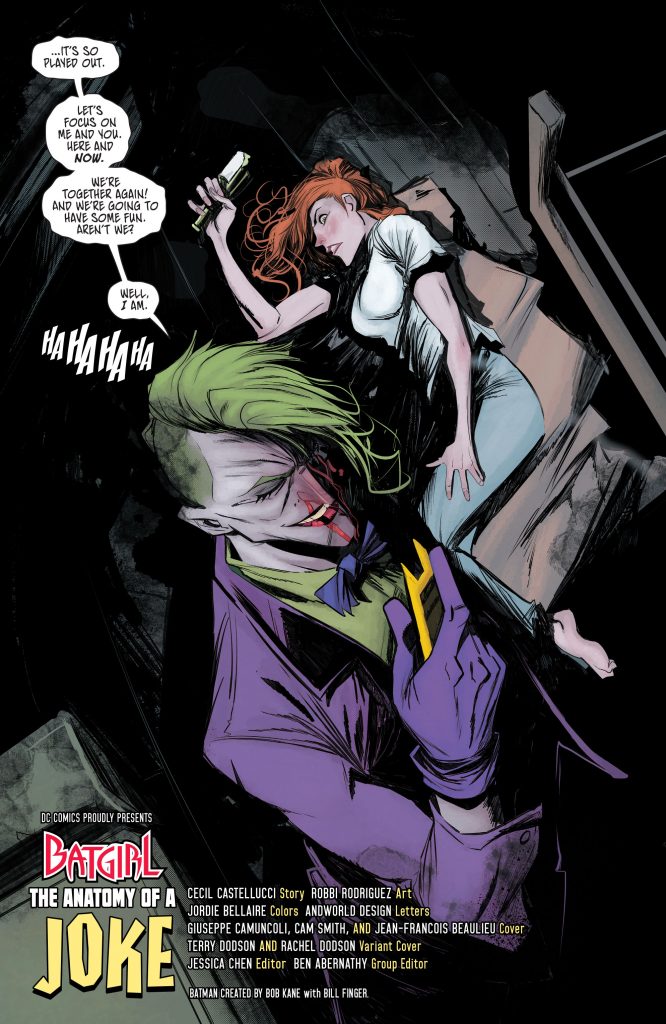 As I said before, The Killing Joke still defines Barbara to a degree. This issue is proof of that. Almost every writer for this character has written some kind of response or follow-up to The Killing Joke. That story, especially what happened to Barbara, was a mistake. But I'm honestly tired of it. I've seen all this before.
I don't know if this what he is like in the other "Joker War" stories but Joker bores me to tears in this. One problem is that he never shuts up; he just goes on and on. It's obnoxious. The bigger problem is that this Super-Joker never appealed to me. He knows way too much and has way too much power. Villains like this lose interest for me when they get this over-powered. He's the Joker; he's a psychotic clown. "Joker War" is just weird to me.
Verdict
I didn't like this issue. The intentions are noble with interesting themes and commentary on both Barbara Gordon and violence against women. That's all great. But, personally, I'm tired of Babs having to face Joker and prove her worth over and over again. Combined with a version of Joker that I find dull and artwork I'm fond of, the issue falls short for me.