Review: Justice League Dark #24
[Editor's note: This review may contain spoilers]
Writer: Ram V
Artist: Amancay Nahuelpan
Colorist: June Chung
Letterer: Rob Leigh
Reviewed by: Sean Blumenshine
Summary
At last, Justice League Dark's mission reaches the moment fans have been waiting for: their descent into the Other Place, as a reborn Swamp Thing, Wonder Woman, and Zatanna sharpen their swords and spells to battle the Upside Down Man. But Zatanna has more than just cards up her sleeve. The team discovers her burning secret, while Detective Chimp must come to terms with his own role within Team Dark.
Positives
I like Yanick Paquette and Nathan Fairbairn's cover. It conveys Zatanna's desperation well and looks great.
I love the interior art as well. Amancay Nahuelpan's pencils are excellent with expressive faces and designs. June Chang's colors are dynamic and engaging.
I like that Detective Chimp acts as the glue for the team. He's the one trying to hold everyone together and reach his teammates when he can see that they're in trouble. It's also fun for him to serve as the focal point and point of view character for the issue.
It's so much fun to see Diana in this leadership role especially since it's such a challenging one. This is a crazy team; things easily go off the rails and Constantine lives to wreck the train. There's a lot of pressure to that and I like that Diana feels the responsibility of perceived failure. She has to take that on because, that way, no one else has to.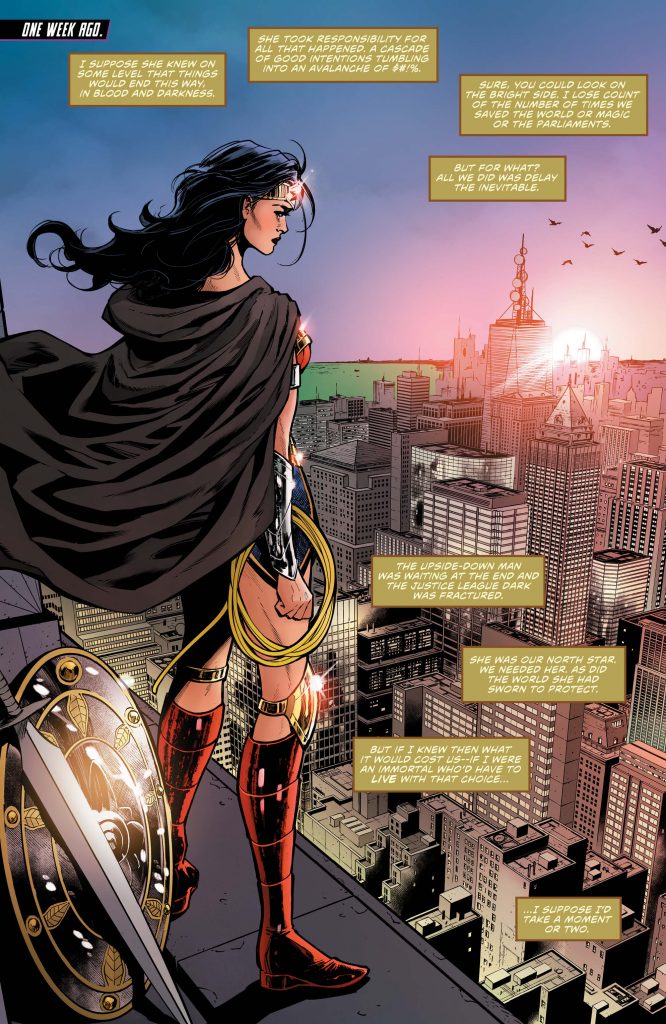 In addition, I appreciate the heaviness this team feels. There's a lot of responsibility and weight they all have to carry in a variety of ways. I particularly like the idea of being a prisoner of Doctor Fate. With all that knowledge and power, it can become easy to forget how to live.
The last page is great. I love the idea of untethered magic and it looks cool. Additionally, the reveal in the last panel is properly horrifying.
Negatives
There are no negatives worth mentioning.
Verdict
I loved this issue. It's a wonderful exploration of the characters and the nature of being a leader. The script weaves together the various characters in nicely by using an unusual but effective point of view. I love the art. And it's an intense start to a cool story.