Zack Snyder's Steppenwolf is due to make his appearance in HBO Max's Justice League: The Snyder Cut. But that's not stopping the director from preparing his fans for what awaits them, and the League, done his way.
Zack Snyder's Steppenwolf – What's Different?
Taking time away from editing his version of the much-malinged 2016 Justice League, he released this image on VERO.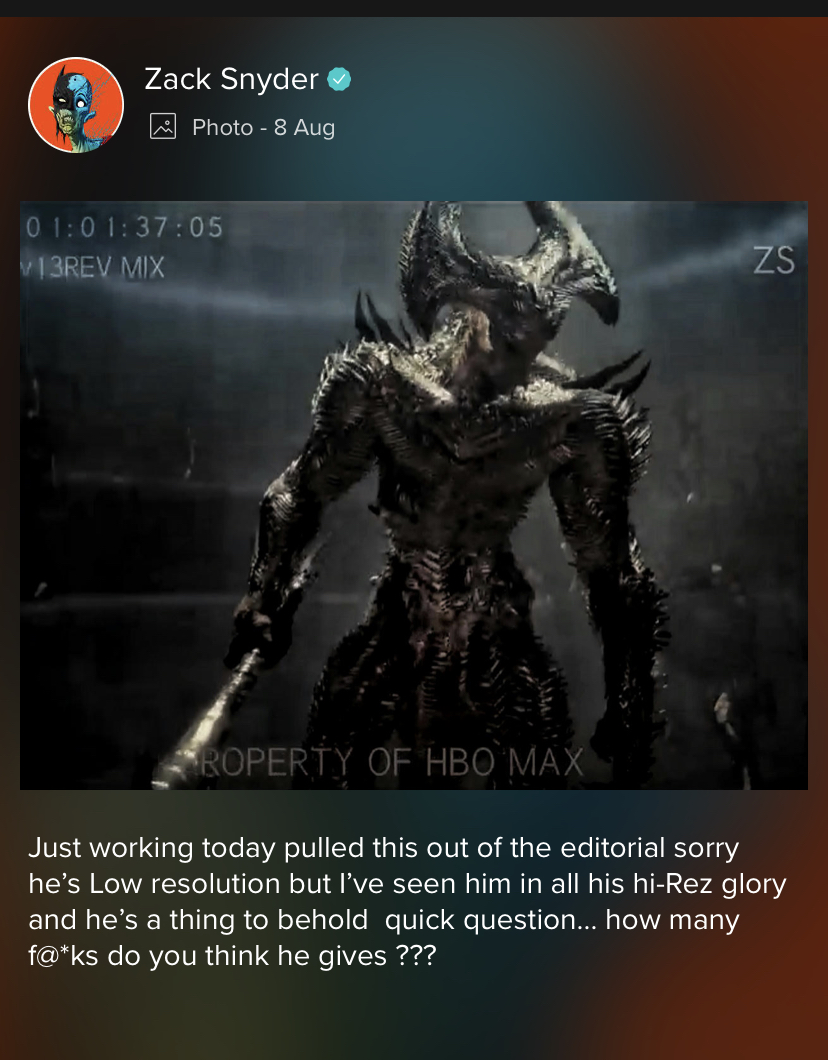 Attached to the photo he concedes, "Just working today pulled this out of the editorial sorry he's Low resolution but I've seen him in all his hi-Rez glory and he's a thing to behold."
Snyder has already gotten fans excited with both the inclusion of Steppenwolf's master, the omnipotent Darkseid, as well as Superman's black suit. This effort is done entirely for free – sans the $30 million Warners has provided for proper visual effects – and it's the result of fan demand to see Zack's vision. Due to personal tragedy, he had to bow out of his directorial duties. It then became Joss Whedon's task to finish the film, for which he reshot much of the material. Sadly, the lighter tone did not satisfy those who had complained about the morose feel previous DCAU films possessed. The biggest complaint of all was the lack of Darkseid as the major villain. Steppenwolf failed to connect with the fanbase and the movie's underperformance convinced Warner Bros. to rethink the shared universe.
HBO Max boss Bob Greenblat stressed that this is not the same as Richard Donner's cut of Superman II; there had been no Snyder cut of the film lying around. "It does not exist. Zack is actually building it, and it's complex, including new VFX shots. It's a radical rethinking of that movie, and it's complicated and wildly expensive. I'll just say I wish it was just 30 million and stop there. It's an enormous undertaking and very complex."
Zack has already stressed that this is in no way a restart of the DCEU, but rather a revisiting of what might have been. As it stands, the only franchises that survived the DCEU – and have the same continuity – are Wonder Woman, Shazam!, and the upcoming Black Adam.
A labour of love, Synder cannot be more ecstatic. "We're all going to work, digital effects, everyone's excited to put a bow on this thing, so it's pretty fun… We always talked about, 'Maybe in ten years, they'll dig it out of the archives.' It's nice like this… I'm super excited, and we couldn't have been happier."
Look for Zack Snyder's Justice League to appear on HBO Max some time in 2021.