Review: LUCIFER SEASON 5 – PART ONE
[Editor's Note: This review may contain spoilers]
Directors:  Eagle Egilsson, Sherwin Shilati, Claudia Yarmy, Viet Nguyen, Sam Hill, Richard Speight Jr., Nathan Hope, Kevin Alejandro
Writers: Jason Ning, Ildy Modrovich, Mike Costa, Aiyana White, Joe Henderson, Jen Graham Imada, Julia Fontana, Chris Rafferty
Starring: Tom Ellis, Lauren German, Kevin Alejandro, D.B. Woodside, Lesley-Ann Brandt, Aimee Garcia, Scarlett Estevez
Reviewed By: Derek McNeil
Summary
Lucifer 5×01 – "Really Sad Devil Guy": Lucifer toys with a murder victim while Chloe and Maze investigate the death. Meanwhile, Amenadiel cleans up the club, and Linda mothers a genius.
Lucifer 5×02 – "Lucifer! Lucifer! Lucifer!": After spending an eternity in Hell, Lucifer returns to the land of the living – but there's something a little different about this handsome devil.
Lucifer 5×03 – "¡Diablo!": Lucifer – the real one this time – helps Chloe investigate a murder committed on the set of a TV show inspired by his own life.
Lucifer 5×04 – "It Never Ends Well For The Chicken": The year is 1946. The world is black and white. And Lucifer is the star of his own noir detective story featuring familiar characters in new roles.
Lucifer 5×05 – "Detective Amenadiel": Amenadiel helps Chloe investigate a nun's untimely demise. Meanwhile, Lucifer lends Dan a hand, and Linda reveal a painful part of her history.
Lucifer 5×06 – "BlueBallz": After a popular DJ is electrocuted on stage, Chloe searches for the killer while Lucifer tries to keep his jealousy over an ex-flame in check.
Lucifer 5×07 – "Our Mojo": As a shocking side effect of his romance with Chloe throws Lucifer for a loop, the new couple pursues a murderer with a most unusual M.O.
Lucifer 5×08 – "Spoiler Alert": Chloe learns a serial killer may have embellished his crimes. Amenadiel worries about his son's health. Pete opens up to Ella.
Positives
After over a year, Lucifer has returned to TV with a bang. Netflix dropped an entire half season of eight episodes at once. The story picks up shortly after the conclusion of Season 4. Lucifer has returned to Hell, while Chloe and the rest of the supporting cast carry on with their lives in Los Angeles.
Once again, the major antagonist is another of Lucifer's celestial family. This season, we get introduced to Lucifer's identical twin brother, Michael, also played by Tom Ellis. Michael is jealous of his twin always being the centre of attention. Michael takes advantage of Lucifer's absence to pose as him, taking over Lucifer's life. At first he does so, intending to destroy his brother's life, but then decides to steal it instead.
I liked seeing that Chloe proves her worth as a detective by working out that Michael is an impostor on her own. I was expecting that Lucifer's return would lead to Michael's deception being uncovered, but it was the other way around. Michael being exposed as an impostor is what causes Amenadiel to visit Hell to inform Lucifer.
Lucifer returns, leaving Amenadiel in charge of Hell. However, Amenadiel is able to quickly return after God declares that Hell no longer needs to be watched over. This raises an uncomfortable question. Why is it necessary when Lucifer was doing the job, but not when Amenadiel was? Was it ever necessary at all, or was it an arbitrary assignment from the beginning? And was it meant as a punishment, a lesson, or part of some inscrutable plan of God's?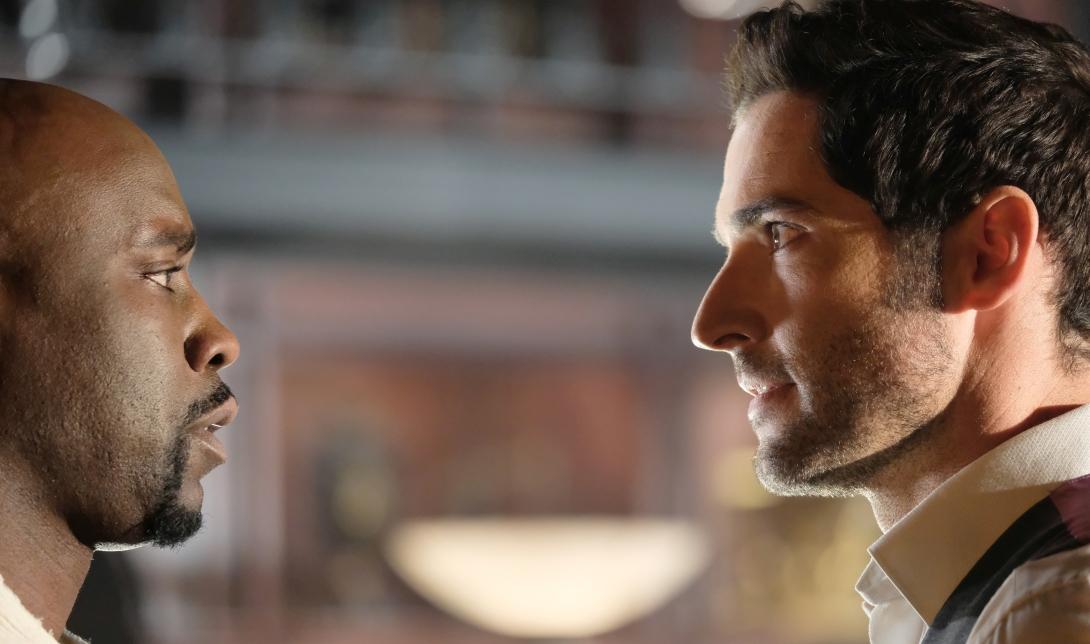 Positives Cont.
I was also happy to finally see the resolution of the standard "will they or won't they" storyline that has been threaded through the entire series so far. It's great to see the love story progressing through stages instead of falling into an unchanging status quo.
There are a couple of episodes that I feel particularly stand out. One is the hilariously meta "¡Diablo!", where Chloe and Lucifer investigate the murder on the set of a TV show based on Lucifer's accounts of his own life. Essentially, "¡Diablo!" is an in-universe version of the show Lucifer. It's especially entertaining seeing Chloe's reactions to the unflattering way she is portrayed in this show, especially considering that the show was based on Lucifer's personal accounts to the showrunner.
The other is the noir detective story, "It Never Ends Well For The Chicken". In this episode, Lucifer tells Trixie a story about how he recovered a stolen ring for Mazikeen's mother, Lilith. I like how this episode justifies having the regular cast playing the roles. Lucifer describes Mazikeen as the spitting image of her mother, so it makes sense for Lesley-Ann Brandt to play her as well. And because Trixie demands that women can be detectives too, the male actor in Lucifer's story is replaced with Lauren German. This establishes that Lucifer is colouring his account for the young girl, which can explain why we see the rest of the series' cast in the tale.
The batch of episodes ends on a cliffhanger, as another of Lucifer's family finally makes His appearance. Finally, it seems that Lucifer will be able to have it out with the architect of his woes, God Almighty Himself. Unfortunately, we will have to wait for the second half of the season to see it.
Negatives
On the whole, there's not much to complain about other than having had to wait for over a year for these episodes to come out, and then having to wait again for the next batch. However, when you consider that in the wake of the pandemic, many shows have had truncated seasons, we're lucky to be getting the entire season. Also, while no date has been set for Part Two yet, it presumably is coming later this year, so the wait will not be quite as long this time.
Verdict
Lucifer Season 5 – Part One demonstrates that this show hasn't lost its charm during its long hiatus. Lucifer is every bit as entertaining as when it first debuted. The wait was excruciating, but was well worth it. I can't wait for Part Two to arrive.