Review: Harley Quinn #75

[Editor's Note: This review may contain spoilers]
Writer: Sam Humphries
Artist: Sami Barsi, Nicola Scott, Emanuela Luppachino, Ray McCarthy, Ramone Villalobos, Ngozi Ukazu, Joe Quinones, Riley Rossmo
Colors: Hi-Fi, Annete Kwok, Tamara Bonvillain
Letterer: Dave Sharpe
Reviewer: Tony Farina 
Summary
At last, it's the star-studded roast of Harley Quinn! Nothing is off-limits, no topic is out of bounds, and no one—and we mean no one!—will escape unscathed. Harley may be the funniest person in the DC Universe, but how well can she take a joke?
Plus, in a backup story illustrated by superstar artist Riley Rossmo tying into "The Joker War," Harley Quinn faces off against Punchline!
Positives
Harley Quinn #75 has essentially a murderer's row of artists and for that, we should all be grateful. It is so much fun to turn each page and have absolutely no idea what is coming next. The love letter to the original Harley is delightful. Every artist gives her such flair and tries to make her his or her own, but of course, the thing about Harley is, she belongs to no one but herself. It is really delightful fun.
I also really enjoy the Super Friends send up. That is really just brilliant art and writing by Sam the man. It captures the crazy sensibilities of the 70's cartoon and of Harley's nightmare/dream/mental break. I applaud. Really, the best thing to do with this issue is to just spend time looking over all the pages. There are some hidden gems and some poster worthy eye popping pages as well.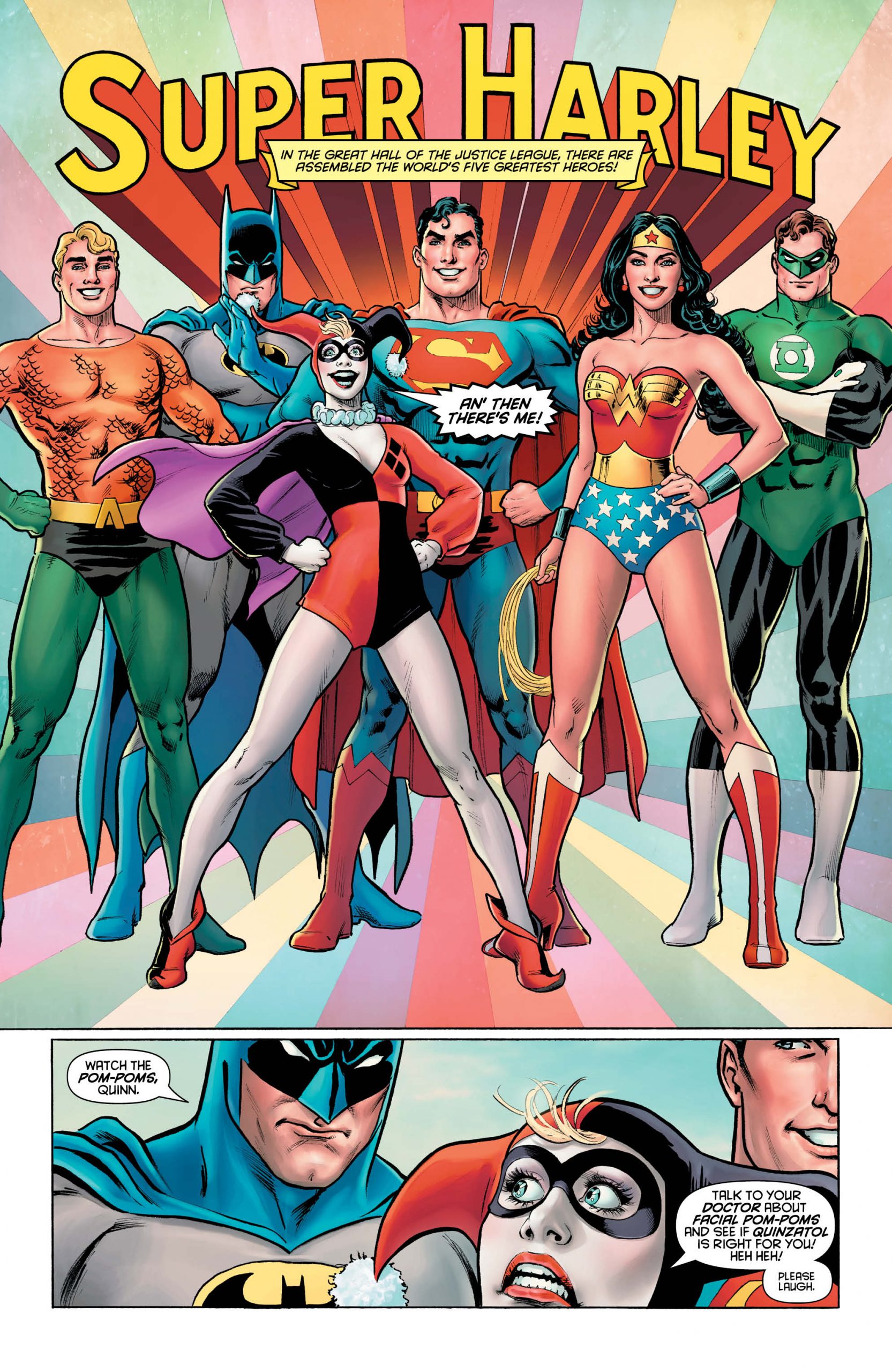 Negatives
This just seemed like too much and not enough. Does that make sense? It is too much that Harley Quinn #75 is trying to wrap up 75 issues in 30 odd pages and not enough because there was so much more to explore in this book. When it was announced Sam was leaving, I thought he was setting up something for the next creative team, but alas, he was wrapping it up, but it just feels like that was not the plan and this is the best he could do with the little time he had left.
Verdict
This is a pretty unceremonious ending. Considering there has been a year long build up to something with Booster, one would think he would make an appearance. This whole issue feels rushed and the back story, Joker War tie in just feels, well, crammed in. I just feel Harley deserves a better send off. I don't blame Sam. I just think this book is the victim of the changes that are coming.