Review:  Scooby-Doo!  Where Are You? #105
[Editor's Note: This review may contain spoilers]
Writer: Sholly Fisch, Barney Topper
Artist: Walter Carzon, Dan DeCarlo
Colors: Sylvana Brys, Paul Becton
Letters: Saida Temofonte, Jenna Garcia
Reviewed by: Carl Bryan
Summary
This lighter side of the Scooby-Doo comics contains two stories that have all of the standard Saturday morning hi-jinks we expect from the Scooby-Doo series.
"Clearing the Troll Posts" – You might think the biggest dangers of going online are spam, scams, and celebrity news. But not when a mythological monster shows up to threaten the star of a popular internet vlog IRL (in real life)! Scooby and the gang will need all of their investigative skills–and awfully thick skins-to survive the nasty barbs of…the Internet Troll!
"Scare Wear" takes on the fashion designer industry and some haunted costume designs.  What model could be safe from that?
Positives
In each story, you get the components of a great Scooby-Doo episode – the mystery set up, the comic escapades of Scooby and Shaggy and "I would have gotten away with it if it wasn't for you annoying kids!".  The "Troll" story takes on a tongue in cheek view of internet trolling, but it also shows what a person will do to get "likes" or "viewership" of their social media accounts.  "Scare Wear" is a cute story and a bit off beat in regards to fashion.  Looks like this issue is really into the superficiality of society.  Overall, each story provides the reader with something old and new in this issue.  In this current comic age of updating characters to fit darker themes, this comic is a refreshing introduction to kids who want their mysteries a little bit lighter.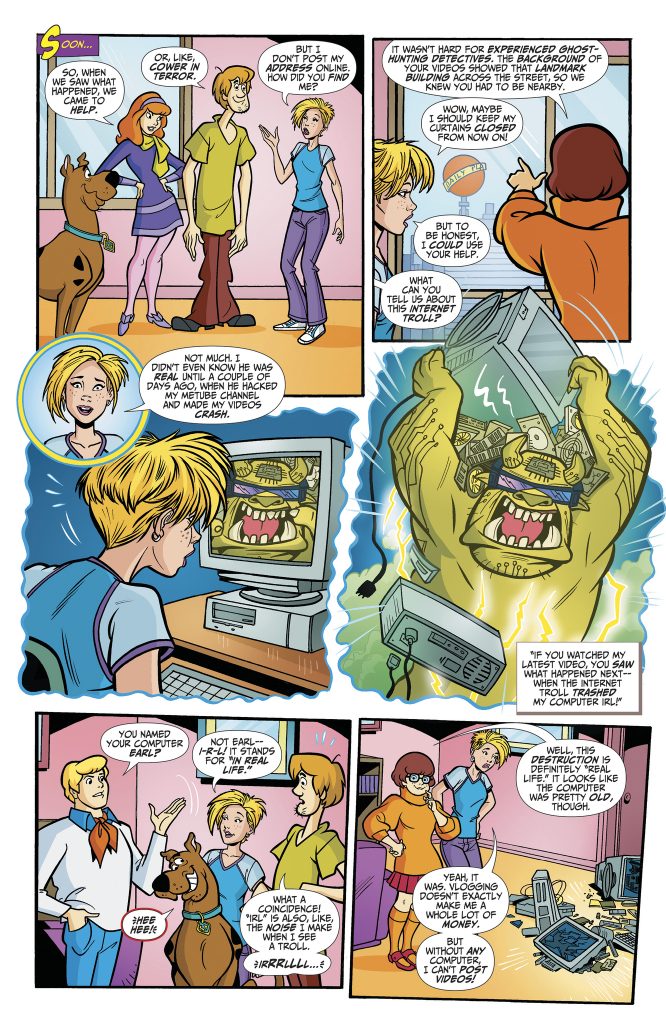 Negatives
No real negatives as this is a wonderful comic for young readers that follows a solid formula for years.  No surprises, but also not anything that will detract the reader from enjoying Scooby and the Gang!
Verdict
Scooby-Doo comics are a great way to teach kids critical thinking skills as well after you see the evidence, and they pick who is the culprit.  So if you enjoy the game of Clue, you should pick up this copy of Scooby-Doo! Where Are You?