Review: Justice League Odyssey #24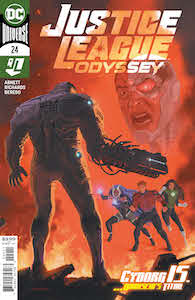 [Editor's Note: This review may contain spoilers]
Writer: Dan Abnett
Artist: Cliff Richards
Colors: Rain Beredo
Letters: Andworld Design
Reviewed by: Seth Singleton
Summary
Darkseid stands triumphant again. He's standing on the cusp of rewriting reality with Epoch's Revision Mechanism. When he does the Lord of Apokolips will control the destiny of the universe. However, he must face a final challenge from Vic Stone, Cyborg. If the half-man/half-machine Titan can overcome Darkseid's programming, he may be the Justice League's only chance at stopping the dark god's power grab on the edge of the universe.
Positives
A legendary football coach once said that the hardest thing to do is decide at halftime of the Super Bowl to throw out the playbook that got the team into the title game in the first place. When that strategy is failing against the current opponent the only option is to change. Jessica Cruz has done everything possible to defy Darkseid. But with a recent betrayal by someone Cruz believed was an ally, the Lord of Apokolips is about to revise history and reshape it in his image.
But that's not the only betrayal. Despite appearances, Cyborg is working against Darkseid. Victor Stone proves this to Orion and the other disbelievers by commanding Darkseid's forces to attack areas away from them to buy time. However, no one can deny Darkseid forever.
The all-or-nothing approach that Cruz chooses leads to some brilliant decisions and discoveries. First, is that she no longer cares about playing by the rules. If Darkseid is going to ruin time, then doing something unthinkable like removing people from moments in time and creating a time paradox actually makes sense. What follows is a doppelganger exchange that is powerful and fraught with danger and uncertainty.
There is a big discovery made regarding Gamma Knife that is poignant and repugnant. Epoch pulled her from time and changed her identity. Faced with the choice of aiding Darkseid or being erased from history seems to offer her only one conclusion. In the end, it might not be enough to secure her allegiance. Potential character development could reveal the possibilities still in store.
Negatives
Not applicable.
Verdict
Justice League Odyssey #24 is a gift to readers. For new readers, it's a wonderful introduction to numerous plotlines. It's like being dropped into the penultimate moment of a story, only realize that as is often true in a short story, the only way to go is forward. In comparison, the gift for long-time readers is the continued growth by Jessica Cruz that is spurred by her relentless persistence.
Secondly, this book offers the promise of possibility and impossibility in equal measure. Dan Abnett pulls from the legions of stories that abandon the best-known tropes in pursuit of something greater. The result is infinitely grander. Justice League Odyssey pulls back the veil of limitations and shows just how much is still left to hope for even when logic and reason demand that the only conclusion is resigning to hopelessness. Justice League Odyssey refuses to give in. This reviewer stands proudly beside them.