Review: DCeased: Dead Planet #7 
[Editor's Note: This review may contain spoilers]
Writer: Tom Taylor
Artist: Trevor Hairsine
Letters: Saida Temofonte
Colors: Rain Beredo
Reviewed by: Carl Bryan
Summary
"Each Amazo was created to be strong enough to face the Justice League. But this wasn't the Justice League they'd been built for." – The Narrator
DCeased: Dead Planet #7- The Justice League fights an army of Amazos for Earth, while John Constantine goes head-to-head with Trigon!
The Justice League fight for Earth and the lives of the…infected?! The final chapter of the best-selling series will be talked about for years to come!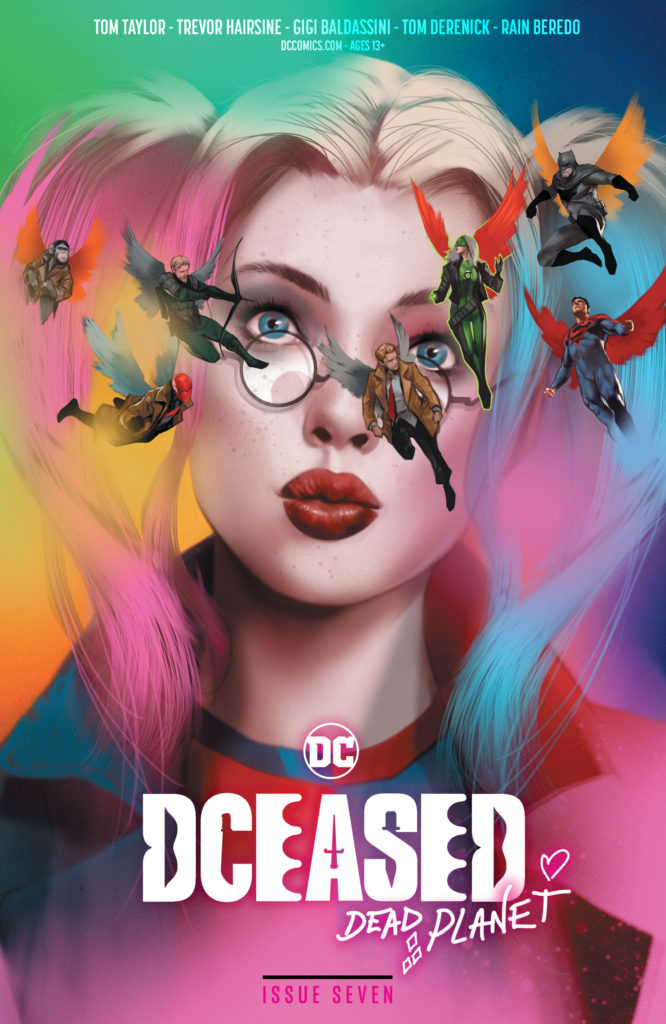 Positives
Real life issues…how can we get the cure to everyone before the disease kills us all?  It might be art imitating life or life imitating art?  Tom Taylor has the playbook for 2020 and for 2021.  Whether it is the Anti-Life equation or COVID-19, this story hits home.
Taylor concludes his DCeased tale with tales of redemption, self-sacrifice, friendship, and love.
It's a race against time as an army of Amazos burns the world down that has the virus whereby our heroes try to save all those infected.  Not sure if this is real life, but it sure is scary to think about it in those terms.
Friendship – I really like what Taylor has done with the World's Finest.  This version of Batman and Superman needs more volumes to it.  Damian and Jonathan bring depths to the characters that had not been explored, and a bond that never was exposed with Bruce and Clark.  Taylor made that rich for his readers and we need more!
Redemption and Self sacrifice – Yes.  He's a real a#$ hole, but Constantine really got a chance to shine under Taylor.  Did he acquire his tools to defeat Aragon under some suspicious terms?  Yes.  Is he the hero that this DCeased universe needed?  Yeah…he soiled his hands where we could not lose anyone else.  After all, Clark, Bruce and Diana bit the dust.  It's the least expected that rise to the occasion in tales such as these.
Positives 2.0
I continue to applaud Taylor's use of "shelved" characters.  He really has shown other authors in DC and the Future State series that readers do not forget such characters as Amazo or Ragman or Creeper.  We needed his spark so we could see our old friends/enemies/"frenemies".
Love – Black Canary….sigh.  She did it.  You thought she would give up on Oliver didn't you?  Shame on us as readers!  Shame on us!
Speaking of love….Trevor Hairsine,  Saida Temofonte and  Rain Beredo are all on point in this series.  The pens, the colors and the lettering are all to be admired, commended, celebrated and enjoyed!
Negatives

Taylor brought us Cassie Sandsmark who took up the Amazon mantle when Diana was infected with the Anti-Life Equation.  I feel that her story did not live up to all of the expectations we needed as Jonathan and Damian's did.
After all, if you are going to rewrite The Trinity of superheroes, each leg of the stool needs to stand tall.  This conclusion fell short for her.  Perhaps this can be addressed if Taylor revisits this team.
After all, there is some rebuilding to do in this Multiverse.  And there was a sliver of hope that this exists now in Future State.  After all, the Anti-Life equation was mentioned in Snyder's Dark Metal.
Verdict
Tom Taylor's DCeased world… what started out as a story of tragedy has left us some hope.  This version of DC needs to be explored more and more as it just cannot end.  This version of the Trinity has to have more adventures!  Way to go Tom Taylor…way to go!