Ahoy Comics Review: Edgar Allan Poe's Snifter of Blood #4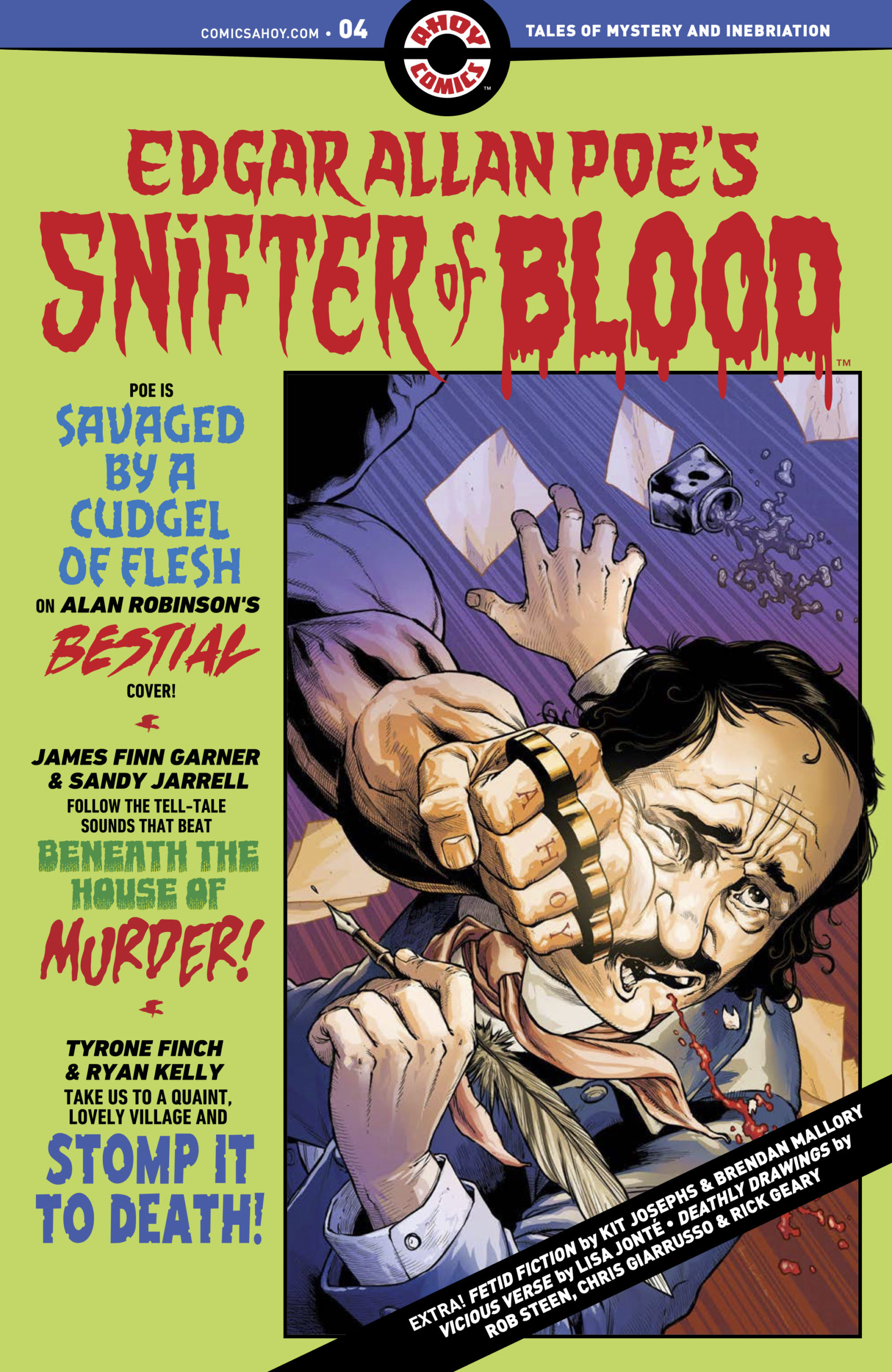 [Editor's Note: This review may contain spoilers]

Writers: James Finn Garner and Tyrone Finch
Art: Sandy Jarrell and Ryan Kelly
Colors: Sandy Jarrell and Andy Troy
Letters: Rob Steen

Reviewed by: Matthew B. Lloyd
Summary
Edgar Allan Poe's Snifter of Blood #4 gives us two stories, a modern retelling of "The Tell-Tale Heart" and "Winston" a very particular "train engineer" who has to has things his way, or else!
Positives
"The Tell-Tale Heart" updates this classic flawlessly.  There's no doubt as to how the murder affects the protagonist.  The black and white art with the red lettering on the "Boom, Boom Boom" works perfectly.  While it's a little surprising how quickly the protagonist snaps, it makes the point it needs to make- this is a spontaneous crime.
The framing sequence around this story showing Poe in Hollywood pitching his stories is quite humorous.  It's a nice juxtaposition to the "Heart's" brutality.  There are references to a number of eras that will make you smile.  The fact that he's also waiting for Netflix to call him back is particularly funny.
"Winston" is a classic mystery/supernatural type story one might expect to have read in one of DC Comic's Horror anthologies from the '70's, House of Mystery or House of Secrets.  Interestingly, the story doesn't reveal the mechanism for the supernatural occurrences.  It took me a moment to understand the Poe connection at first.  Then when I restated the basic action in the story it became obvious- "A man destroys what he loves when it doesn't remain exactly the way he wants it."  Chew on that for a moment.  "Winston" is the superior story in this issue.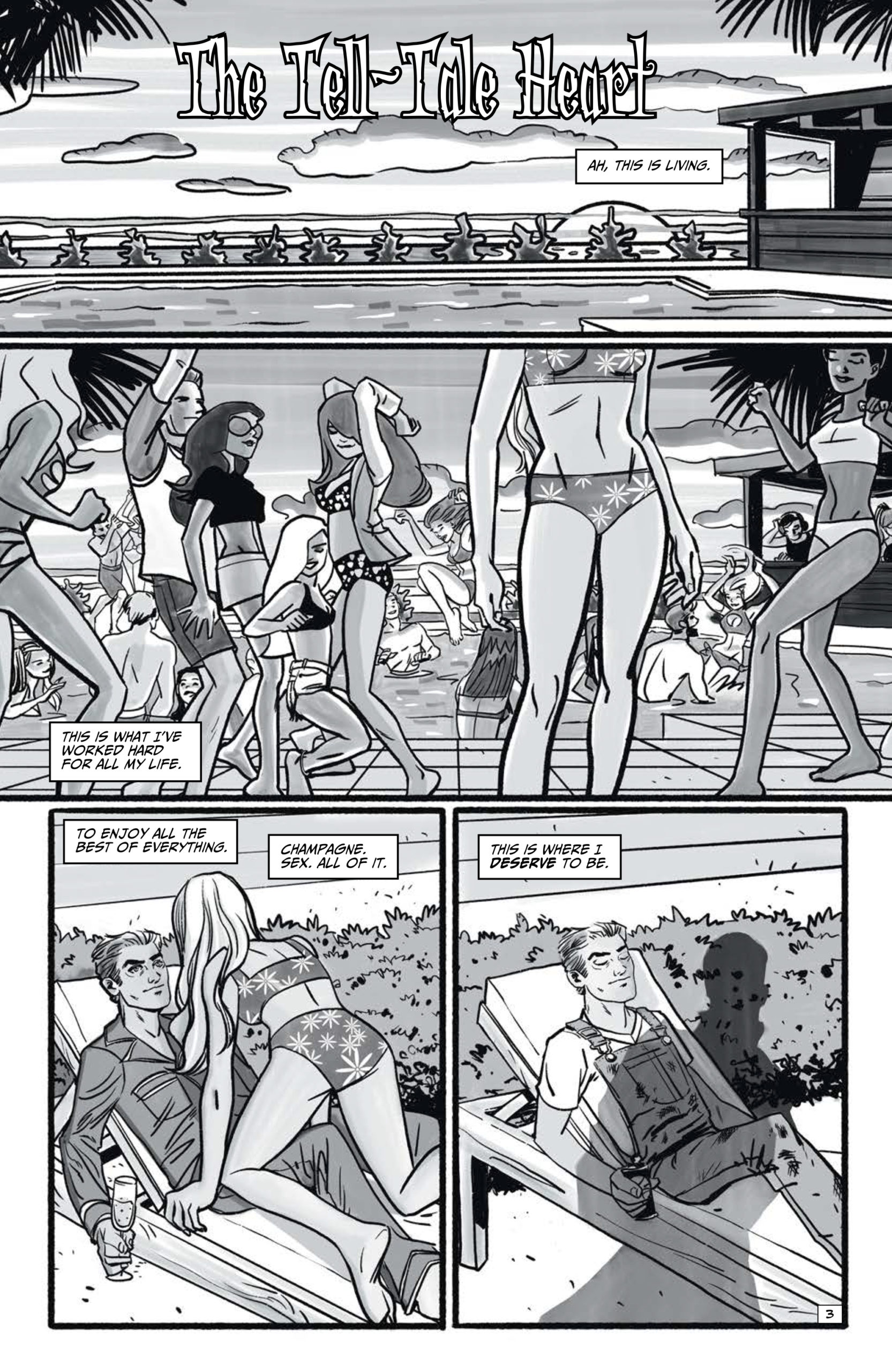 Negatives
While the "Tell-Tale Heart" is perfect in its retelling, if you know the story it is predictable.  Perhaps, something as simple as putting the title at the end of the story would've made this a story of discovery instead of inevitability.  As it is, the reader knows exactly what's going to happen and how it's going to end.  If the reader doesn't know what MAY happen, it would heighten the tension between the characters and give the reader a satisfying "ah-ha" moment realizing what story is being adapted.  Knowing the title sort of takes away the unknown element of the story killing the inherent tension found in the original.
As they are, both stories are a bit on the mundane side, there's nothing quite as humorous as "The Cereal Serial" from Edgar Allan Poe's Snifter of Blood #2, or the cleverness of some of the imaginary historical moments that have been presented in the title.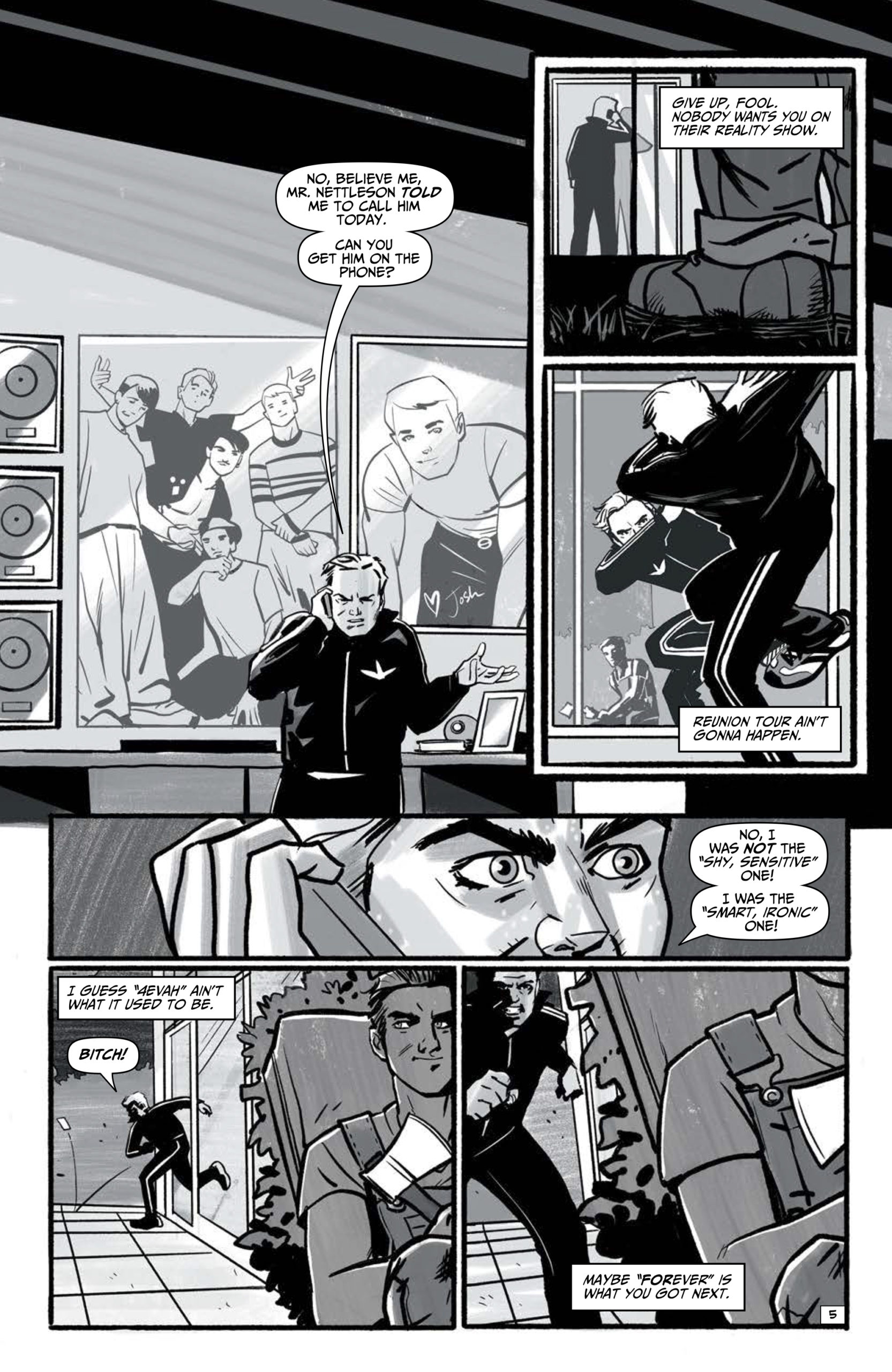 Verdict
Edgar Allan Poe's Snifter of Blood #4 doesn't quite have the punch as previous issues.  It's not bad, but it's not as striking as some of the stories we've seen in previous issues.  "Winston" has a unique subtlety to it, but it doesn't stand out as much as I would like it to.  Keep reading though…