Review: Batman vs Ra's al Ghul #5
[Editor's Note: This review may contain spoilers]
Writer: Neal Adams
Artist: Neal Adams
Colors: Neal Adams
Letters: Clem Robins
Reviewed by: Carl Bryan
Summary
"Your words, like your husk of a soul, are a lie!" – Deadman
Everyone knows that Gotham City needs Batman-but a shadowy group is running a competition to replace him. Will they choose a man with the necessary skills to keep the people of Gotham safe? Or do they have something else in mind?
Either way, Deadman has his own idea of the next steps to take! This is Batman Vs Ra's Al Ghul.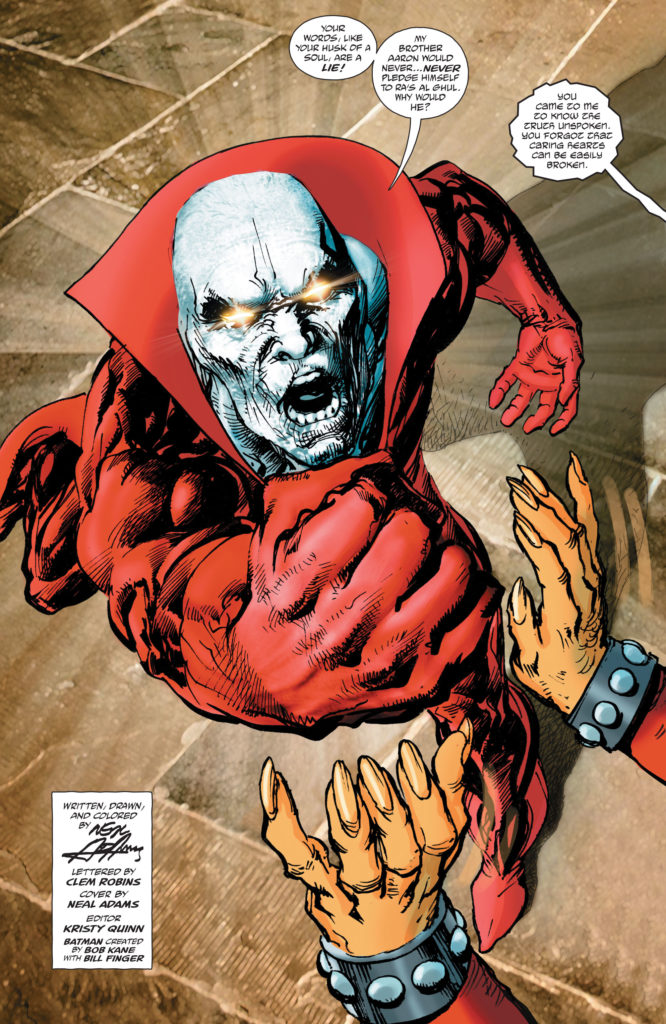 "Retro" Positives
Neal Adams….no one draws the Caped Crusader like him.  Notice I indicated Caped Crusader as his renditions are like the 1970s.  The artwork, clothing styles, and backgrounds are very much from a retro era gone by in comics.  Neal Adams is on the Mount Rushmore of Batman artists as no one can render a better looking or rugged Bruce Wayne who has not shaven in a week.  His women are beautiful and heroic and scantily clad.
I grew up on his art and his influence on how Batman is depicted is unparalleled.  To draw  as much emotion in Batman as Adams does is not done anymore.  Batman hit a different turn after Frank Miller.
But it is great to see Adams's art especially when it features his creation of Ra's al Ghul. The last page of this comic is museum worthy as it portrays al Ghul in all of his glory.
"Retro" Negatives
Adams writing…. it takes a special person in comics to take on both duties.  Joelle Jones is doing it now with her initial stint in Catwoman and now with Yara Flor.
Perhaps Adams at the height of the 70's and 80's when we as readers were perhaps viewed as needing to have everything explained to us (picture an old Spiderman comic with a half and half face of Peter Parker and Spiderman).
This particular issue is out of it's rhythm.  When the series first came out, I was intrigued as this was an artist and author from my childhood.  Reading through this story (several times) and going back to issues #1-4, it is clear that I have grown up as a reader.
Adams art is on another scale.  He clearly is one of the best!  But his script writing…  personally, I cannot follow it.  Perhaps because it doesn't follow the current timeline (or any timeline).  The characters have not developed emotionally…the product of Adam's storytelling.  While his renderings are perfect emotion, the words provided to Batman and others are not.
Verdict

I'm sad.  Either I have become a more accomplished reader.  Or Adam's work in scripts has always been a tough read.  This is clearly a case where Adam's as an artist is still at the top of his game.  But the script writing and story line is painful to sift through.
If Scott Snyder would pair with Neal Adams, the Batman book that would resonate from that pairing would rival anything in the canon.  But alas, we find ourselves here.  Buy this series knowing that you have art that is beautiful, but a story that is muddled.