First Look: Nightwing # 79 & #80-
Nightwing #78 and #79 sold out and go back to print and DC provides plot information on subsequent issues as well.    Robins reunite in Nightwing #80,  and a Heartless New Blüdhaven villain arrives as the New York Times bestselling Injustice and Suicide Squad creative team of Tom Taylor and Bruno Redondo continue to deliver high-flying action!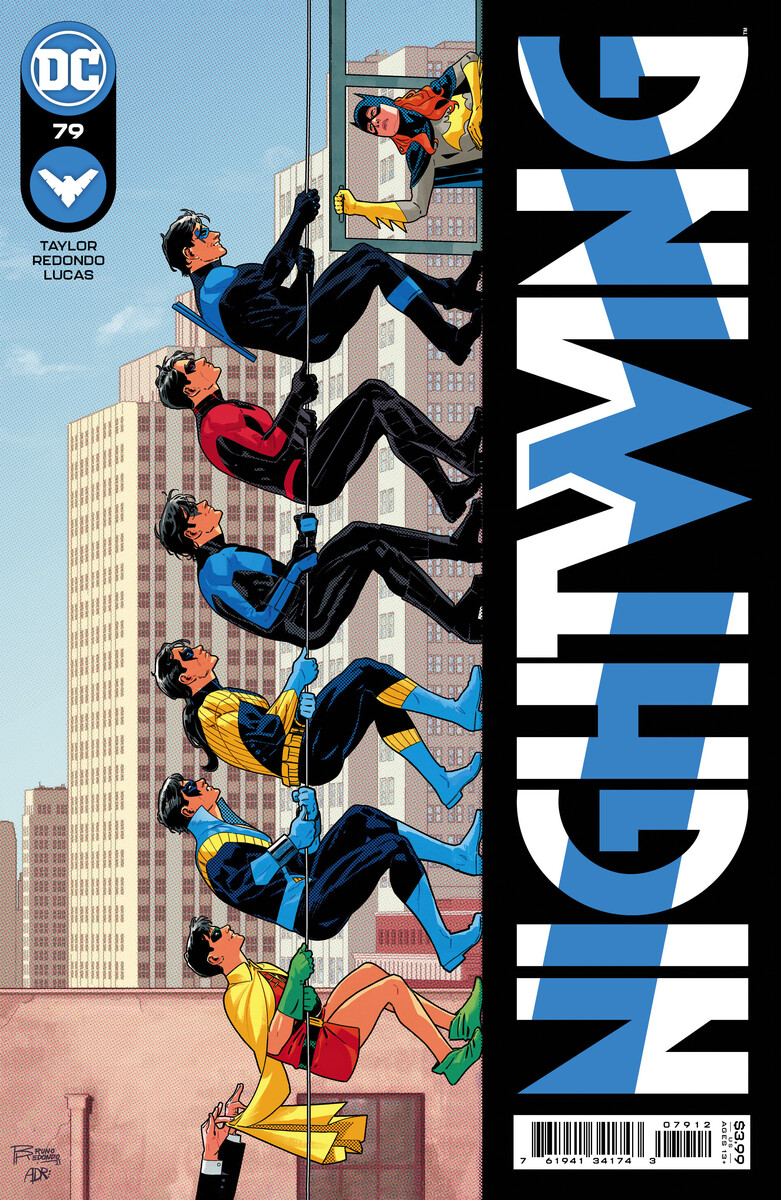 The demand for Tom Taylor and Bruno Redondo's Nightwing run has already pushed both Nightwing #78 and Nightwing #79 to second printings!  New copies of their first issue—Nightwing #78—will arrive on April 27 and more copies of Nightwing #79 will arrive on May 25, both with new covers by Bruno Redondo!
Longtime Nightwing readers will know that Dick Grayson's always had a big heart.  From protecting those persecuted by bullies in his youth, to combating evil alongside Batman as Robin, to pledging his newly inherited wealth to enriching Blüdhaven as Nightwing—his kindness and generosity have always guided his life.   But looking ahead to Nightwing #80  "Leaping into the Light" part 3 on May 18, a new villain stalks the back alleys of Blüdhaven, removing the hearts of the city's most vulnerable.  Who is this terrifying new menace named Heartless, and will he be able to resist plucking out the biggest heart in all of Blüdhaven?  You'll need to read this (literally) heart-wrenching issue to find out!
On top of all that, creators Tom Taylor, Bruno Redondo, Adriano Lucas and Wes Abbott are delivering the heart and soul of the DC Universe in every issue!  Check out a Robins reunion in Nightwing #80, due to hit shelves on May 18!  What is Tim Drake doing in Blüdhaven?
Then in Nightwing #81 on Jun 15, Dick Grayson trades out his escrima sticks for a magnifying glass and a sleuth hat to investigate Blüdhaven's new mayor, Melinda Zucco, and find out how the daughter of the man who murdered Dick's parents came to power in Nightwing's city.  But his investigative adventure is cut short when he comes face to face with the most horrendous villain in the history of Blüdhaven—HEARTLESS.
And in Nightwing #82 on July 20, Melinda Zucco's connection to the man who killed Dick Grayson's parents wasn't a surprise to the Blüdhaven hero, but what the former Robin discovers about Melinda's ties to the Flying Graysons leaves the usually upbeat detective speechless!
Every issue of Nightwing, written by Tom Taylor ( DCeased, Injustice ) with art and covers by Bruno Redondo ( Injustice, Suicide Squad ), color by Adriano Lucas, lettering by Wes Abbott, edited by Jessica Chen, has Nightwing "Leaping into the Light!"
For more information on Dick Grayson, Barbara Gordon, Tim Drake, Haley the Three-Legged Hound, Blüdhaven, and the World's Greatest Super Heroes, visit DC's website at www.dccomics.com and follow DC on social media at @DCComics and @thedcnation.  You can also join DC Universe Infinite to find out more about Nightwing # 79 and #80!