Review: Batman/Superman #17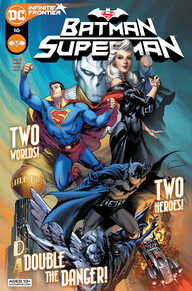 [Editor's Note: This review may contain spoilers]
Writer: Gene Luen Yang
Artist:  Ivan Reis
Letters: Saida Temofonte
Colors: Sabine Rich  
Reviewed by: Carl Bryan
Summary
"Life is dangerous whether you are here or not" – Spyder Lady to Superman
Batman/Superman #17- In the aftermath of Dark Nights: Death Metal, catch a glimpse of brave new worlds within the DC Universe…but what are these strange planets? In a world where Superman's rocket never reached Earth, the Dark Knight and his sidekick discover a startling rift between dimensions.
On the other side? A world where Martha Wayne survived, and Bruce never grew up to be Batman! Not only that, but a strange alien has emerged from the rift who's faster than a locomotive and can leap tall buildings in a single bound…the Superman of Metropolis!
When these worlds collide, the architects of this alternate history are revealed, and the only ones who can thwart their deadly experiments are the Batman and Superman of Earth-0! It's a dynamic dual-world adventure!
Positives
So many Easter Eggs…so many timelines…and a wonderful turn on how do you ultimately defeat your enemy?  Why you simply watch as many of these worlds unfold, and go for the grab on the best weapon you can get…do I dare spoil it? 
What a unique blender of a story where Batman, Robin, and Superman exists as well as Penguin, Lex, and the Joker (in a weird homage to tattooing of Jared Leto…just when the Joker cannot get anymore twisted!). 
Gene Luen Yang has done his homework in that he has well prepared for this story in taking elements from both Clark and Bruce's ingredients, but making this story all his own.  Kudos for homages to the process of film making, but how on Earth did this creative team come up with this idea. 
Inspired by the multiverse, but as a film and comic buff, it was a stroke of genius to tell this type of story.  And it is not done yet!  Wow!
The story is worth a re-read or two as you will have to connect the dots in this cinema world, the current DC Universe and a pondering of "What If…" that is worthy of Red Son.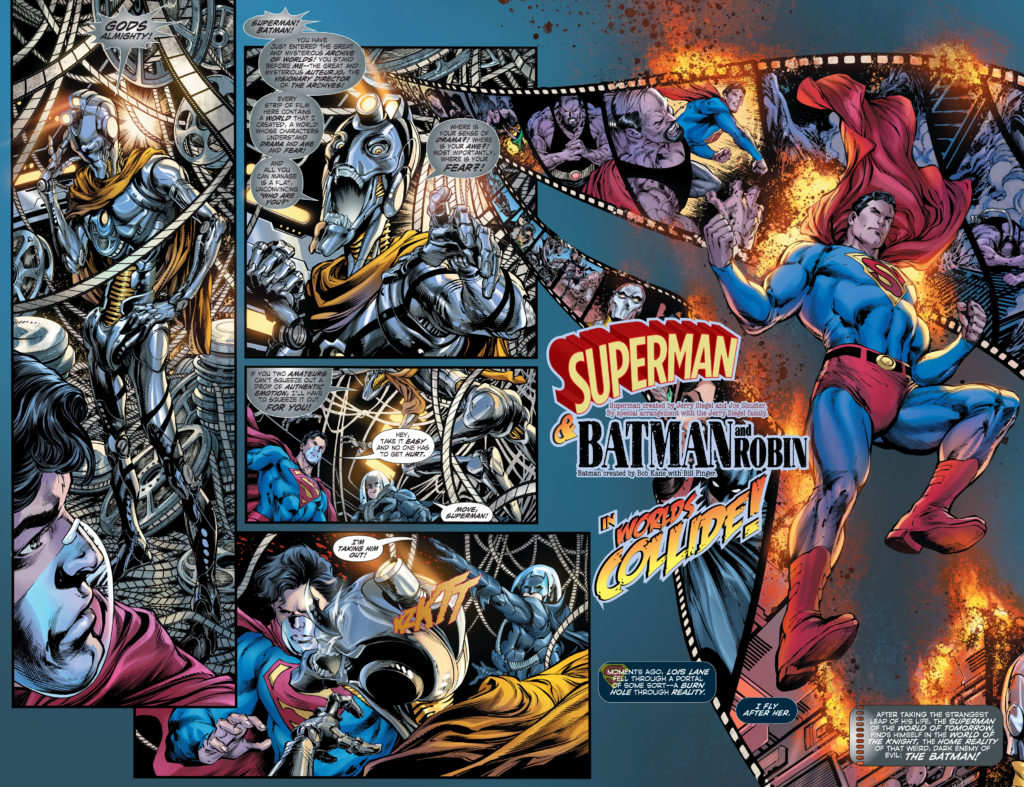 Positives 2.0
This type of comic is the perfect playground for some flashback Easter Eggs.  But in this case the authors and artists provide us some alternate versions of our heroes where we do have some familiar faces but not in very familiar roles.  That's what makes this latest Multiverse storyline so intriguing.  We can get that type of mixture and we are now fine with it.   It appears it has given us a new villain…and that is always something great in the DC Universe.
Negatives
None, really, as it is a fun story.  It has a lot of open holes for our own imagination. the dialogue can be campy at times, but that is how it was intended to be!  The costumes are great in that they are slightly altered to give that old school feel.  And who puts an old fashioned goatee on Luthor to give him a 1950's type villain look?  They did and it works!
Verdict
Batman/Superman #17- Something Old…  New… Borrowed… Blue!  It's not a wedding, but it has all the feel of an 80's VCR tape unwinding and spilling all over the floor.   It's cool though, as we know just how to rewind it!