Review: LUCIFER SEASON 5 – PART TWO
[Editor's Note: This review may contain spoilers]
Directors: Nathan Hope, Sherwin Shilati, Bola Ogun, Greg Beeman, Richard Speight Jr., Lisa Demaine, Ildy Modrovich, Karen Gaviola
Writers: Joe Henderson, Ildy Modrovich, Aiyana White, Mike Costa, Julia Fontana, Jen Graham Imada, Chris Rafferty, Jason Ning
Starring: Tom Ellis, Lauren German, Kevin Alejandro, D.B. Woodside, Lesley-Ann Brandt, Aimee Garcia, Scarlett Estevez, Dennis Haysbert
Reviewed By: Derek McNeil
Summary
Lucifer 5×09 – "Family Dinner": Chloe and Ella investigate a mini-golf murder. Also, Lucifer, Michael, Amenadiel and Linda prepare for the holiest of family dinners.
Lucifer 5×10 – "Bloody Celestial Karaoke Jam": Lucifer, Chloe and the gang sing and dance to a slew of popular tunes while investigating a referee's murder.
Lucifer 5×11 – "Resting Devil Face": Lucifer's father – you know, God – decides to experience life as a regular human. Meanwhile, a boxer dies under mysterious circumstances.
Lucifer 5×12 – "Daniel Espinoza: Naked and Afraid": A straightforward prisoner transport job turns into an increasingly dangerous, yet oddly invigorating, odyssey for Dan.
Lucifer 5×13 – "A Little Harmless Stalking": Dr. Linda stalks a person at night, but it does not turn out well. Amenadiel does research on becoming the new God as his father plans to retire.
Lucifer 5×14  – "Nothing Lasts Forever": An aquarium keeper dies after being torn apart by sharks. God plans his retirement party on Earth. Lucifer tries to impress his father. Mazikeen opens up to Lucifer about her desires.
Lucifer 5×15 – "Is This Really How It's Going To End?!": Another murder in Los Angeles, as always. The God candidates Lucifer and Michael campaign in the Silver city. Something unexpected happens on Earth which makes Lucifer question the system.
Lucifer 5×16 – "A Chance At A Happy Ending": The end is nigh! Lucifer, Chloe, Maze, and Amenadiel prepare for battle with Michael and his not-so-angelic army of supporters.
Positives
As teased by the mid-season cliffhanger, Lucifer Season 5 – Part Two is adds an important new character to the cast: the actual Lord God Almighty. At first, I was disappointed that Neil Gaiman didn't reprise the role (he narrated a Season 3 episode as the voice of God). It was a fun idea that the literal creator of the series would be God in that universe. However, D.B. Woodside plays the role perfectly.
The depiction of God follows the traditional pattern in such stories. He speaks in cryptic statements and is utterly inscrutable. The story leads us to believe that God is losing the ability to control His power. Cosmic beings have previously been shown to be fallible, so it isn't inconceivable that God might not be completely infallible in the Lucifer universe. Woodside still manages to keep us uncertain whether God is being manipulated by Michael or whether He is carrying out His own plan.
His failing faculties leads Him to announce His retirement. This sets up the season's final arc, as the question of his successor is left undecided. At first the favourite son Amenadiel is assumed to be the obvious choice. But we the growth of Amenadiel is beautifully shown by his ultimately deciding that he would rather stay with his new family on Earth than become the new Almighty.
With Amenadiel opting out and God neglecting to appoint a successor, both Michael and Lucifer compete for the job. I won't spoil the ending by revealing the victor, but it does have some very interesting implications for the next season.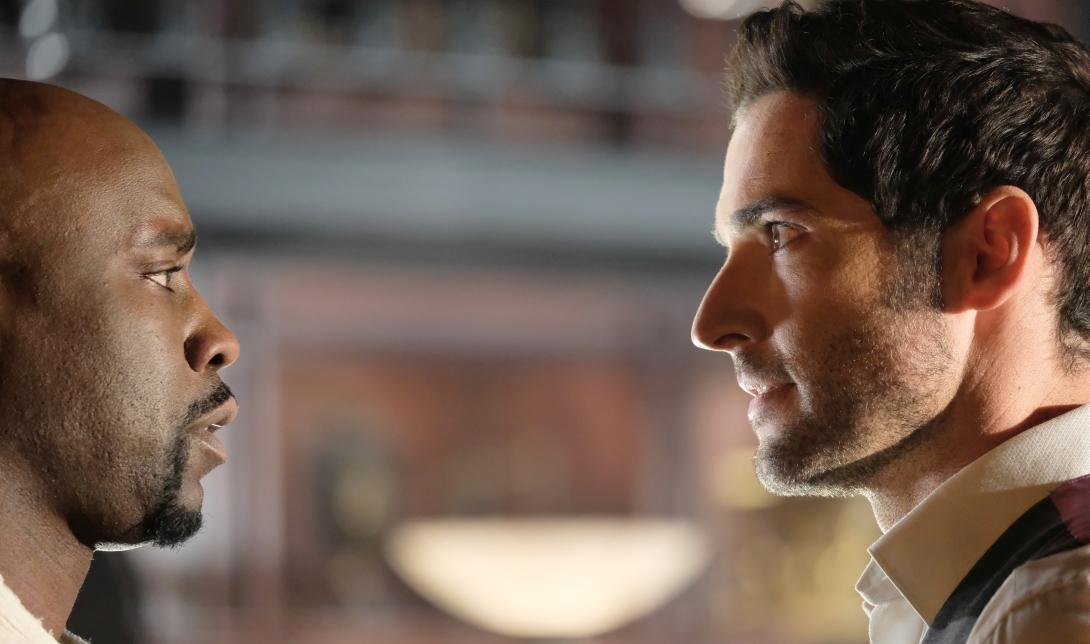 Positives Cont.
Daniel Espinoza is a character that has not exactly been treated fairly in the series. He has often been used as the show's comic relief. However, he does get his due. This season, there is a Dan-centric episode, as Detective Douche is the central character in his own farcical adventure. Also, he gets a powerful exit from the show, as he meets a heroic end. Even Lucifer is grief-stricken, showing that despite appearances to the contrary, he did care for him.
And the revelation that Dan now resides in Hell serves to make Lucifer even more determined to succeed in his bid to become God. He sees Dan's damnation as proof that the universe is broken and is determined to fix it.
There are also some nice bits of the show's trademark humour as well. Lucifer manages to get a shot in at Fox program planners in retaliation for the cancellation of the show  on that network. I also liked seeing him struggle to get God to use his preferred name of Lucifer instead of his original name "Samael". But Lucifer manages to ire Michael by getting God to admit that He prefers to pronounce his name as "Micha-el".
But the humorous highlight of the season is the musical episode, "Bloody Celestial Karaoke Jam". God causes the cast to occasionally burst into a song and dance routine for His own amusement, but only Lucifer knows it's happening. But we later find out that God isn't deliberately causing it, as he admits His loss of control to Lucifer. And there is a hilarious callback to these musical interludes in the finale that I won't spoil here.
Negatives
I have no complaints at all about Lucifer Season 5 – Part Two. The writing is great. The characters are all comfortable in their roles, and put on a great show. This half season is probably my favourite batch of episodes in the series.
Verdict
It seems like we've been waiting forever for Lucifer Season 5 – Part Two, but it was well worth the wait. Even if I had had to binge all the episodes upon their release for this review, I would have done so anyway. This was one Hell of a way (no pun intended) to round out the season, with strong themes of family, redemption, and loss.  I will be eagerly awaiting the advent of Season 6.