The season 3 trailer for the hit series Titans is finally here and it is quite a trailer, chock full of action, suspense, and a few new characters.
Check out the trailer right here!
Right away, we get some backstory of Dick's time as a child under the tutelage of Bruce, and then we see the fate of Jason Todd, as they recreate a version  of A Death In The Family.
I was curious if they would actually do this when it was first announced that he would become Red Hood in season 3, or if he would just decide to pick up the mantle to distance himself from the legacy of the Bat and legacy of Robin.
So now Dick and the rest of the team will have to mourn the death of Jason, while also trying to take down the Red Hood. I think the inevitable revelation will haunt Dick, and hopefully help build out his character even more.
We also get to meet this universe's Barbara Gordon, who is now the Commissioner, and is in a wheelchair, presumably meaning a version of The Killing Joke has taken place. Is she also Oracle, or will she possibly become that character for this group of Titans throughout the show?
Barbara introduces us to another new character being brought in this season, Dr. Jonathan Crane aka Scarecrow, who we get a quick shot of as he's locked up in Arkham Asylum. What part will he play in this season? I guess we'll have to wait to find out.
It also seems that there is something going on with Starfire, most likely linked to the arrival of her sister, Blackfire.
There looks to be a whole lot of insanity about to take place, so buckle up folks, it's gonna be a bumpy ride!
We also got the official poster for the new season, which you can see below: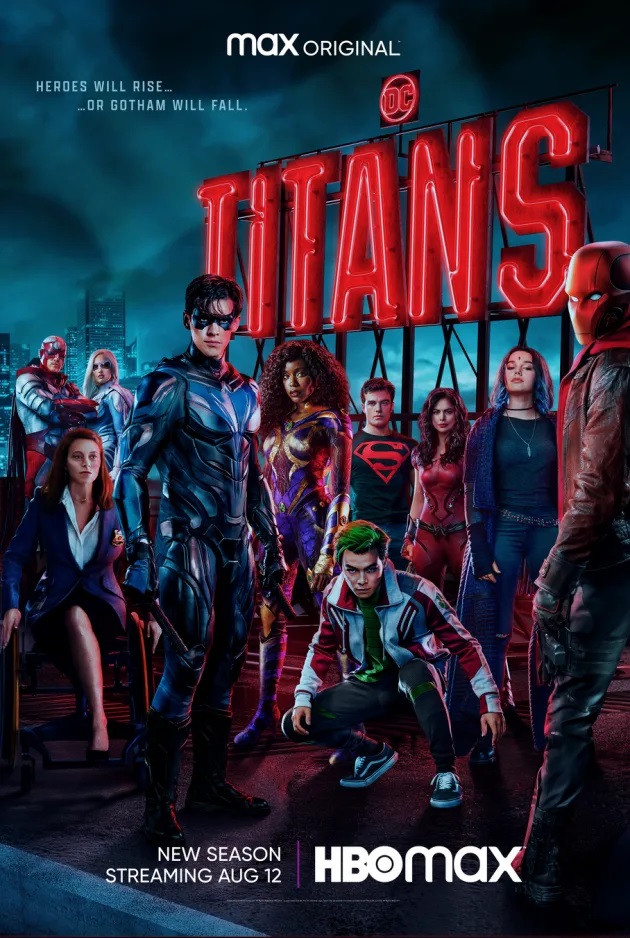 The full confirmed cast list so far for Titans season 3 can be seen below:
Brenton Thwaites – Dick Grayson/Nightwing
Anna Diop – Kory Anders/Starfire
Teagan Croft – Rachel Roth/Raven
Ryan Potter – Garfield "Gar" Logan/Beast Boy
Alan Ritchson – Hank Hall/Hawk
Minka Kelly – Dawn Granger/Dove
Curran Walters – Jason Todd
Conor Leslie – Donna Troy/Wonder Girl
Joshua Orpin – Conner Kent/Superboy
Chelsea Zhang – Rose Wilson/Ravager
Damaris Lewis – Blackfire
Iain Glen – Bruce Wayne
Savannah Welch – Barbara Gordon
Jay Lycurgo – Tim Drake
Vincent Kartheiser – Jonathan Crane
All of the main cast of superheroes from Titans season 2 will return – including Conor Leslie's Donna Troy, who was seemingly killed off in last year's finale. Iain Glen's Bruce Wayne will return (as seen in the trailer) too.
Titans season 3 will premiere on HBO Max on August 12. Be sure to catch up on seasons 1 & 2 right now!