Indie Comics Review: THE UNBELIEVABLE UNTEENS #3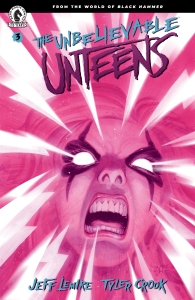 [Editor's Note: This review may contain spoilers]
Writer: Jeff Lemire
Artist: Tyler Crook
Colors: Tyler Crook
Letters: Tyler Crook
Publisher: Dark Horse Comics
Reviewed By: Derek McNeil
Summary
The Unbelievable Unteens #3: Unbelievable Unteens comic book artist Jane Ito finds her world flipped upside down after discovering that the heroes from her comics were real and she was one of them. As she and the team of underdog heroes begin to reassemble, they find out why their memories were wiped, who was behind this evil plot, and what happened to the powerful foe the demonic Whitewraith?!
Positives
Last issue, Jack Sabbath, Strobe, and Straka discovered a comatose Snapdragon under the care of Kid Boom. Now in The Unbelievable Unteens #3, we discover what happened to bring her to this state. In short, Snapdragon's soul was captured by a demon lord named Whitewraith.
While I see some inspiration from early Doom Patrol stories as well as the X-Men, this storyline seems more inspired by the latter. There is some similarity to the Dark Phoenix storyline, but with Snapdragon having been lost in a Hell-like dimension for years, it also reminds me somewhat of Illyana Rasputin a.k.a. Magik. So, it seems as if the X-Men connection is stronger here.
I am really liking the device of showing the flashback in the form of old comic book pages. Tyler Crook is doing a fantastic job of recreating the feel of a Silver Age comic. The yellowing pages with slightly ragged edges are a perfect touch. I also like that Crook makes a distinct difference between the art style in these flashbacks and in the present-day sequences. The flashbacks are bright and vibrant, as befits a Silver Age comic. And the present-day sequences are darker and have more detail and shading, giving the present more substance than the flashbacks.
Positives Cont.
In The Unbelievable Unteens #3, we learn that Snapdragon's current situation is due to Jack Sabbath's hubris. I think there is a lot of John Constantine in Jack, except that he went the route of superhero that the Hellblazer didn't. But like John, he has made a catastrophic mistake that proved disastrous for Snapdragon and caused the group's dissolution.
But the team is back together now – or are they? Kid Boom is still rightfully angry at Jack. And Straka has little interest in rejoining his former teammates on a quest to save Snapdragon. Instead, he leaves to return to his wife and children. However, the next issue preview image at the end of the book implies that Straka and Kid Boom will join them on that adventure.
Negatives
No negatives at all. Like all other Black Hammer books before it, I am enjoying the hell out of this story.
Verdict
Jeff Lemire has managed to build a superhero universe that spans many genres, and The Unbelievable Unteens makes a great addition to the Black Hammer universe. I am eagerly looking forward to next issue's concluding chapter, and hope to see more of the Unteens in future Black Hammer stories.