Warner Bros are closely associated with the DC Characters we know and love as well as the ones from Looney Tunes.  This isn't even close to the depth of characters and properties they own.  We saw the acknowledgment of a "Multiverse" by WB recently in Space Jam: A New Legacy which saw a host of characters court side.  Different renditions of beloved DC characters were there as well as Mystery Inc, The Iron Giant and Pennywise just to name a few. In addition to this we now have MultiVersus. 
The media giant has now decided to take this to the next level with the announcement of MultiVersus.  Seemingly in the same vein as other popular fighter games such as Super Smash Bros and Nickelodeon All-Star Brawl.  This new game will see battles between a whole host of characters  from shows like Scooby-Doo, Adventure Time, Game of Thrones and other WB properties.  DC have seen success with their video games and with the recent announcements of Suicide Squad Kill The Justice League and Gotham Knights it is proving to be a real strength.  However this new game will take their characters in a whole new direction.
Scheduled for release in 2022, MultiVersus will be released for consoles and PC.  It will be free-to-play and across platform compatible.  The game itself will host 1V1, 2V2 and 4-player free for all matches.  Its not only iconic characters that will feature in the game however, iconic locations will be available to host these fights.  Confirmed so far are the Batcave and Jake and Fin's Treefort with more to come.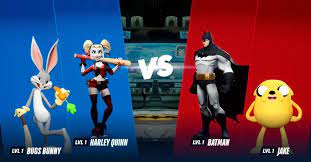 Roster Confirmation so Far
The Roster confirmed so far:
Batman, voiced by Kevin Conroy
Superman, voiced by George Newbern
Wonder Woman, voiced by Abby Trott
Harley Quinn, voiced by Tara Strong
Shaggy (Scooby-Doo), voiced by Matthew Lillard
Bugs Bunny (Looney Tunes), voiced by Eric Bauza
Arya Stark (Game of Thrones), voiced by Maisie Williams
Jake the Dog (Adventure Time), voiced by John DiMaggio
Finn the Human (Adventure Time), voiced by Jeremy Shada
Steven Universe, voiced by Daniel DiVenere
Garnet (Steven Universe), voiced by Estelle
Tom and Jerry, voiced by Eric Bauza
Reindog (an original character for MultiVersus), voiced by Andrew Frankel
Each character will have unique abilities and characteristics to allow for gameplay variety.  Although nothing specific confirmed as yet in-game purchases will be available.